IVDR survey results: Majority of companies still in the middle of preparation and "timelines" considered greatest challenge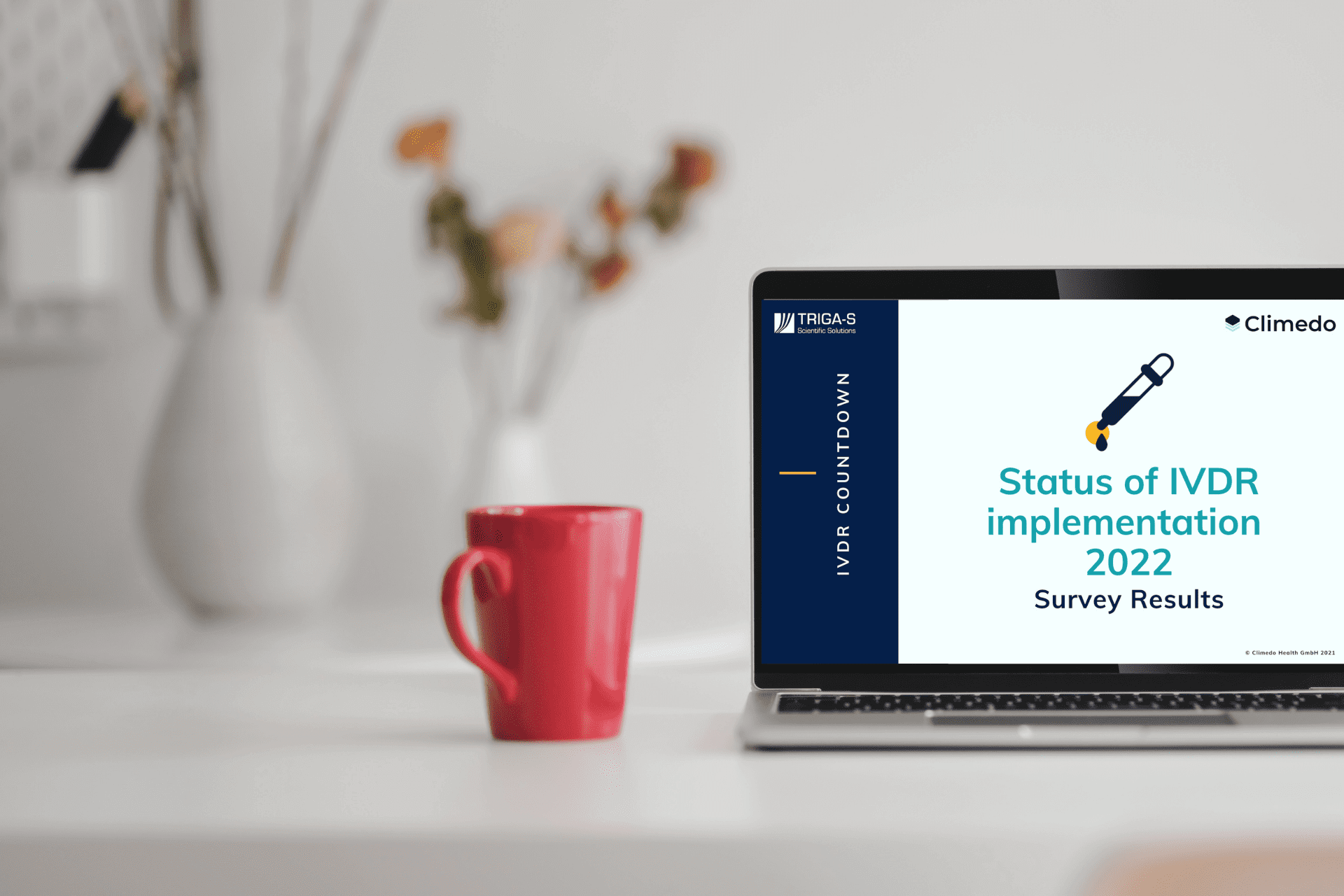 Munich, Tuesday, April 12, 2022 – Software company Climedo and contract research institute TRIGA-S Scientific Solutions have completed their joint survey on the IVDR (Regulation (EU) 2017/746 of the European Parliament and of the Council on in vitro diagnostic medical devices). The results show that the IVDR requirements are already clear to most companies, but the majority are still in the midst of preparations. Few have started EUDAMED registration and only half of the respondents have a Notified Body.

The objective of the IVDR survey, which was conducted in March 2022, was to assess the status of IVDR implementation a few weeks before its date of application. Forty-five IVD manufacturers from across Europe took part in the survey, of which more than half were small companies with less than 50 employees. All risk classes were represented, particularly A (sterile), B and C. The majority of respondents had not yet certified their products under IVDR.
Here is an overview of the most important findings:
60% of respondents knew the

IVDR requirements

and associated

responsibilities

"well" and 26% "very well"

Nearly 85% of companies were still "in the middle" of

IVDR preparation

; 11% had "not yet started"

Among the laws, standards, and guidelines,

EN ISO 13485

(quality management) was the most familiar to respondents (32%)

Almost 18% of respondents had already defined the

purpose

, while 15% had defined the

product specifications

. Just 5% had finalized their

Performance Evaluation Report

For their

clinical data capture

, 47% were using Excel, 21% were using paper, and 17% were using an EDC ("electronic data capture") system

Almost two-thirds already knew the responsibilities regarding

Post-Market Surveillance

and

Vigilance

60% had already defined a

PRRC

(Person Responsible for Regulatory Compliance)

With regard to the

EUDAMED database

, 58% had not yet started registering their products

39% of respondents had

no support

for meeting the IVDR requirements, while 22% had support from a

testing laboratory

, and 10% from a

CRO

,

legal manufacturer

, and

service provider for patent protection

, respectively

43% of companies did not yet have a

Notified Body
Timelines

were seen as the

greatest challenge

of the IVDR (26%), followed by

performance requirements

(16%) and

post-market requirements

(14%)

In terms of

COVID-19

, 60% said that the pandemic had "no impact" on their company, while 36% reported a "negative impact"

To be fully prepared for the IVDR, 28% said they needed more

staff resources

and more

time

, respectively

More

patient safety

(28%),

better traceability

(26%), and

more transparency

(20%) were cited as potential benefits of the IVDR. 15% saw

no benefits

in the regulation. 
"The survey results show that the IVDR is very challenging for manufacturers and has partially been further complicated by the COVID-19 pandemic," says Veronika Schweighart, Co-Founder and COO at Climedo. "We find it particularly interesting that timelines, performance requirements and post-market requirements are among the top challenges. Furthermore, nearly half use Excel for clinical data collection and nearly one-fifth use paper – this is inefficient and can quickly lead to errors, which causes data quality to suffer. For this reason, we advise manufacturers to move to an EDC solution as soon as possible, which can automate many processes and save valuable time."
"The fact that 85% are still in the middle of preparations matches our experience," comments Dr. Andreas Franke, COO of TRIGA-S. "The fact that 11% have not yet started, however, was indeed somewhat surprising to us. Furthermore, for us as a CRO it was quite revealing to see that 39% of the respondents did not have any support at all and only 10% used a CRO. Here, we can offer a wide range of support, also in view of the stated challenges with the timelines."
The full survey results can be downloaded here. 
About Climedo
Climedo offers a digital platform for conducting clinical trials in an innovative way. The modular solution for Electronic Data Capture (EDC) enables pharmaceutical and medical device companies to efficiently validate their products and medical innovations in a decentralized and patient-centric way. By digitally connecting all parties involved, such as sponsors, doctors and patients, communication and data capture can be significantly simplified. The digital health company was founded in 2017 by Sascha Ritz, Dragan Mileski and Veronika Schweighart and is based in Munich. Learn more at www.climedo.com. 
About TRIGA-S
TRIGA-S Scientific Solutions (TRIGA-S) stands for quality and trustful collaboration in clinical and analytical studies for in vitro diagnostics (IVD) since over 20 years. As part of the new EU regulation IVDR, TRIGA-S offers manufacturers tailor-made solutions for performance studies. In addition, they plan and conduct exploratory and feasibility studies. In their in-house BSL2 laboratory, they carry out contract measurements and offer controlled storage and shipping options for human samples and study materials. TRIGA-S is based in Habach, south of Munich, is ISO 13485 certified and was awarded "Bavaria's Best 50" in the SME category in 2020. For further information, visit: www.triga-s.de. 
Media contacts 
Climedo
Catherine Higginson
hello@climedo.de
TRIGA-S
Karolina Heed
Karolina.Heed@triga-s.de