3 Steps for Mastering the Patient Journey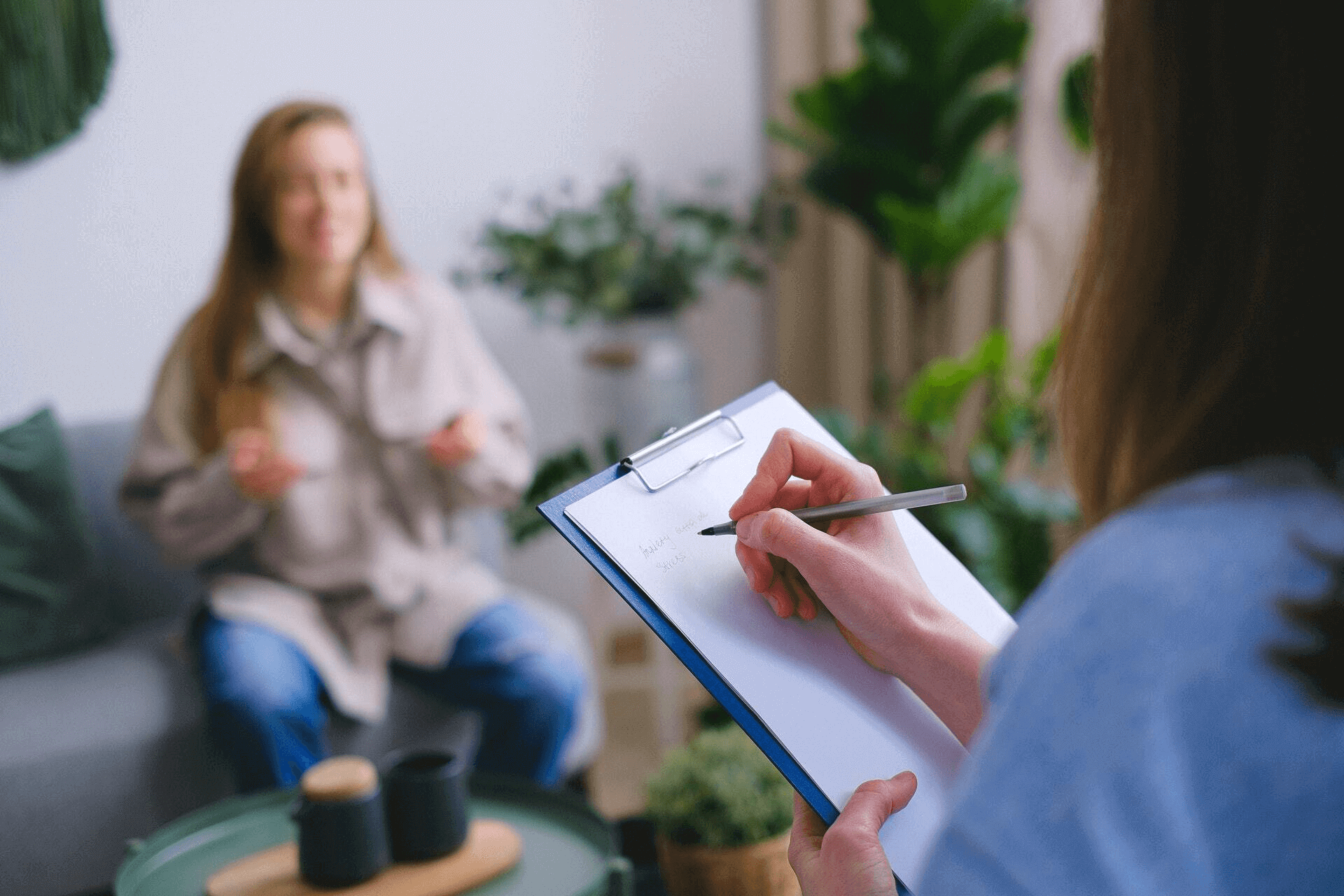 AUTHOR
Veronika | Co-Founder & COO
The patient journey is becoming increasingly important in the treatment of diseases. It maps the patient's experience throughout the healthcare system and describes their journey from the first symptoms to the end of treatment. Ideally, it provides conclusions about their greatest fears and challenges in relation to the treating staff and the choice of therapy. Often, new ideas for treatment and patient involvement can be found. 

In reality, however, the patient journey is not always comprehensively processed and evaluated in a timely manner, so in the worst case scenario, a less appropriate therapy is used for too long a period of time. This affects the patient's experience and can lead to the healthcare services being perceived as unpleasant and stressful. In this article, we will show you how you can improve the patient journey and thereby obtain a better data basis and achieve higher patient retention.
What's it about?
1. Optimize the patient journey with targeted communication
2. Engage pain patients more through e-health offerings
3. Using patient data to uncover potential for improvement
1) Optimize the patient journey with targeted communication
The more detailed the patient's perspective is recorded and taken into account, the more conclusions can be drawn about the quality of treatment for companies and treatment providers. Although the details of the patient journey vary depending on the disease state, most follow a pattern of similar phases that are best represented in tabular form. A good patient journey goes beyond simply monitoring during the treatment period and milestones such as diagnosis and the end of the treatment phase. Tasks and needs of the patient should also be taken into account and clearly formulated throughout the entire period. For example, regular inquiries can be made about how the chosen form of treatment affects the patient's everyday life or social relationships.

However, the benefits of an optimized patient journey do not only lie with the patients themselves. If the various stakeholders – drug manufacturers, treatment providers, hospital staff and patients – interact consistently with each other within the framework of the patient journey, ineffective and unnecessary treatments can be avoided at an early stage. This increases the clinical effectiveness and efficiency of care and medication. In addition, the improved data basis reveals decisive leverage points for better understanding and caring for patients. In this way, it is possible, for example, to push for targeted changes in medication or to prevent patients from turning away from a particular form of treatment.
2) Engage pain patients more through e-health offerings
The benefits of e-health offerings in the patient journey are well illustrated by the example of pain patients. Pain sufferers often have to undergo a lengthy treatment process with changing therapies and fluctuating chances of success. Particularly in the early phase shortly after diagnosis, physicians often resort to a trial-and-error approach, which primarily involves prescribing medication or simple physiotherapeutic measures. However, a less frustrating alternative can already be found here through an interdisciplinary approach together with the patient. For example, physiotherapists with advanced knowledge can be consulted to develop effective exercise therapies.
Infographic: 5 Tips for more Patient Centricity in Clinical Trials
Learn more about how to promote patient centricity in your trials while sustainably increasing data quality:
Remote Patient Monitoring
Increased Accessibility
eConsent
Patient recruitment
Patient Journey Dashboards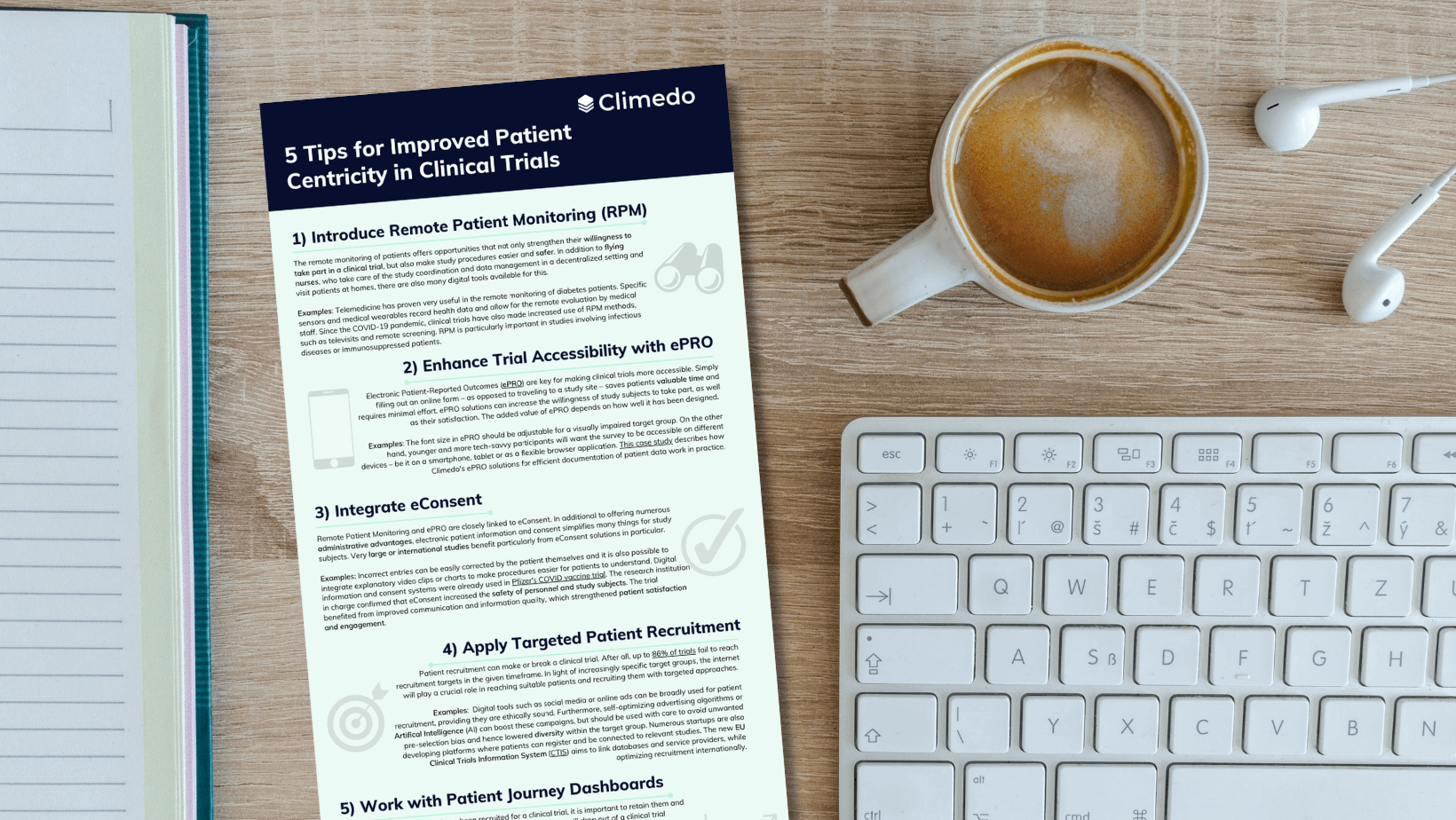 3) Using patient data to uncover potential for improvement
An interdisciplinary view of the patient journey, combined with a constant dialog with the patients, help to alleviate chronic conditions or (currently) barely curable diseases in the long term – to such an extent that a largely normal life becomes possible. The key is to combine evidence-based medicine, behavioral research and novel device technology. In addition, patients make an important contribution to research if they are more closely involved and consulted as part of the patient journey. For example, if a medication works well, but patients feel that their lives are limited in terms of dosage, tablet size or other characteristics, this is an important indicator for manufacturers. The data can be used to improve product quality and achieve competitive advantages in the long term.
Conclusion: Optimized patient journey creates room for innovation
By documenting the patient journey in more detail and more consistently, patient well-being can be increased in the long term, which in turn leads to greater loyalty and therapy acceptance. An early interdisciplinary approach, especially for chronic diseases, will uncover new opportunities for innovation in products and services, benefiting patients as well as manufacturers and practitioners. The use of telemedicine is a crucial step in this process and is positively supported by many stakeholders.
Would you also like to offer your patients an optimal patient journey and sustainably increase your data quality with digital tools? Contact us or book a free software demo with us! We look forward to hearing from you and will be happy to help you digitalize your clinical data capture.