Out now: EU MDR Readiness Check – Full Survey Results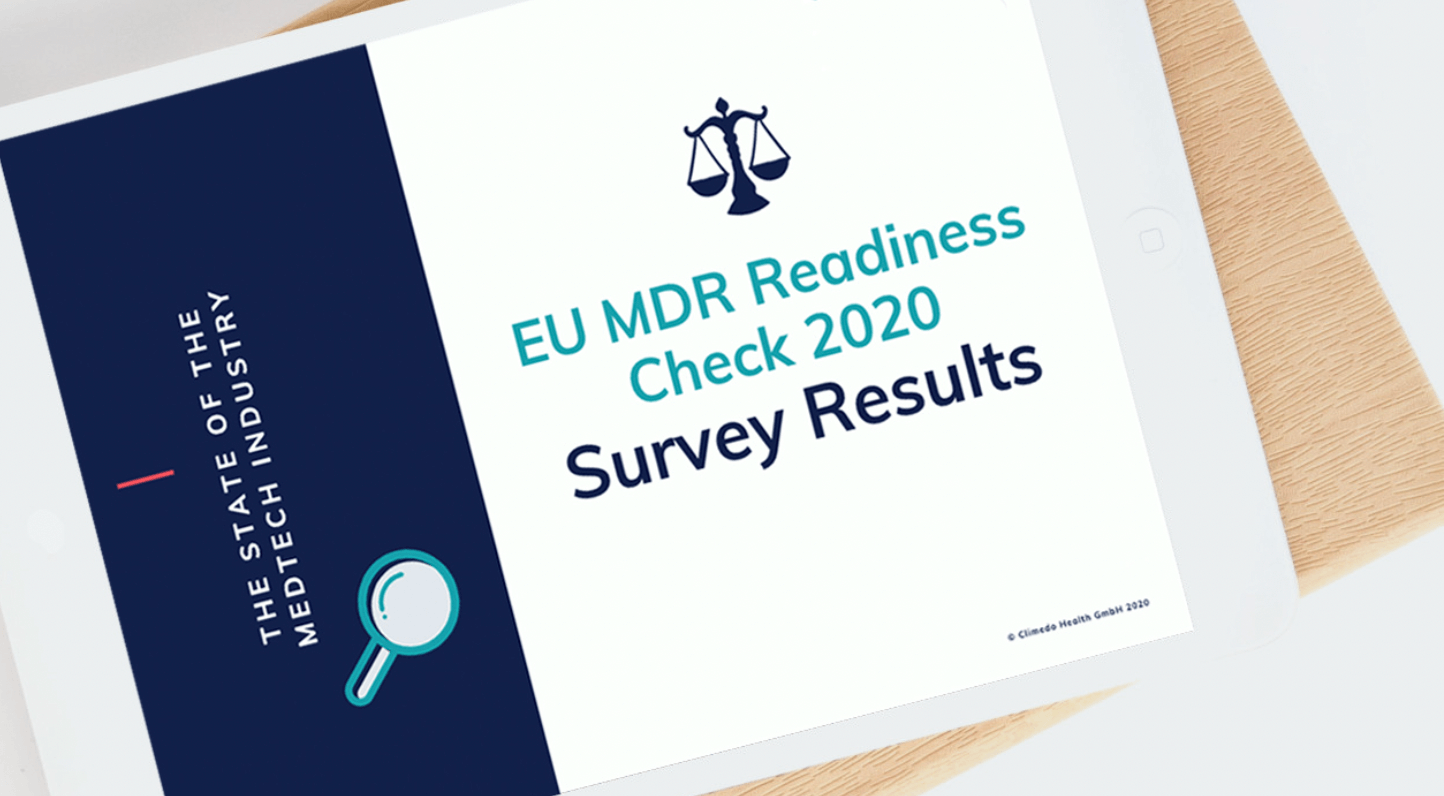 AUTHOR
Catherine | Marketing Lead
There has recently been a great deal of uncertainty regarding the EU MDR (Medical Device Regulation 2017/745). In the midst of the COVID-19 pandemic and at the request of BVMed, the EU Commission recently recommended postponing the MDR effective date by 12 months. The shortage of Notified Bodies (12 as of March 2020) and the fact that the coronavirus could cause significant bottlenecks in the medtech market (for example, if certain device certificates cannot be renewed in time) were just some of the reasons for the requested moratorium. The results of this EU MDR survey show the extent to which MedTech companies were prepared for the EU MDR.
About the results
On February 26, 2020, our MDR survey was released to assess the status of implementation of the new requirements in Europe. The survey consisted of 14 questions and closed on March 25, 2020. 110 companies participated in total, most of which (85%) were medical device manufacturers. Although participants came from all over Europe, the majority (86%) were from German-speaking countries. Here is an overview of some of the results:
More than three-quarters (77%) rate the new regulation as "very challenging"
Among the biggest challenges are "lack of clarity" and "higher resource and cost requirements"
Around a third believe the EU MDR will cost more than 5% of their annual turnover
Only 26% have a fully MDR-compliant QMS in place
34% do not yet have a Notified Body or are in the process of changing one
Just under half do not (yet) have a PMS plan in place
48% still use paper-based systems for clinical data collection, 69% Excel spreadsheets (multiple mentions possible)
Where do we go from here?
Overall, the results of the EU MDR survey show that few companies were prepared for the new regulation in terms of their post-market surveillance (PMS), quality management systems (QMS), notified bodies and data collection systems. We're excited to see what's in store for the medtech industry in the coming year and hope this evaluation provides you with some fresh ideas. If you have any questions or feedback, please feel free to contact us at hello@climedo.de.
Update, April 6, 2020 As Devicemed reports, on Friday, April 3, 2020, the European Commission published the proposal for the postponement of the MDR effective date.