Climedo Health Joins Livestream on Public Health Solutions with Federal Health Minister Jens Spahn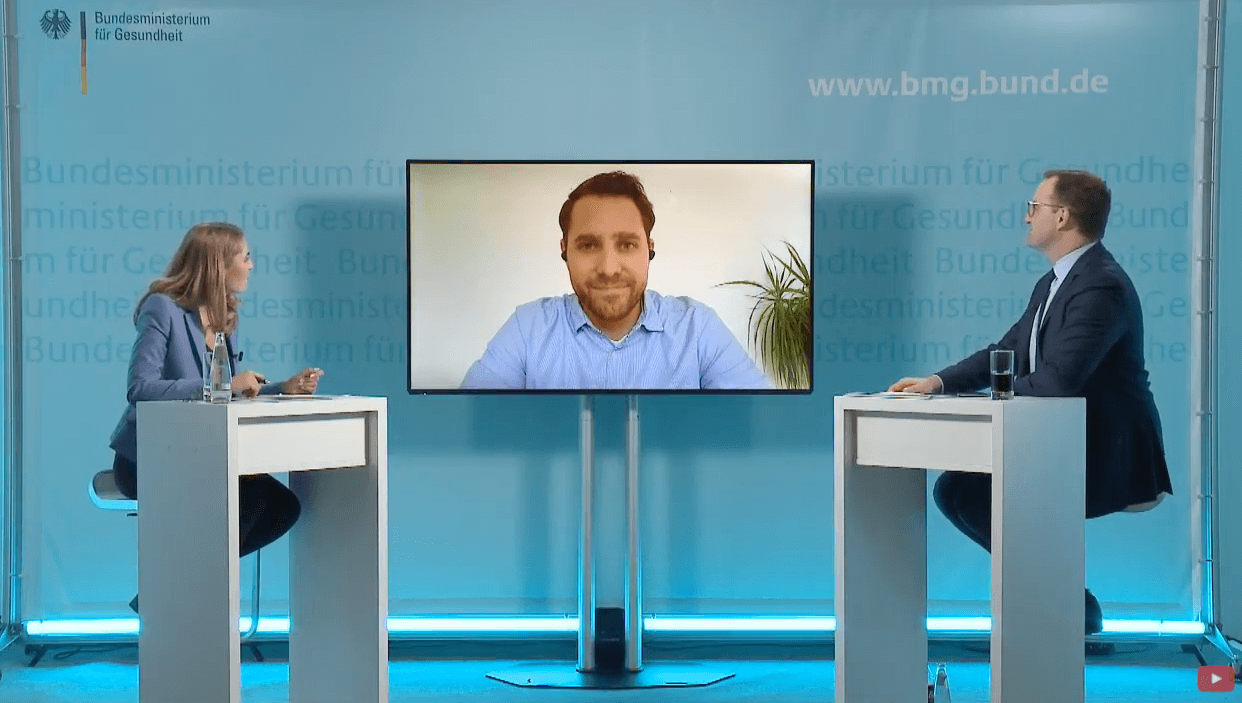 Supporting German health authorities with digital solutions
Munich, Tuesday, November 10, 2020 – Software company Climedo Health presented its digital symptom diary for public health authorities in this morning's livestream "Dialogue Public Health Digital".
The digital symptom diary, which was developed in spring 2020 with the support of the Federal Ministry of Health (BMG), is designed to relieve the burden on German health authorities in the face of COVID-19. This morning, the solution was presented in a livestream event with Health Minister Jens Spahn and the President of the Robert Koch Institute Dr. Lothar Wieler.
The aim of the dialog was to present digital projects and services that will support health authority staff and enable them to digitally track contacts and thus help contain the corona virus. A total of four software applications were presented with a short product demo. Sascha Ritz (Co-Founder and CEO), Marius Tippkötter (CPO) and Dennie Rothbächer (Project Manager Health Authorities) from Climedo Health presented the digital symptom diary. In addition, there was a reference from a public health department, which provides care for around 2,000 people with the help of Climedo's platform. In particular, they praised the "huge workload reduction" as well as the quick and straightforward set-up without installation.
"As a software company in the healthcare sector, it was important to us from the very beginning to make a contribution to containing the corona pandemic and at the same time to take the German healthcare system one step forward," said Sascha Ritz, co-founder and CEO of Climedo Health. "Our digital symptom diary is already being used successfully by public health authorities throughout Germany, saving employees up to 80% of the time in contact person tracking. We are looking forward to many more interested parties who would like to digitalize their work with our platform".
The complete livestream can be viewed here (in German).