Decentralized trials offer valuable benefits, but adoption is slow, study shows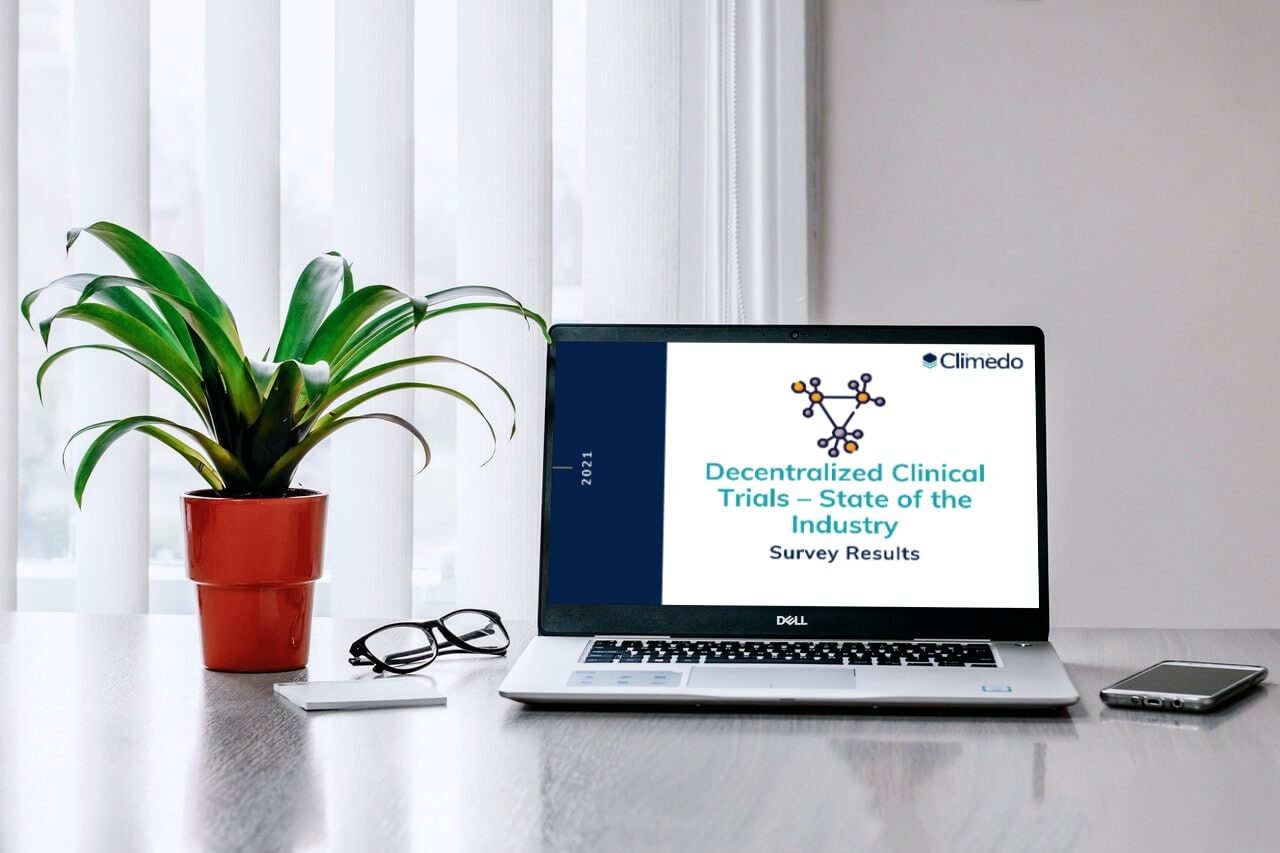 Munich, Tuesday, December 7, 2021. Software company Climedo Health has published the results of its survey on "Decentralized Clinical Trials" (DCTs). The evaluation shows that those companies working with DCTs are already experiencing numerous benefits. Those not using DCTs are mainly being held back from implementation by a lack of experience and lack of staff. 
A total of 108 companies joined the survey in the fall of 2021. Among them were mainly pharmaceutical companies, medical device manufacturers and CROs. Eighty-one percent were from Europe, while 15% were based in North America and the remainder were from Asia and Africa. The respondents' main areas of responsibility were in Clinical Operations, Regulatory Affairs and Clinical Affairs. In terms of DCTs, two thirds had no experience with this study type so far and one third had worked with decentralized elements or even conducted DCTs on a regular basis. 
Among companies with DCT experience, Climedo Health found the following: 
Years of DCT experience

: More than half have been using DCTs for one to three years.

Degree of decentralization

: Almost 80% work with hybrid studies, while 18% had fully decentralized trials.

Study design

: Forty-five percent use DCTs for both interventional and non-interventional studies (NIS).

Tools and technologies

: The most commonly used technologies are eCOA/ePRO (70%), mobile apps (53%) and telemedicine (40%).

Benefits

: Forty-five percent have benefited from time savings and improved data quality, while 38% have saved costs with DCTs. Thirty-five percent have achieved improved patient or site retention.

Extent of benefits

: On average, cost savings through DCTs were cited at 30%, time savings at 39%, while data quality improved by 41%, site or patient recruitment improved by 43% and site or patient engagement improved by 32%.

Driving DCT adoption

: Eighty-three percent believe that we need "more openness towards digital technologies" in order to foster DCTs.

The future

: 100% agree that DCTs are the way of the future.
Among companies without DCT experience, Climedo Health found the following: 
Traditional clinical trial (TCT) challenges

: The majority of companies struggle with high costs (58%), lack of personnel (49%) and time constraints in their TCTs (42%).

Barriers to DCT adoption

: Most respondents are held back from using DCTs by a lack of personnel (29%), regulatory hurdles (19%), lack of a provider or tool (19%) and studies which cannot be decentralized (19%).

Perceived DCT benefits

: Around half believe they could achieve cost savings, improved site or patient recruitment and time savings with DCTs.

Driving DCT adoption

: Sixty-four percent think that we need more awareness about DCT benefits in order to foster their adoption.

Potential of DCTs

: Around 80% rate the importance of DCTs 3 or higher on a scale of one (not important) to five (very important).

The future

: Twenty-six percent plan to use DCTs in the next three years while 64% are unsure.
"We're thrilled that so many organizations across different industries and regions joined this survey and that a third of them are actively using decentralized solutions for their trials", says Veronika Schweighart, Co-Founder and COO of Climedo Health. "One thing that stood out to me is that 64% of the companies not using DCTs believe that we need more awareness of this study type's benefits in order to drive adoption. In a way, this survey provides the perfect answer to this: Companies using DCTs have benefited from significant time and cost savings, improved data quality as well as improved patient and site retention. We're also pleased that almost a third of those organizations not yet using decentralized approaches plan to do so in the coming years. It's important to not view DCTs as an 'all-or-nothing' solution: Hybrid studies are very common among our respondents and can be a good way to ease into DCTs step by step. Since many companies cited a 'lack of knowledge or experience' in this field as a major barrier, we definitely recommend working with an experienced provider of digital solutions to get started and take traditional trials to the next level."
The survey results can be accessed here.
PR Contact
Catherine Higginson
Senior Marketing & Communications Manager
Climedo Health GmbH