New Expert Guide on ePRO versus PRO in Clinical Trials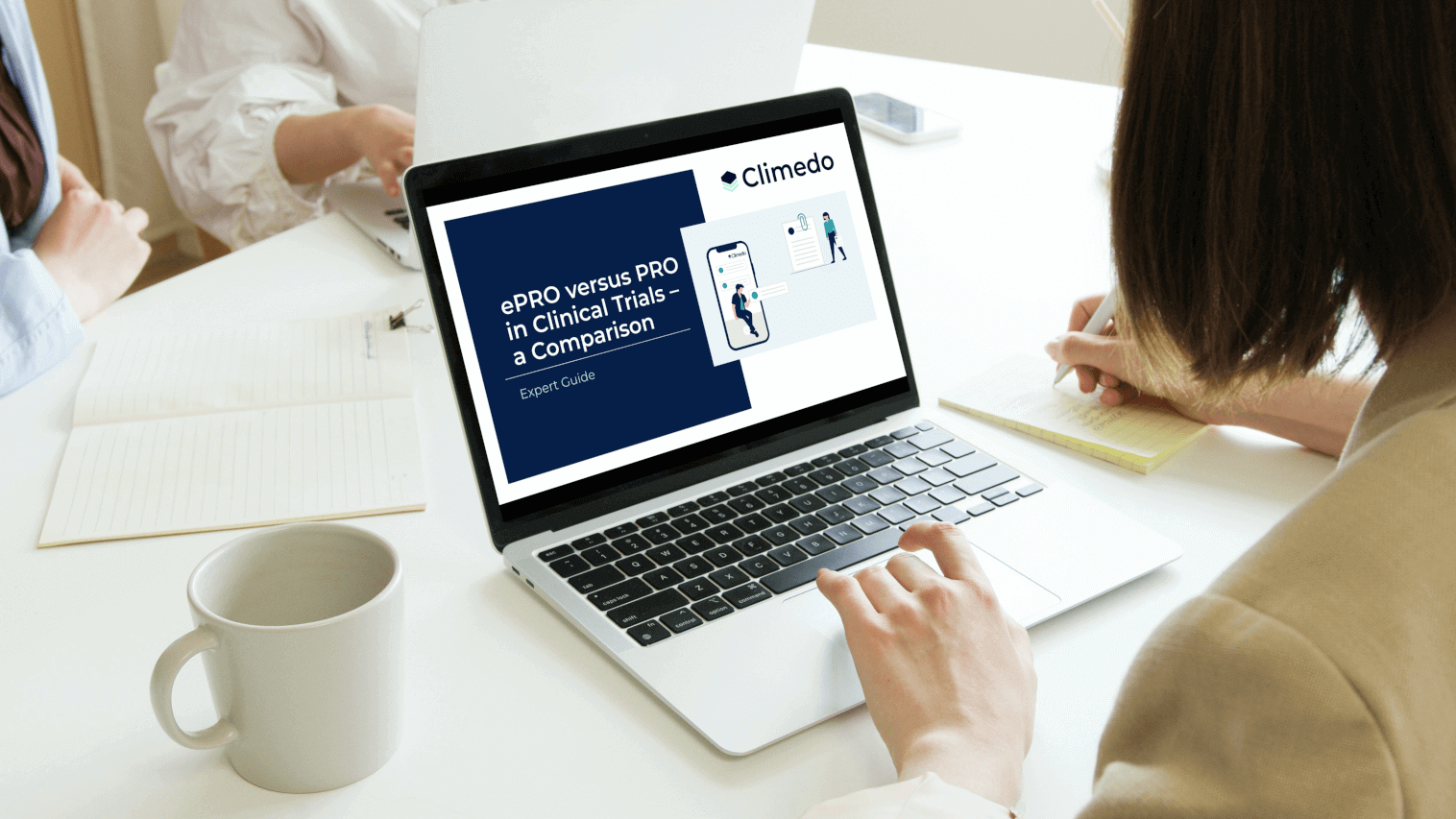 Munich, Monday, January 23, 2023 – eClinical software company Climedo has published a new expert guide to help pharmaceutical companies, CROs and medical device manufacturers better understand the benefits and drawbacks of both ePROs and PROs in clinical trials. 
Patient-reported outcomes (PRO) refers to the collection of data on a patient's symptoms, experiences and health status, as reported by the patient themselves. Electronic Patient-reported Outcomes (ePRO) is the use of electronic devices such as smartphones, tablets or computers to collect PRO data. In recent years, ePRO has become more and more commonplace in clinical research, given the many advantages it offers, such as real-time data capture, higher data quality,  improved accessibility and higher patient compliance compared to paper-based methods. In fact, a recent survey by Climedo and Trialflow showed that around 40% of sites and sponsors are already using ePRO in their trials. Nevertheless, many healthcare companies struggle to implement ePRO for different reasons, including costs, technical challenges or data security concerns. 
Climedo's new guide intends to showcase the benefits and drawbacks of both ePRO and PRO, and to offer suggestions for overcoming the remaining challenges. This can support companies in making better decisions in their clinical trial design and vendor selection. In addition, readers can try out a sample ePRO questionnaire on their smartphone by scanning a QR code in the guide.
"While some companies may be hesitant to transition from paper-based to electronic patient-reported outcomes in clinical trials, the benefits of ePRO are undeniable", says Veronika Schweighart, Co-Founder and COO at Climedo. "Not only does it increase data accuracy and reduce the chance of errors, it also allows for real-time monitoring of patient symptoms and improves overall efficiency in the trial process. At Climedo, we understand that making the switch to ePRO can be a challenge, but we are committed to working closely with our clients to implement this technology efficiently which will ultimately improve the quality and success of their clinical trials." 
The guide can be downloaded here free of charge.
Abut Climedo
Climedo offers a digital health platform for hybrid clinical trials and observational studies. Its easy-to-use, modular and secure solutions for data management include electronic data capture (EDC), ePRO, eCOA, and Telemedicine. This enables pharma and medtech companies to validate their medical innovations more efficiently in the post-market phase and to capture data in decentralized, real-world settings. As a result, they accelerate studies, save costs, and improve data flow and quality, while fostering innovative trial designs. By connecting all stakeholders (industry partners, study sites, physicians and patients) in one cloud-based system, Climedo is revolutionizing clinical research and making trials more accessible and patient centric.