Veronika Schweighart Receives German "Thought Leader 2020" Award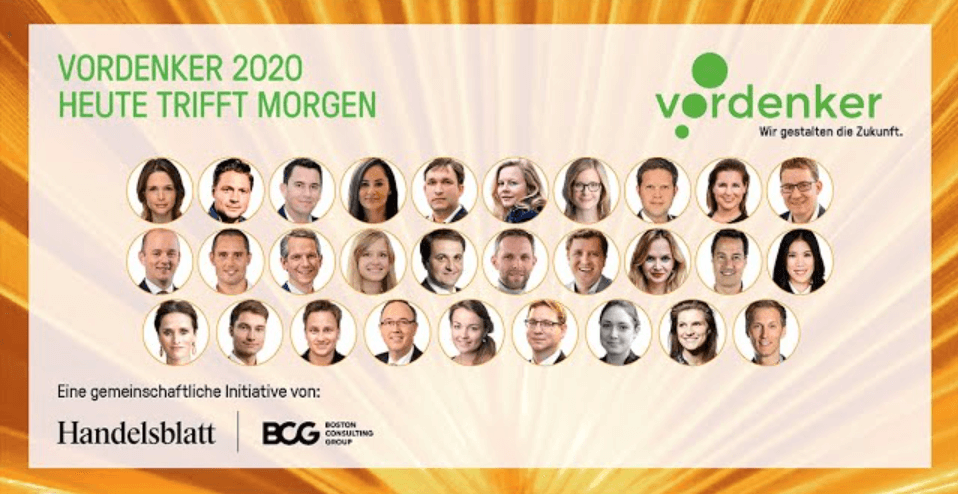 Movers and shakers of the next generation  
Munich, Tuesday, November 17, 2020 – Last night, the Thought Leaders of the year 2020, an initiative of Germany's Handelsblatt and the Boston Consulting Group, were honored during a livestream event. Among the winners was Veronika Schweighart, Co-Founder and COO of Climedo Health. 
This year's focus was on "Heroes in the crisis". The initiative presented 29 top junior executives in companies, politics and start-ups who are successfully leading their teams through the Corona crisis with their expertise and who are also seizing new opportunities – according to the guiding principle: "Thinkers for the new reality". The event was moderated by Sebastian Matthes (Handelsblatt), Matthias Tauber (BCG), Roland Busch (Siemens), Giovanni Liverani (Generali Deutschland), Tina Müller (Douglas), Dr. Christina Reuter (KION Group), Patrick Staudacher (Lufthansa) and Prof. Dr. Brigitta Wolff (Goethe Institute). 
"At Climedo Health, we tried to shape the new reality by not seeing the new situation with Corona as a single problem, but by getting together as a team immediately to develop new, creative solutions," said Veronika Schweighart during her acceptance speech. "That's why we made our existing product – a web-based platform for medical data collection – available to COVID-19 contact persons for the digital tracking of symptoms back in spring. This ultimately led to our solution being supported by Germany's Federal Ministry of Health. Now, we relieve numerous health authorities all over Germany in the context of the so important and often mentioned contact person tracking. The pandemic has shown that even a relatively small company can achieve a great deal with the right amount of courage, optimism and ambition. My plea therefore to all Thought Leaders and listeners this evening: Keep up your good work as thought leaders and role models to help us cope with the new reality and thereby also turning challenging times into something positive!
The Thought Leader community currently comprises around 300 young executives, founders and visionaries. They are selected by an independent jury and get together to network and exchange ideas on future topics at regular meetings and events.
The event's livestream can be viewed here. 
Further information on the Thought Leaders can be found here in Handelsblatt article (in German language).