1, 2, 3… MedTech Connect, Round 3: IVDR as an Opportunity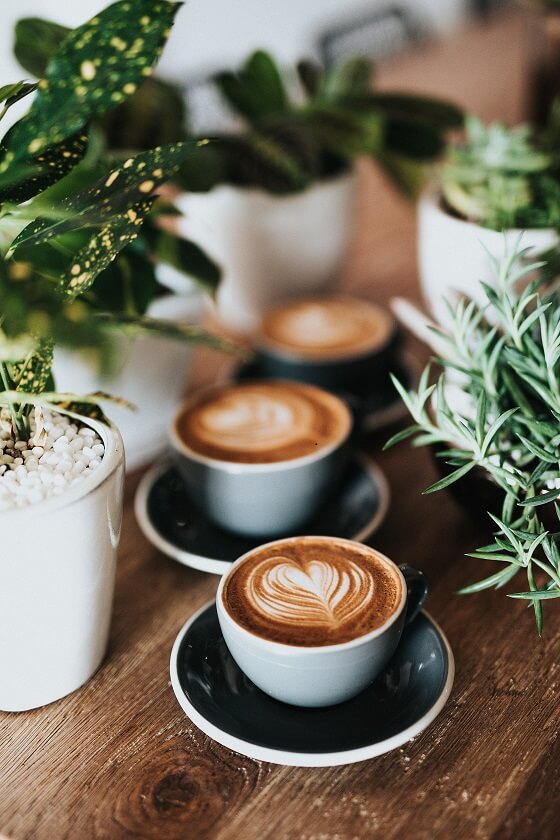 AUTHOR
Catherine | Marketing Lead
Please note that this webinar took place in German.
Last week, our third #MedTechConnect event took place. This time, it was all about the IVDR (In-vitro Diagnostic Regulation 2017/746) and how companies in the in-vitro diagnostics segment can use it as an opportunity. In our online meetup, around 60 attendees gathered to listen to the two interesting keynote presentations by Dr Sebastian Grömminger from the Johner Institute and Dr Michael Reil from TRIGA-S Scientific Solutions.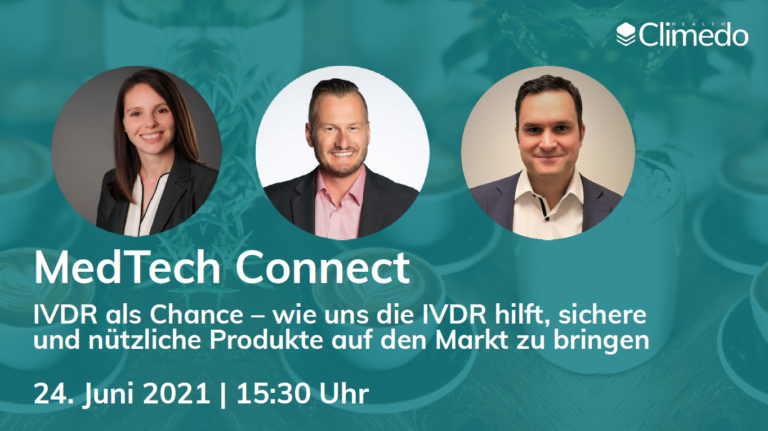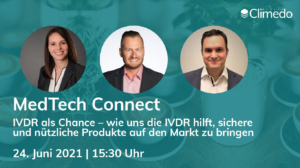 What was it about?
After the EU MDR came into force last month and we strongly focused on it in the last months, the next important regulation is already on the agenda for next year – namely the IVDR for the in vitro diagnostics market. The IVDR brings numerous challenges as well as increased time and financial expenditure for companies and it was therefore important for us to shed light on how the IVDR can also be seen and used as an opportunity:
How can companies use international guidelines to determine their performance evaluation strategy?
How can the clinical evidence requirements be implemented in practice?
How can IVDR requirements be used as an opportunity to collect solid data on products?
Many manufacturers in the in-vitro diagnostics segment are asking themselves these questions, which is why we wanted to discuss them in detail with selected experts at MedTech Connect.
Who were the speakers?
Catherine Higginson, Marketing & Communications Manager at Climedo Health, moderated the event and led the Q&A session.
Dr Sebastian Grömminger from the Johner Institute and Dr Michael Reil from TRIGA-S Scientific Solutions joined MedTech Connect as speakers.
Sebastian Grömminger is a Strategic Expert in the field of IVD medical devices and Head of IVD Consulting at the Johner Institute and supports the Johner Institute's clients in the approval of in vitro diagnostics.
Dr Michael Reil is project and study manager at TRIGA-S Scientific Solutions and has many years of experience in planning and conducting performance evaluations within the framework of the IVDR. At TRIGA-S, he advises clients on the optimal implementation of the requirements of the relevant regulations depending on the registration region (e.g. IVDR, CFR).
How far were the participants with their IVDR implementation?
After a short intro, our first live survey started directly to find out where the participants currently stand with the implementation of the IVDR requirements. Two thirds (66%) said they were "in the middle of it", while the other third (34%) were still "at the beginning". None of the guests were close to certification or already IVDR-certified. Thus, the subsequent keynote presentations were of greatest interest to all attendees, as none had yet fully gone through the process of IVDR certification.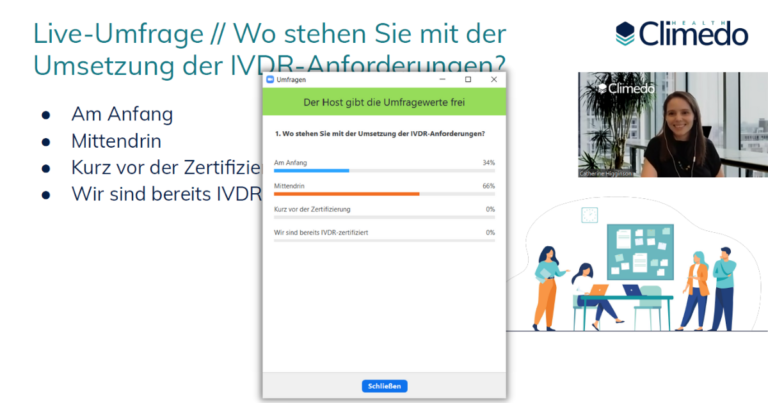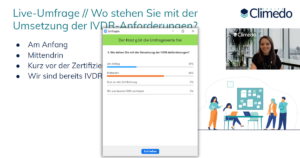 Keynote speech Dr Sebastian Grömminger: "The magic triangle of clinical evidence – How to use the establishment-standardisation level of the product to reduce the scope of performance evaluation"
Many see the IVDR as a risk, but Sebastian Grömminger started directly with the quote "Where there are risks, there are also opportunities". As the IVDR represents a big change, it presents significant challenges, of course, but it also offers the opportunity for positive change. In a metaphor he shared with the participants, the IVDR was a mountain which you have to overcome in order to reach the market behind it with your product and enable a benefit for patients. And this clinical benefit – defined as the "positive effects of a device in relation to its function, such as screening, monitoring, diagnosis (…), patient management, public health." (IVDR 2017/746) – must be proven. Sebastian Grömminger contrasted this clinical benefit with clinical evidence, which consists of scientific validity, clinical performance and analytical performance.
The

scientific validity

of an analyte describes the relationship between an analyte and a clinical picture, e.g. increased blood glucose levels in diabetes.

Analytical performance

is the ability of a product to correctly detect or measure a particular analyte.

The ability of a product to deliver results that correlate with, for example, a particular clinical condition is described as

clinical performance

.
Sebastian Grömminger brought these three components together in the magic triangle of clinical evidence, which was the main focus of his presentation.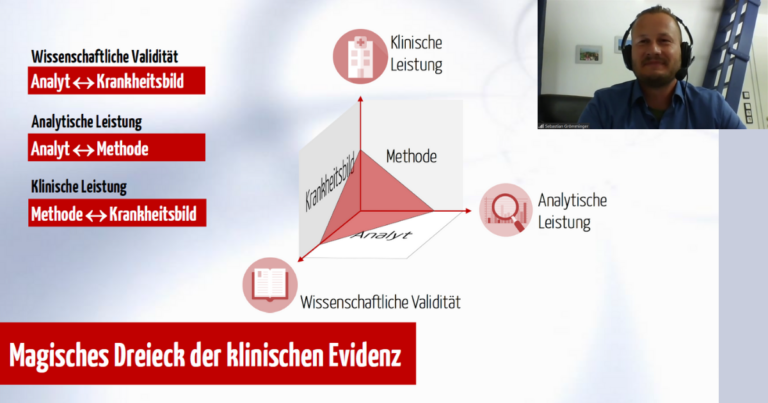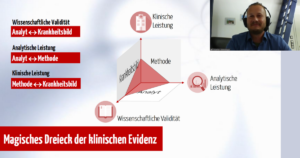 Depending on the establishment/standardization level (Novel test; Established but non-standardised test; Established and standardised test) of the product, the required effort on the three components changes and thus the magic triangle of clinical evidence can be used to reduce the scope of the performance evaluation. Here, Sebastian Grömminger went into detail about the different scenarios and then participants could indicate in a live survey how they assessed their product: 44% stated that it was a "Novel test (new method/analyte/application", 41% that their product was an "Established test" and 15% that the description "Established and Standardised test" applied to their product.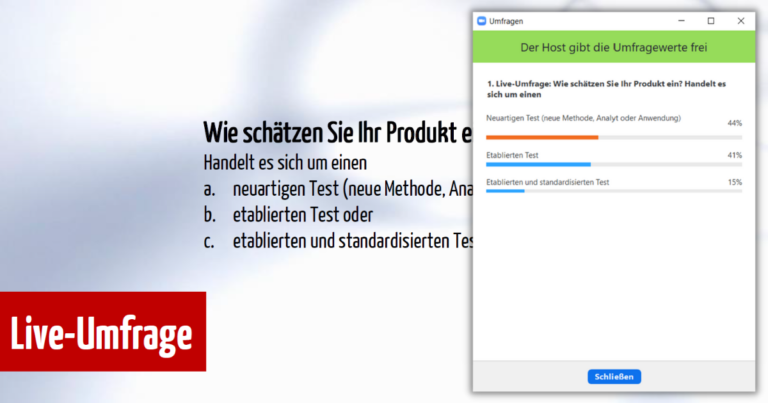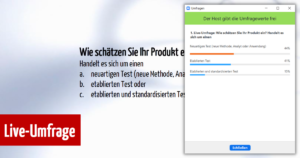 Keynote speech Dr Michael Reil: "Implementation of the three pillars of clinical evidence using systematic performance evaluations and the resulting benefits for manufacturers and patients"
Right at the beginning of his presentation, Michael Reil started with a live survey on the biggest opportunities of the IVDR. In first place, attendees selected "Increased quality and safety of products" (60%). Next, with rather a large gap, came "Obtaining feedback/experience with end customers" (20%), "Generating and systematically testing claims" (17%) and "Gaining experience with the product" (10%) (multiple choices possible). The attendees' answers were then discussed in detail.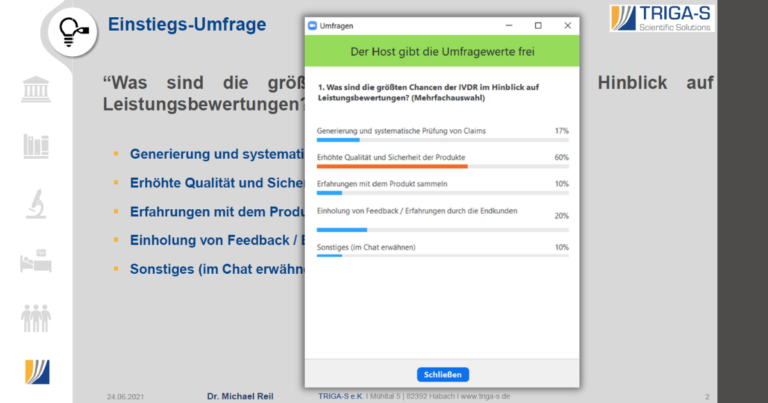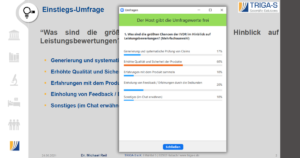 In his keynote speech, Michael Reil also dealt with scientific validity, analytical performance assessment and clinical performance assessment, which TRIGA-S Scientific Solutions does not present as a triangle but as the pillars of clinical evidence. In addition, he expanded these pillars to include the important point of usability or usability studies.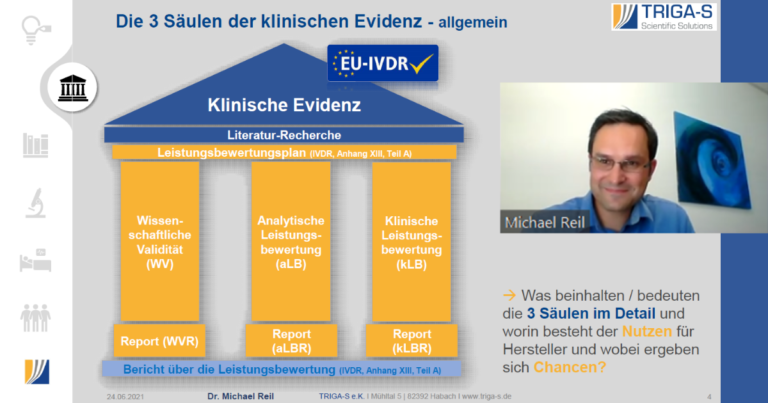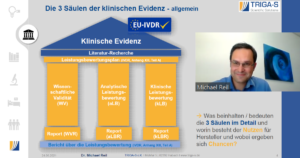 A very interactive element was that our attendees could choose the area in which they still saw the biggest gaps for themselves or their company during another live survey, and the survey results then determined the order of the presentation: First, Michael Reil went into detail about clinical performance evaluation, as 75% of the participants saw the biggest hurdles there. Next were the topics usability (28%), analytical performance evaluation (11%) and scientific validity (8%) (multiple selection possible).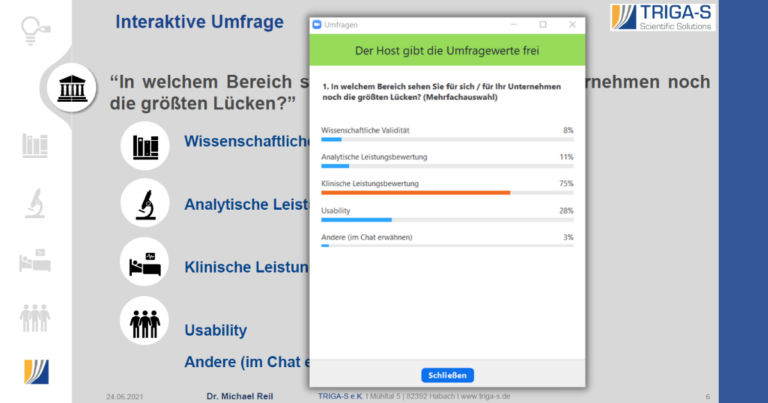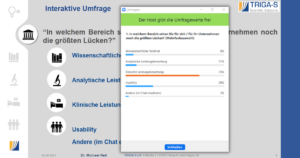 During the event, our attendees asked numerous questions and gave many impulses, which our speaker answered in detail. We were very happy about the interest in this specific MedTech topic and that so many people were able to exchange ideas in this format. Our next MedTech Connect is just around the corner and will again focus on a very special topic within the MedTech industry: "The path to DiGA – a case study with Rehago" (Event language: German) on July 21, 2021.
Finally, we would like to thank our speakers Sebastian Grömminger and Michael Reil for their time and expertise and all participants for their interest and great input!
Further information about the IVDR
For those who were not able to attend MedTech Connect but still don't want to miss any exciting information on the IVDR, check out our new infographic on 10 steps to take when preparing for the IVDR.
Speakers wanted!
Would you also like to participate as a speaker at MedTech Connect? We look forward to hearing from you! Simply drop us a line at hello@climedo.de!
About Johner Institute
Our mission for the healthcare sector: We exist to help manufacturers develop safe products, bring them into market despite myriad regulations and other hurdles, and thus help patients. Learn more: https://www.johner-institute.com/
About TRIGA-S Scientific Solutions
Your diagnostics studies in good hands. Since more than 20 years, TRIGA-S stands for quality and trustful collaboration in clinical and analytical perfomance evaluations of in vitro diagnostics (IVD). In our in-house BSL2-laboratory, we conduct contract measurements and within the framework of the new EU-regulation IVDR, we offer tailor-made solutions. Learn more: https://www.triga-s.de/en/