Climedo Connect: Challenges and opportunities in clinical studies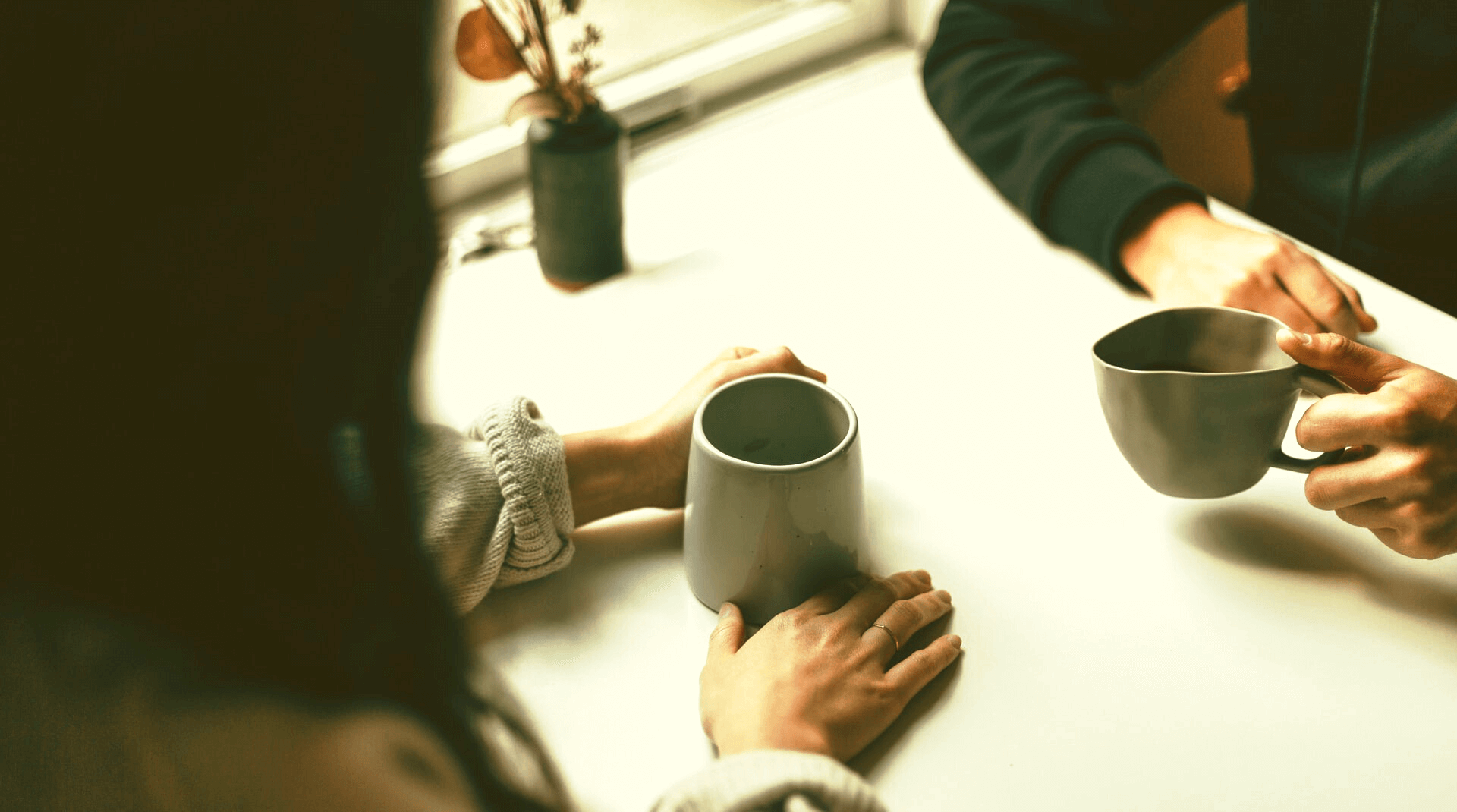 AUTHOR
Veronika | Co-Founder & COO
Please note that this webinar took place in German.
This week, we launched our new event series! #ClimedoConnect will take over from the #MedTechConnect webinar series and we are now inviting both medtech and pharma companies to an informal exchange. Our latest event was about "Challenges and opportunities in clinical trials". Dr. Tobias Kruse (Co- Founder & CEO) from Trials24 joined us as a guest and spoke about new ways in patient recruitment, after our Marketing Manager Catherine Higginson presented the results of our recent survey on challenges and opportunities in clinical trials. Around 60 guests attended our online meetup and listened to the interesting presentations from our speakers.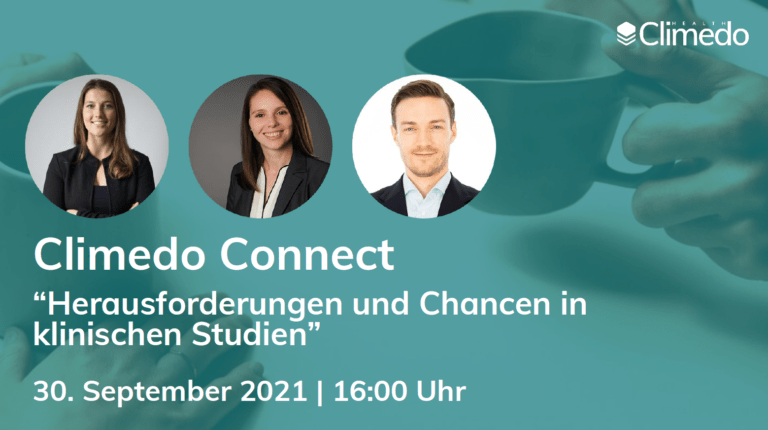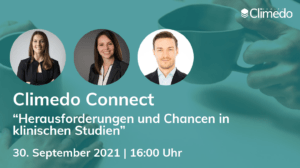 What was it about?
Clinical studies involve numerous challenges, but also opportunities that are unfortunately often still untapped in practice. This summer, we explored this topic in our survey together with Curedatis and analyzed the challenges in the planning, implementation and close-out phase of clinical studies. Of course, we were also interested in the extent to which the potential for digitalization in clinical studies is already being used and what still needs to be done to simplify the clinical trial process according to survey participants. A major problem in research is to recruit a sufficient number of suitable subjects for the study, and the significance of the study results rises and falls with the sample size and quality. That's exactly why we wanted to talk to Tobias from Trials24 about specific challenges pharmaceutical and medtech companies face in the area of patient recruitment and how they can be overcome with digital solutions.
Who were the speakers?
Amelie Fink, Account Manager at Climedo Health, moderated the event and led the Q&A session. Our Marketing Manager, Catherine Higginson, regularly conducts market and industry analyses to bring MedTech and pharma companies closer to current trends and presented the results of our latest survey to the participants. Dr. Tobias Kruse from Trials24 was our guest speaker.
Dr. Tobias Kruse is the founder and CEO of Trials24. Before founding Trials24, he completed his promotion in molecular biotechnology at the Technical University of Munich. There he conducted team research on a vaccine against Helicobacter pylori. Afterwards, as co-founder of a biotech start-up, he commercially developed the vaccine and subsequently founded Trials24 GmbH.
Challenges and Opportunities in Clinical Studies: Survey Results
This summer, we partnered with Curedatis to conduct a survey on the challenges and opportunities encountered in clinical studies. Catherine Higginson presented the key findings:
Implementation phase most difficult

followed by the planning phase and then the closing phase

Difficulties in the planning phase: 

Large expenditure of time, l

ack of personnel, f

inding study centers

Need for digital solutions in the planning phase: 

Feasibility analysis, c

ommunication with authorities, p

atient recruitment
Want to know how things look in the other study phases? Then you can read on here or download the complete survey results here.
Survey Results: Challenges and Opportunities in Clinical Studies
Duration, challenges and opportunities of the individual phases
Digitalization potential and digitalization trends in the individual phases
Look into the future of clinical trials
Experience with decentralized clinica trials (DCTs)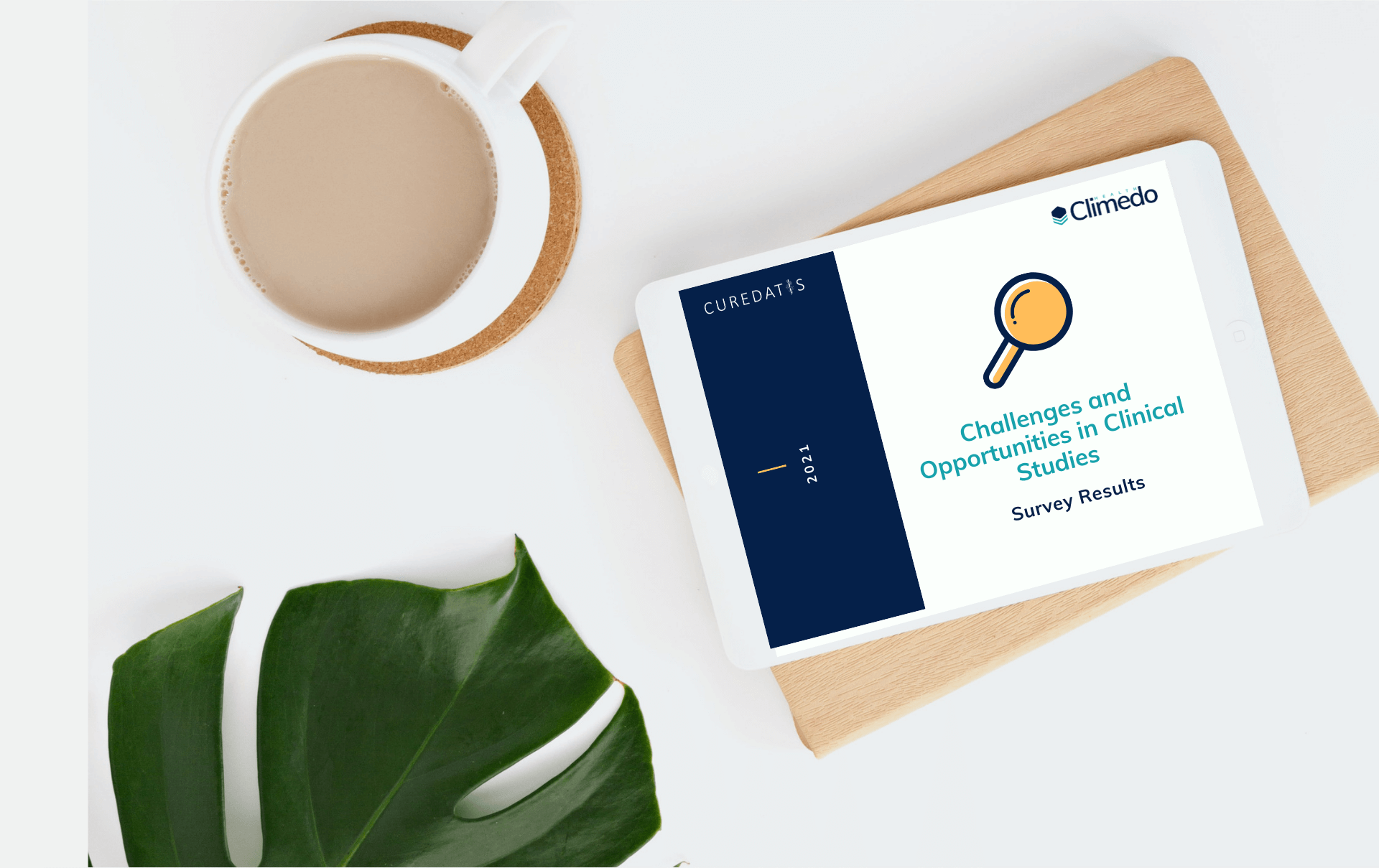 How will clinical trials change in the coming years? We explored this question in our survey and also asked our event participants about the most formative trends in the next three years: As in our survey, "minimal on-site monitoring through eCRF integration in the electronic patient record" was named first by our Climedo Connect participants, followed by "decentralized or virtual trials".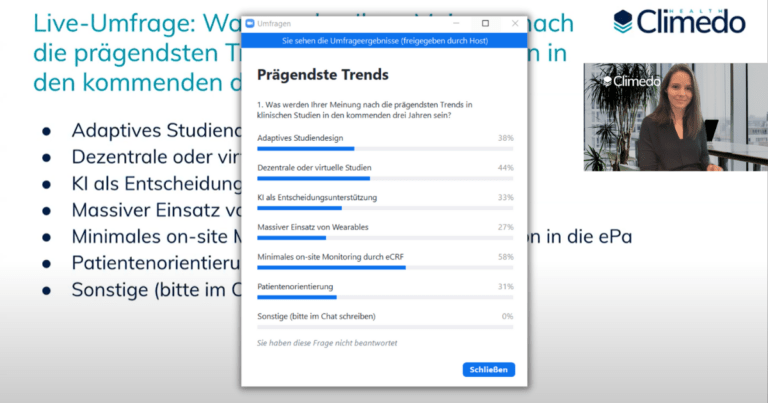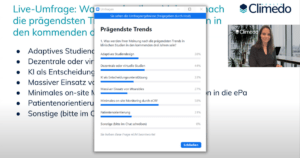 Keynote speech by Dr. Tobias Kruse: "The study is running – but where are the patients?"
Patient recruitment is one of the biggest challenges in clinical studies and sometimes even causes clinical studies to be cancelled altogether. Tobias has experienced these problems himself in his work as a scientist in Helicobacter pylori and cancer research, and has therefore developed new ways of patient recruitment using digital solutions and subsequently founded Trials24 to solve this problem for other companies.
Classical patient recruitment is centralised – subjects are sought for individual study centers by means of newspapers, printed ads on subways or flyers. This process leads to the aforementioned problem of lengthy and sometimes unsuccessful patient recruitment. How can this problem be solved? Tobias' first question to anyone looking for patients for their study is: Where can you encounter your patients?
While print media used to be successful marketing channels, they have become less significant in the last 15 years. Digital channels such as Google and Facebook have replaced them, which is why these channels are now also important for patient recruitment. Because patients – as Tobias clearly showed – often go online with their health-related questions.
But what criteria does patient recruitment have to fulfil in order to be successful nowadays? It is important that it is decentralized and no longer focuses on the study centers, but on the patient.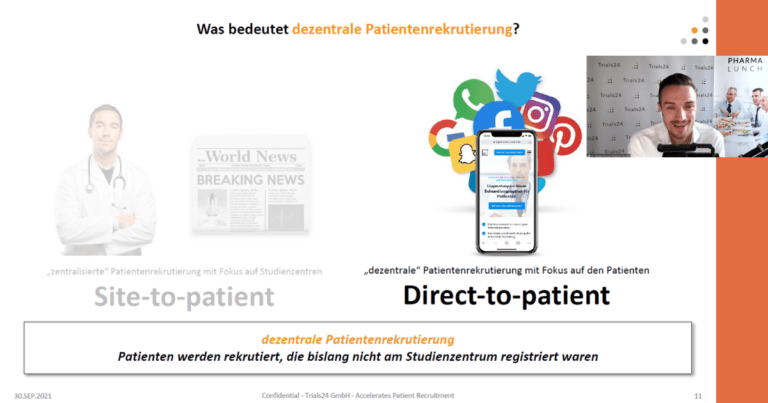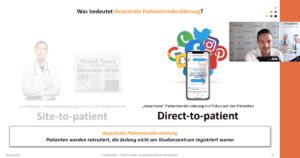 Tobias then presented the four essential steps that should be followed in decentralized patient recruitment. From finding suitable patients to contacting and successfully referring them to a suitable center so that the patient can join the study. He also illustrated this with a detailed example of a decentralized patient recruitment campaign for a lip herpes study.
We'd like to thank all attendees for their great interest and their engagement in the numerous live polls and the subsequent round of questions and discussions. Finally, we would like to thank our guest speaker Tobias for his time and expertise!
Speakers wanted!
Would you also like to participate as a speaker at Climedo Connect? We look forward to hearing from you! Simply drop us a line at hello@climedo.de!
About Trials24
Trials24 accelerates patient recruitment to support biopharmaceutical companies and CROs complete their clinical trials on time, bringing innovative drugs to patients faster. Learn more: www.trials24.com