MedTech Connect: The path to DiGA approval

AUTHOR
Johann | Sales Lead
Please note that this webinar took place in German.
This week, we hosted another exciting #MedTechConnect event. As part of this event series which we launched in 2021, Climedo Health organized its 4th exchange for MedTech companies, which focused on "The path to DiGA" this time. Our guest speakers were Johannes Höfener (Founder and Chief Technology Officer) and Theresa Kreidler (Chief Sales Officer) from Rehago. They spoke about their experience with the approval of their digital health application ("DiGA") Rehago. Around 55 industry experts joined our online meetup and listened to the interesting keynote speeches.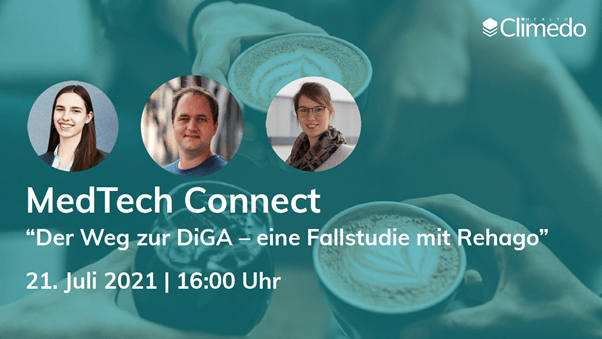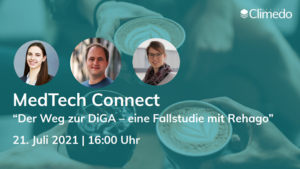 What was it about?
DiGAs are a valuable addition to existing treatment procedures, as they can be used independently and regardless of location by patients. Therefore, insured persons in Germany's statutory health insurance system have a legal claim to the provision of Digital Health Applications (german "Digitale Gesundheitsanwendungen" / DiGAs) – so-called "apps on prescription" – through the DVG (Digitale-Versorgung-Gesetz / digital healthcare act). But in order to be included in the DiGA directory, a testing procedure at the BfArM is required, in which the manufacturers must prove the positive care effects of their product. And since DiGAs and the path to DiGA approval are a very new field, there is a lot of uncertainty about how the admission in the DiGA directory actually works. That's exactly why we wanted to talk with Johannes Höfener and Theresa Kreidler from ReHub GmbH about their experience so far and give the attendees the opportunity to connect and walk the path to DiGA approval together.
Who were the speakers?
Vanessa Wolgien, Business Development Representative at Climedo Health, hosted the event and led the Q&A session.
Johannes Höfener and Theresa Kreidler from ReHub GmbH were our guests.
Johannes Höfener founded ReHub GmbH during his Informatics studies. The company has been developing and distributing the VR app "Rehago" since 2018. As technical manager, he has since overseen the development, the registration as a medical device and currently the planning of the study for the DiGA approval.
Theresa Kreidler studied Human Movement Science and started working at ReHub GmbH during her studies. Since the beginning of 2020, she has been working in patient and therapist support and is now taking over the coordination with the study centres for the planned study for DiGA approval.
Who were the attendees? What experience did they have with DiGAs?
Our online meetups are always geared towards interaction, so lots of live polls awaited our attendees. After a short intro, we launched our first live poll to find out what experience the attendees had in the field of DiGA. Almost half (45%) said they were thinking about launching a DiGA, followed by about a quarter (28%) who had just started the DiGA approval process. One fifth (18%) had no experience and were at the event to get information and 10% were involved in DiGA consultation. None of the attendees were already listed in the DiGA directory. This made the subsequent keynote presentations of great interest to all attendees, as none had yet fully gone through the DiGA approval process.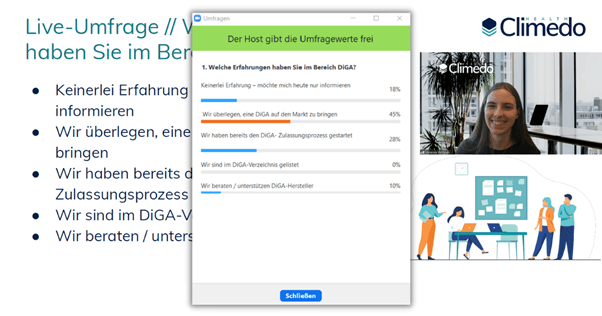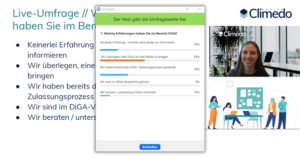 Impulse lecture Theresa Kreidler: "The Path to DiGA"
To get a feeling for their audience, our speakers also had a few questions for our attendees. For example, they wanted to know which professional group they come from and what they would like the event to focus on. Not surprisingly, almost 60% of attendees came from MedTech. The winner in the desired focus areas was study set-up (38%), closely followed by great interest in the use of Climedo on the practical example Rehago (30%) and the requirements for DiGAs (25%).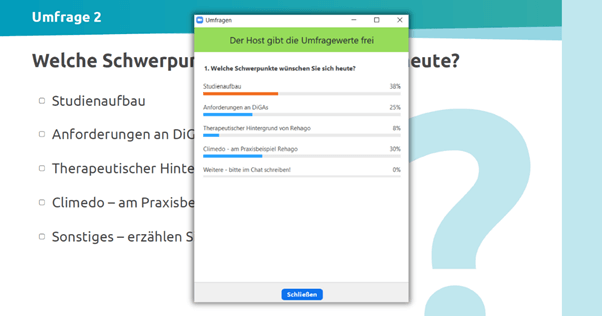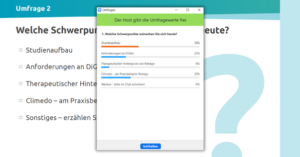 At the beginning of her presentation, Theresa Kreidler gave a brief insight into mirror therapy and the work with Rehago. The Rehago app was developed for hemiplegic patients and it enables them to perform a digital mirror therapy independent of time and location. In addition, it can be individually personalized through gamification and power of choice and is experienced as very motivating. This is very important for the training frequency and thus also the positive results to be achieved by the treatment with Rehago.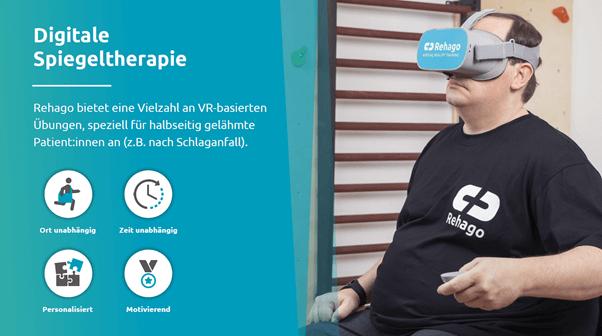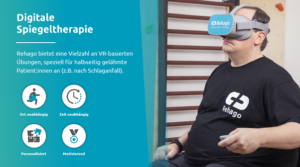 Before diving into the topic of DiGA registration, we launched another live survey to ask how much contact attendees already had with DiGAs. Just under a third (31%) had been involved in the development of a DiGA themselves and another 31% in the DiGA approval process. A quarter (26%) had already read about it and 8% did not know the acronym DiGA (in German: "Digitale Gesundheitsanwendungen" / DiGAs). Hardly anyone had contact with its use, neither through their own application (3%) nor through another person (3%) who had already used DiGAs.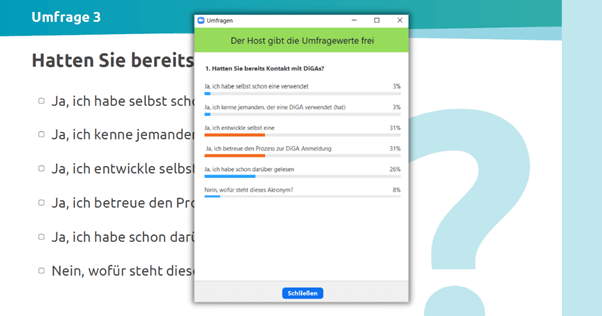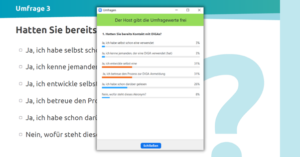 Afterwards, the Fast Track to DiGA according to BfArM was presented and the individual path of Rehago regarding DiGA approval was shown.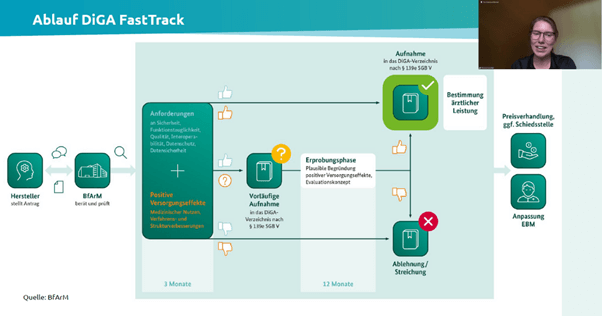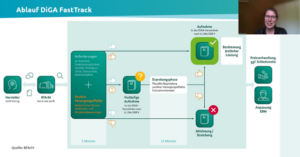 But why is the DiGA approval actually so interesting for manufacturers? Rehago gave the following reasons for becoming DiGA:
Prescriptions by doctors and psychotherapists

Reimbursement by health insurance funds

German "all-flat-health" mentality

Central directory

Seal by BfArM
Impulse lecture Johannes Höfener: "DiGA study requirements"
Johannes Höfener focused on the requirements that are placed on DiGA studies. Therefore, a live survey was switched on directly at the beginning to find out how much experience the attendees already had with studies in general. About a quarter each had already worked on some studies (28%) or had been involved at least once (28%). None of the attendees evaluated studies on a daily basis and 44% had no experience and were simply curious about what Johannes Höfener had to share.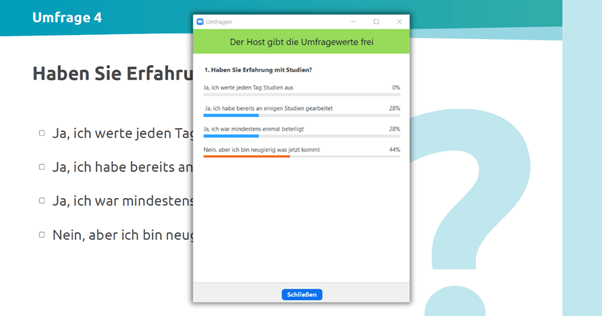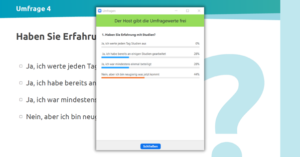 Johannes Höfener summarized the most important requirements for a DiGA study right at the beginning. First, a DiGA study is a normal registration study for medical devices. The BfArm prefers preliminary data from a completed study, however, there is also the "Fast Track" to DiGA approval as shown above, where manufacturers can submit the data within the trial year. The advantage is that the DiGA can already be prescribed within the trial phase, which is financially very important for study funding, especially for smaller companies. The primary endpoint always has to be the demonstration of positive care effects. This includes either patient-relevant structural and procedural improvements or a medical benefit. Johannes Höfener then described the planning of the pilot study of Rehago and the results of this first study as well as the planned main study. Here, he also addressed different forms of data collection and shared his ­­positive experience with the use of Climedo.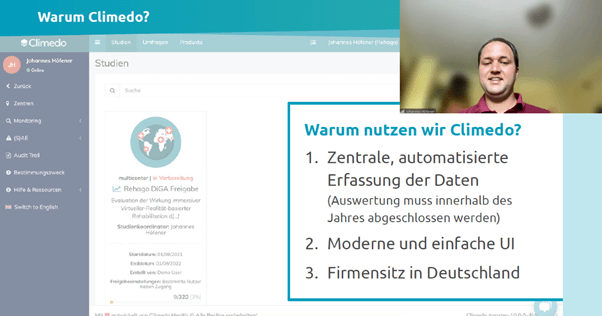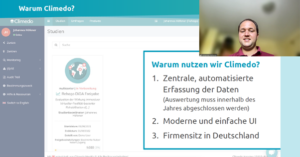 The presentations were followed by a lively round of questions and discussions and the attendees were very interested in the practical experience of the speakers. It was great to see so much interest in our MedTech Connect event on DiGAs!
Finally, we would like to thank our speakers Johannes Höfener and Theresa Kreidler for their time and expertise and all attendees for their interest and great input!
More content for you
If you were unable to attend our event, you can request the webinar slides for download here (slides available in German). If you would like to be kept up to date on upcoming events and content, you can sign up for our newsletter.
New survey: What are the biggest challenges in clinical trials? We're currently conducting a survey on this topic and would appreciate your input. Upon request, survey attendees will receive the results shortly.
Speakers wanted!
Would you also like to participate as a speaker at MedTech Connect? We look forward to hearing from you! Simply drop us a line at hello@climedo.de!
About Rehago
Rehago is a software-based medical device designed to help hemiplegic patients return to a self-determined life more quickly and is based on the proven principle of mirror therapy. Instead of training in front of a physical mirror, patients train in a virtual environment. The immersion in a different world and the playful approach increases motivation, leading to more regular and frequent training. Both can be crucial for a positive therapeutic progress. Rehago offers different and individually adaptable exercises. Thanks to its mobility, training can be done at any time of the day as well as from any location – at the patient's desired pace. Learn more: www.rehago.eu
About ReHub GmbH
ReHub GmbH is a manufacturer specialized in the development of digital rehabilitation technology for patients with hemiplegia, such as stroke patients. The team develops the therapeutic software Rehago, which is used in combination with Virtual Reality (VR) glasses. The regular therapy consists of physiotherapy and occupational therapy as well as analog mirror therapy. Training with Rehago training will be implemented in addition to the regular training methods.