Quality Management and Patient Centricity in The Doctor's Practice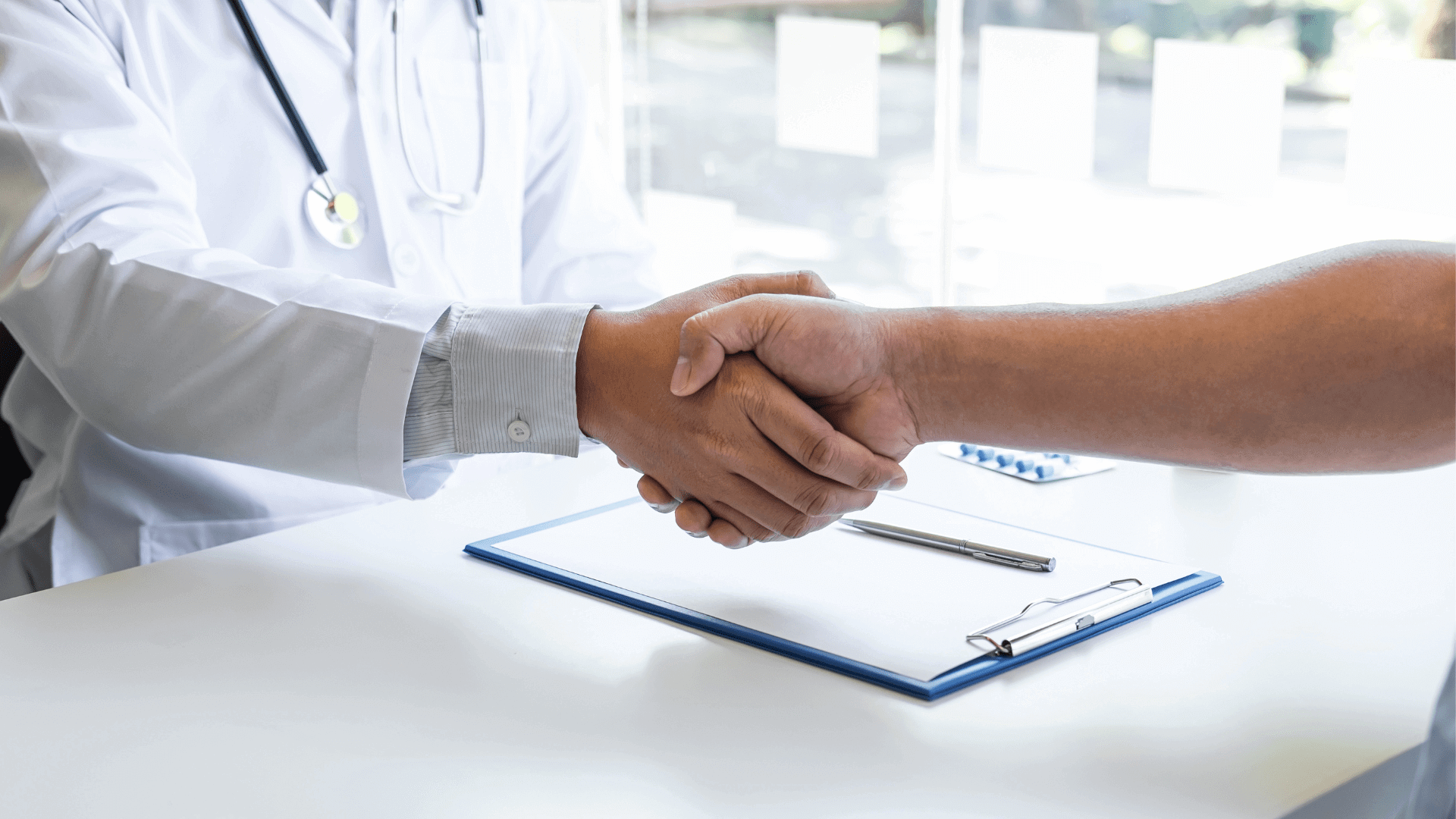 AUTHOR
Nils Buske I Medizinio
Guest article by Nils Buske, Medical Editor and Online Marketing Manager at Medizinio
When expectations regarding one's personal health are not met by a doctor's practice, this can cause anger for patients. Such expectations not only relate to patient care and communication, but also to general processes. In order to avoid this scenario, the concept of patient centricity in the doctor's practice can be helpful. It focuses on the patient and their individual needs, from scheduling appointments to the actual examination or treatment. This concept is typically implemented with a quality management system in mind, which supports the optimization of work processes and behavior for the benefit of the patient. Quality management should be understood in medical practices, because it not only serves patient centricity, but also staff satisfaction. This article will analyze what this could look like and what patients expect from doctors.
What's it about?
1) Definition: Patient centricity in healthcare
2) What do patients expect from medical practices? 
3) Why is patient centricity important?
4) Ensuring quality management in medical practices
5) QM procedure of the KBV: QDP – Quality and development program in medical practices
6) Implementing a quality goal with the help of PDCA cycle 8
1) Definition: Patient centricity in healthcare
Patient centricity in healthcare describes the focus on the individual patient's well-being when performing medical or nursing procedures. However, this process does not start during the medical examination, but long before the first contact. The Robert Koch Institute understands patient centricity as the focus of action around the desires, expectations and satisfaction of patients. This concerns not only doctors and medical assistants at the micro level of a medical practice, but also parties at other organizational levels: 
Macro level: The focus on socio-political developments and legal framework conditions
Meso level: Focus on institutions and associations 
The meaning of patient centricity can vary depending on the point of view and leaves some room for interpretation. While a patient representative understands patient centricity as autonomy and guaranteeing patient rights, the economist focuses on the efficient management of healthcare. The nurse, on the other hand, puts the care and therapy of the patient first. In hospitals, the further development of quality management is a high priority, since complaint management, patient safety and satisfaction are taken into account here.
2) What do patients expect from a medical practice? 
In order to offer the best possible level of patient centricity in the doctor's practice, it is necessary to know what patients expect from it. DHBW Ravensburg analyzed the expectations of patients in an online survey in May 2020 with 950 participants. As a result of the Covid-19 pandemic, patients place great importance on hygiene measures. This includes a separate waiting area for infectious people or a disinfection dispenser. Furthermore, the majority expects a smoothly running practice organization (accessibility, waiting time, services, consultation hours) as well as friendly and competent staff with specialist knowledge. 
As digital consultants for doctors, we at Medizinio can confirm that interest in a medical practice has increased considerably from a doctor's point of view, partly due to the Covid-19 pandemic. This term refers to the use of digital telematics infrastructure applications (e.g. e-patient file, e-prescription etc.) and further services (e.g. online appointment booking, online video consultation etc.). The Jameda patient study (2019) underlines the importance of digital services, which was conducted as part of a representative online survey of 1,067 patients. The study found the following:
More and more patients are using digital services offered by medical practices
There is a large gap between the desire for digital services and what is actually offered
3) Why is patient centricity important?
Patient centricity in medical practices is important for meeting the growing expectations of patients. If the doctor's office does not meet these expectations, the patient will not come back. Even worse: The patient will tell their friends and family or leave a negative review online. Word of mouth and the internet are the two most important channels in a patient's search for a doctor. Patient centricity should be understood as an important marketing measure for medical practices. It has a direct impact on patient acquisition and therefore also practice turnover. At the same time, an improvement in patient centricity can also result in more efficient work processes (time and costs), which in turn has a positive effect on the staff, and indeed on the entire medical practice. 
The National Association of Statutory Health Insurance Physicians (KBV) associates the following advantages with patient centricity:
Benefits for doctors and psychotherapist
Benefits for employees and teams
Benefits for patients
They can manage their practice confidently and care for their patients in a safe way.
They work in a structured way and fulfill their tasks with a routine and
great confidence.
They benefit from coordinated and safe processes and a stress-free atmosphere in the practice.

Their structured
practice means a less
hectic and stressful pace.

They know what you are
responsible for and what
everyone else is
responsible for.

They will be informed
about everything that
is important at registration
as well as in the consulting
room.

The working atmosphere
is good, conflicts can be solved (more easily).

They talk openly about
mistakes and problems
and look for solutions
together.


They feel well treated and
securely advised.

They have more time and calm for their patients.
They offer each other relief at work
because not everyone (has to) do everything
Their doctor or psychotherapist
has more time
for them thanks to an efficient
practice set-up.

They can plan and use resources better.
They support each other
and can jump in for one another.

They can address problems. Their complaints are taken seriously.

They are relieved of tasks that employees can take over.
Clear rules and transparent structures contribute to a good working atmosphere.
They can be sure that their data and information will be treated confidentially.
They can avoid errors and avoid liability-related risks.
They take the opportunity to continuously train and qualify themselves.
A regulated flow of information to other facilities ensures the continuity of their treatment.
They can save financial resources.
New employees and
Colleagues are onboarded
more easily.

They benefit from
motivated and satisfied employees.

4) Ensuring quality management in the doctor's surgery
A structured quality management (QM) system can ensure a minimum quality of a doctor's surgery. The minimum quality or the goal of QM means the focus of all practice staff on legal, professional and contractual principles for the benefit of patient-centric care. Simply put: Theoretical QM should prevent errors in practice and make processes more efficient. The results of the process-optimizing measures should be regularly reviewed internally and, if necessary, work processes should be adapted to promote quality.
It is taken for granted that patients are treated in a friendly and helpful manner. However, there is much more to patient-centric QM. Good QM not only ensures satisfied patients, but also satisfied practice staff. It is therefore desirable to create a culture of safety for doctors, staff, patients and all others involved.
In Germany, quality management is required by law in § 135a SGB V. It is up to the doctor to decide how QM should be implemented in their surgery. Supporting information is provided by existing QM procedures such as QEP, KPQM, KTQ, EFQM, EPA or DIN EN ISO 9001 : 2000.
5) QM procedure of the National Association of Statutory Health Insurance Physicians: QEP – Quality and Development in Practices
For a doctor's surgery, for example, the QM procedure "QEP – Quality and Development in Practices" is recommended, which was developed by the National Association of Statutory Health Insurance Physicians (German: KBV), physicians in private practice, psychotherapists as well as employees of associations of statutory health insurance physicians and QM experts. QEP has been especially designed for doctors' surgeries and medical care centers and offers quality targets and practical suggestions for implementation on all relevant topics.
The QEP quality goal catalog is made up of various building blocks that interlock and can be tackled step by step:
Patient care
Patient rights & patient safety
Staff & training
Leadership & organization
Quality development
In addition to the QEP catalog, for which a fee is charged, the KBV has published specific tips on the topics of practice management and practice organization as well as patient care and patient perspective. From this, the most important information can be derived as follows:
Practice management and organization
Field
Recommendation
Process and procedure description
● Listing of the most important work steps per process in the form of
a checklist
● Responsibilities must be clearly defined
● Checklists can be created, e.g. for emergency management, hygiene management or risky procedures (e.g. drug therapy)
● Any processes do not have to be in written form, but can also be in the form of an organizational chart or other adequate graphical representation

Regulation of responsibilities
● Definition of tasks and clear distribution of tasks for:
– Diagnostic and therapeutic procedures
– Documentation in the patient file
– Invoices of the services
– Hygiene
– Occupational health and safety
– Data protection and security
– Medical devices
– Radiation protection
– Hazardous substances
– Orders and purchasing

● Designation of a representative in the event that the main responsible is absent due to illness, is on vacation etc.

Team meetings
● Schedule a regular appointment in the practice calendar
● At least once a month, duration: 1 – 1.5 hours
● Plan an agenda in advance
● Clarify roles: One event planner, one moderator, one transcript writer
● Documentation of the results in a protocol (including future measures)
● Confirm attendance in the form of a list of participants
● Clarify who is responsible for checking the distributed tasks at regularintervals

Staff appraisals and surveys
● Prepare well, plan for a calm atmosphere and sufficient time
● Example topics: Performance appraisals, Further training wishes, development opportunities, target agreements and open questions
● Document the conversation with the help of forms, guidance, notes or checklists and add in to the staff file

Further education, training, instruction of the team
● The foundation for well-trained, responsible and motivated
motivated employees
● Regular training or further education can ensure stable and
long-term employment relationships

Patient care
Field
Recommendation
Patient survey
● Feedback is importantfor getting suggestions on potential improvements and for the patient to feel like they are taken seriously
● Can be carried out with the ZAP questionnaire (satisfaction with the outpatient care – Quality from the Patient's Perspective) which is provided by the KBV in seven languages

Complaint management
● Reveals potential for improvement
● Themain focus is on the management of the practice, who not only register complaints and problems, but also analyze causes and eliminate their causes (exemplary role)

Patient information and education
● Inform patients about available materials (analog or digital)
● One recommendable source is patienten-information.de (available in German), for example

Treatment pathways and guidelines
● In contrast to general guidelines, treatment pathways also include
organizational and practice-specific aspects
● Treatment pathways are process descriptions and checklists that refer to
specific diseases or services
● Ideally, these should be drawn up together by the practice team and clearly defined by the practice management

Interface management
● Refers to the seamless transition of the patient from the doctor's surgery to another facility, such as a hospital
● Communication between all parties is important, especially during admission and discharge
● Define rules for the transfer of patients

A fundamental pivotal point in the organization of the practice is not only the staff, but also the practice management system. It serves as a central data repository and supports patient data management, treatment documentation, billing and much more. The "digital command center" can significantly influence the patient centricity in the doctor's practice: An error-prone practice management system with poor support from the provider causes a bad mood among staff and patients. Although changing a practice system is a relatively large project, in the long run it may also offer the greatest potential in terms of staff and patient satisfaction. But which system is the best? A comparison of the top 10 practice software , for example, can provide information on this question.
The market share of the respective software can be an indication of how satisfied doctors are with it. Apart from that, the software should of course match the individual requirements profile of the doctor's surgery.
6) Implementing a quality goal with the help of the PDCA cycle
The PDCA cycle (Plan, Do, Check, Act) is a concept that provides support in the optimization of quality goals in a doctor's surgery. Quality objectives refer to specific practice tasks or areas and serve the further development of quality management. Ideally, self-set quality goals are not static, but a repetitive process of change, adaptation and optimisation. The four phases of the PDCA cycle are characterized as follows:
1. Plan: Analysis of the current situation, identification of opportunities and problems, formulation of goals, planning of implementation
2. Do: Implementation of the planned measures and gaining insights
3. Check: Target-actual analysis, checking the implemented measures with regard to the defined target
4. Act: Fixed implementation of the checked measures or adjustment of the measures and/or goals
Conclusion
Yes, quality management may seem very theoretical at first glance and it does not directly influence the pure medical performance. But the modern patient of today is increasingly paying attention to service and appreciation. QM can be used to focus on patient centricity in the doctor's practice on several levels. Communication guidelines, digital tools (online booking of appointments etc.), a working practice management system, complaint management – all of these are measures that can be tackled in a structured way by the team. In addition, optimized processes not only ensure satisfied patients, but also satisfied practice staff. In any case, you cannot avoid quality management in a German doctor's office, since the legislator prescribes it by law as a mandatory quality assurance. Although this does not guarantee that every patient will leave the practice with a smile on their face,. QM is an instrument for increasing this probability.