Scaling a Startup Culture in Times of Rapid Growth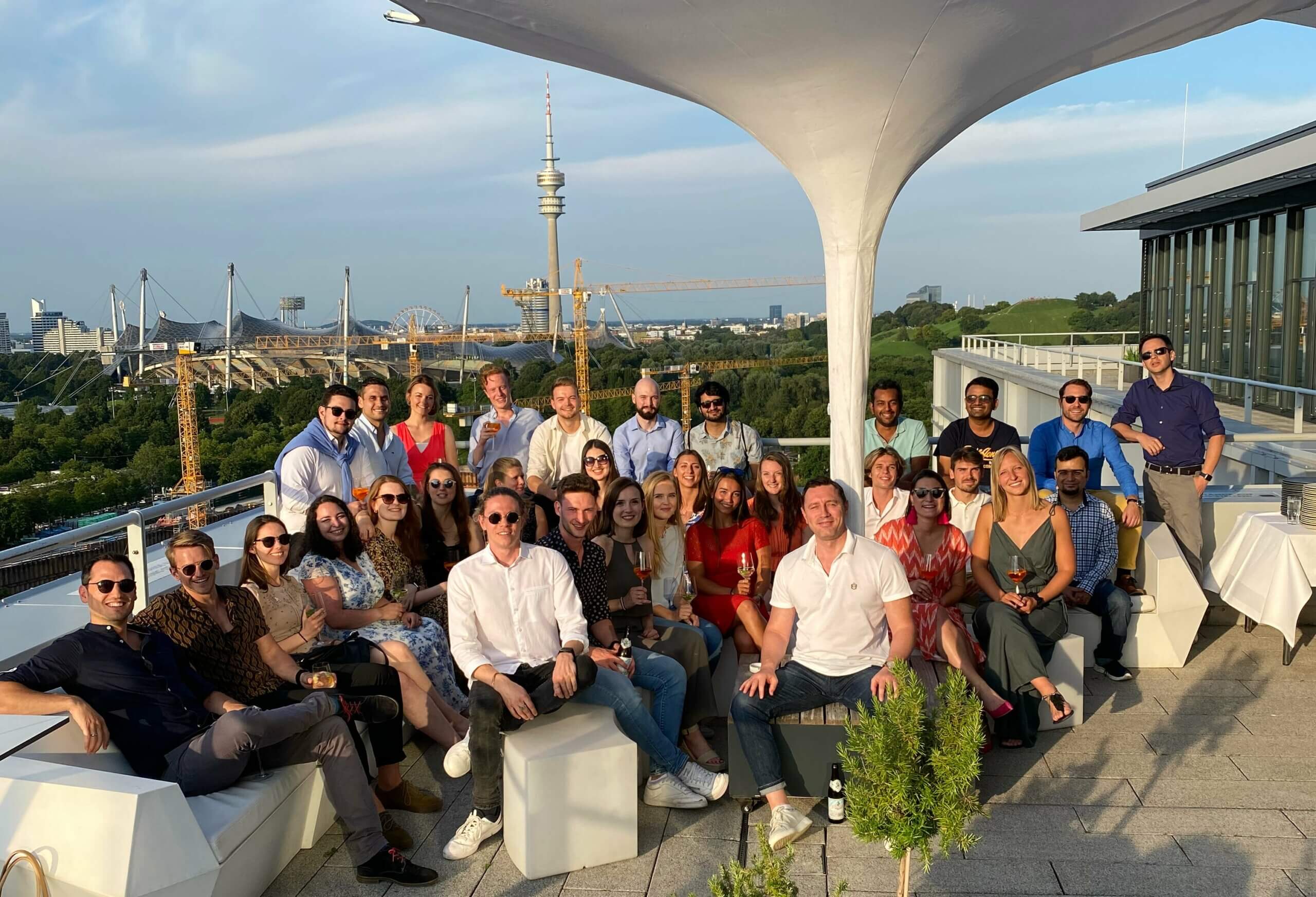 AUTHOR
Sascha | Co-Founder & CEO
The Climedo team is thrilled to announce that we recently closed our Seed round of €5 million! This will allow us to drive forward our mission of enabling better healthcare to improve patient lives even faster.
We're extremely grateful that our initial angel investors have always supported us in our vision. With Nauta Capital, we now also have an experienced VC company at our side with whom we will shift Climedo into a whole new dimension.
Our journey so far
It's incredible how time flies. I still remember when Dragan, Veronika and I laid the foundation for Climedo after meeting at the Center for Digital Technology Management (CDTM). What followed was an exciting phase full of new ideas, learnings, challenges – surrounded by a strong and constantly growing team.
We spend a lot of our lives working – and for most of us, it's necessary for survival. But if you live and work in an environment like Germany, we believe you have the opportunity to make the most of your time and also give something back.
The idea behind Climedo was simple: we wanted to use our time wisely and reach as many people as possible with our skills. This led us into healthcare. Our first step was to talk to many doctors, including in the pediatric leukemia ward of the Charité hospital in Berlin.
Our question was: "How can we help you as doctors to do your job better with digital solutions?" We weren't even specifically concerned with market size alone, but rather with helping doctors and clinics speed up their processes and thus offer patients better therapies.
It wasn't long until we realized that manual processes are also a major problem in the business sector, too. For example, many companies in the pharmaceutical and medical device industries still use paper or Excel spreadsheets to conduct their clinical trials. This is tedious, inefficient and error prone. It also makes many things way more expensive.
Our goal at Climedo is therefore to make clinical data capture fast and easy while improving the data quality, too. That's why we aim to become the #1 software solution for ePRO-focused clinical validation by 2024.
Today, we're already proud to support medical device, pharmaceutical, research and public sector customers with our solutions.
Covid-19 and Climedo
The onset of the 2020 Coronavirus pandemic hit companies across all industries hard. Both start-ups and established companies were threatened in their existence. It certainly didn't make things easy for Climedo either: Many of our projects were cancelled or postponed and our future felt very uncertain. We had a runway of four months left and needed to come up with some new ideas to make it through.
As a company, we have a pillar of core values that brings our team together, and one of those values is optimistic, visionary and long-term thinking. That's why we knew we had to take matters into our own hands.
Two things resulted from this:
We wanted to make clinical trials more decentralized and less dependent on physical trial sites, such as hospitals. It needed to become easier for patients to continue joining trials, even under Covid restrictions – including those patients who might not be as mobile.
We wanted to see if we could support the fight against the pandemic with our solutions. After all, we had software that was certified to process the most confidential data in the world.
With that, we also reached out to our team, saying: "Have a think about how we could help fight Covid-19 with Climedo's software!"
It wasn't long before we had a specific Covid-19 use case in front of us: Around March of 2020, one of our team members told us that a family member of his had contact with a person who had tested positive and was now getting daily calls from the public health office, asking about their symptoms.
This sounded very familiar to us. After all, doctors often make these kinds of inquiries by phone during clinical trials – and we've already been able to help many of them with Climedo's solutions. So the question was: Couldn't the public health offices' problem be solved quite easily with Climedo as well? For it was clear that they wouldn't be able to keep up with the rising number of cases with time-consuming phone calls.
This was the starting point for our Symptoms Diary, which resulted in a project with the Federal Ministry of Health after several months of hard and intensive work. By now, Climedo is used by about half of all German health offices, reducing their administrative workload for contact tracing (phone calls, emails, faxes) by up to 80%. We're proud to say that one person in 100 in Germany has already had a touchpoint with Climedo.
The new "social distancing" measures also took some getting used to for our team and our culture. There were 15 of us when we decided it was no longer responsible to come into the office. Fortunately, it was relatively easy for us because all of our processes and tools are cloud-based and independent of any physical system.
Although it wasn't the same, we were able to maintain our strong team spirit and everyone's well-being by holding regular online events and having more frequent internal pulse checks. Our Monday morning breakfasts, Wednesday Brown Bag Lunches, and Friday Weekly Close-outs were now to be held entirely online or in a hybrid format. We have maintained these formats to this day – and by now, there's 56 of us!
5 principles that help us scale our culture
We've gone through a phase of rapid growth and can be proud that we've managed to maintain our culture at the same time. The upcoming phase will be the real challenge, however.
At Climedo, we have 14 basic working principles – based on the book "Principles" by Ray Dalio – that help us work well as a team, which in turn is reflected in our culture. I consider five of them to be particularly important in next months:
Create trust and responsibility
In times of rapid growth, we can't and shouldn't tell each person on the team exactly what to do. We need to trust them to make their own judgment calls that are in the best interest of the company.
It's therefore important to hire people who also want to make their own decisions at an early stage – this is a basic requirement for success.
Define goals instead of tasks
Building on this, we try not to delegate individual tasks, but to define overarching goals together. The idea behind it is: "This is the desired outcome. It's up to you how you get there."
This not only gives the team flexibility in their day-to-day work, where everyone can pick the quickest path for themselves based on their preferences and working style – it also offers some relief for the team leads and managers. They, in turn, can focus on the bigger picture because they can trust everyone to do a great job.
This eliminates the need for many discussions about how exactly to get to the goal, and is a fundamental pillar for rapid growth.
Enabling continuous development
At Climedo, everyone is responsible for ensuring their ongoing learning and development. When a company grows quickly, its people need to grow, too. Otherwise, the company will end up growing faster than you – this can happen and it's also okay at times.
Nevertheless, we should do everything we can to provide the development opportunities which will help scale the company, to learn a lot of new things at a rapid pace and to take on a lot of responsibility over a short period of time.
Building a feedback culture
One component which is closely related to this is regular feedback within the team, in a 360 degree setting. Here, we try to give each other feedback based on some predefined structures and questions, to show where people are strong and where they could improve.
Based on this, we're able to build continuous development plans and can also create more self-awareness for younger team members with less work experience. As a result, they can better assess themselves and make good decisions.
Communicate effectively
I think communication is the biggest challenge in any business. At the same time, it's also the key to success. Poor communication leads to frustration, unhappy team members, poor performance and a loss of trust.
That's why we have a simple rule at Climedo:

"If you want to communicate something, it's your job to ensure the other person understands exactly what you meant."

So the responsibility lies with the communicator, not the recipient. When someone relays a message or idea, he or she is responsible for making sure that the other person understands it exactly the way it was meant.
This rule alone has helped us avoid many problems in the past, even though communication will naturally continue to challenge us in the future.
Thank you
We're currently in a very fortunate position. We followed our hearts and were able to do something good: We can help others and support a company and vision at the same time. Our new investment has also put us in a strong position to really create an impact and push for the next level.
Gratitude is one of our main pillars at Climedo. And you rarely start a business alone. You're constantly surrounded by people who support you on a daily basis, be it with their expertise or on an emotional level, such as friends and family.
But there's one group of people whom I'm particularly grateful to: Those who were willing to join Climedo in its very early stages. Because when you're a young company with a small team and a short financial runway, it's much harder to convince candidates to leave a safe working environment and join you instead. For me, that's a very different kind of courage and I'm extremely grateful that we were able to convince so many great people to work on our vision early on.
What's next?
We still have a long journey ahead of us at Climedo and we'll continue to do everything in our power to make clinical trials more decentralized and accessible. This means including patients who might not normally be able to take part in a clinical trial.
We're already partnering with leading service providers to fully digitalize this innovative way of conducting trials and to offer a holistic approach – with the ultimate goal of facilitating access for all patients and also bringing new therapies and medicines to market faster.
I'm convinced that this is the biggest lever for Climedo to live up to our vision.
But we can only achieve this vision with a strong team that helps drive it forward every day. We're currently growing across all areas, from Tech, Product, Sales, Marketing, Customer Success, HR to Business Development, Legal and Operations.
So if you're looking for a new challenge, now is an exciting time to join Climedo. Find out more about the opportunities here!