3 Ways to Improve Data Quality in Clinical Trials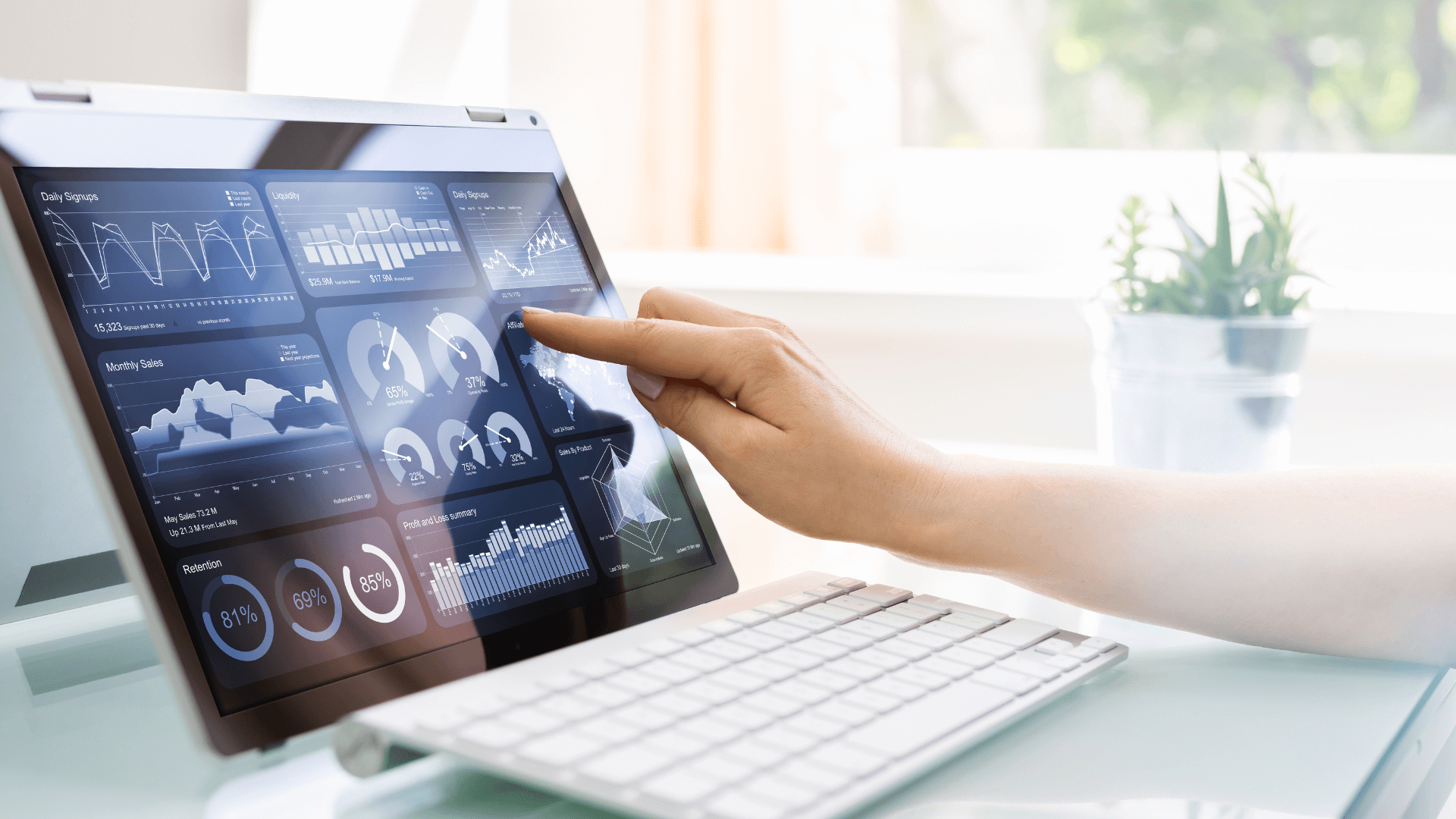 AUTHOR
Tereza | Senior Customer Success Manager
The success of a clinical trial is not only determined by the number of participants and their commitment. In times of increasingly complex, decentralized studies and hybrid study designs, data quality is becoming the focus of science and health policy. The more meaningful the data collection in the course of the study, the more efficiently and quickly the study can be completed while reducing the dropout rate.
To ensure a high level of data quality, scientifically validated methods and procedures are necessary. They ensure that flexible adjustments in the course of the study do not have a negative impact on the study data. The aim should be to positively influence the quality of medical data already during data collection, instead of carrying out a successive evaluation later in the study.
Digital technologies facilitate faster evaluation of large datasets and enable reliable traceability at any time during the study. Learn how digital data management can improve the quality of your clinical trials.
How to successfully optimize data quality
1) Improving data quality with digitalized monitoring
2) Choose the right tools for electronic data capture
3) Increase the depth of analysis of study data with benchmarking
1) Improve data quality with digitized monitoring
Clinical trial monitoring is an essential component of drug development that aims to ensure subject safety, data quality and protocol compliance. However, data management varies significantly from study to study and relies on paper-based processes in many cases. This slows down overall data management and promotes confusion in complex datasets. Simply transferring research processes from paper to digital form is also not very effective. Rather, a central monitoring system should be established with the help of electronic data capture, which is designed from the outset for the study design. Close coordination among the stakeholders as well as consideration of the applicable guidelines should not be neglected. In this way, the overall data of an ongoing study can be easily reviewed with the help of analyses and visualizations, and unusual patterns in the data regarding patient and site can be identified in a timely manner. This helps predict potential problems, mitigate areas of risk and ensure data stability throughout the study.
In this context, the comparability of data also becomes more important. The better the data management of a study in the long term, the easier it is to implement similar or new study designs that build on it. In addition, the exchange among all stakeholders is improved and accelerated by digital documentation, since, for example, creating copies of archived files or questionnaires is no longer necessary. The use of artificial intelligence can be a useful addition, especially with huge amounts of data, to speed up the management and evaluation of the data.
2) Choose the right tools for electronic data capture
Much of the data generated in clinical trials is ideally patient-centric, and actively involving participants already helps to improve data quality. This is where electronic data capture (EDC) comes in: Instead of receiving patient feedback through laborious, paper-based completion of questionnaires at the research center, the exchange between participants and medical staff is decentralized using ePRO and eSurveys, for example. This eliminates the need for manual editing and sorting of data sets and speeds up processing, as the data can be sorted, merged and processed easily thanks to digital possibilities. Thanks to the good traceability, study teams can better understand how the patients are doing and whether the data are entered reliably or not.
The use of EDC also allows for greater flexibility in the conduct of studies. For example, tighter specifications for eSurveys or automatic validations can be implemented more easily at each stage of the study. If data collection and monitoring are designed in such a way that all members of the research team and the participating medical staff have real-time information, they can react more quickly to adjustments or unexpected study developments. Telemedical consultations and the use of mobile devices promote a timely exchange between medical staff and patients. A high degree of user-friendliness, for example in questionnaires or apps used, as well as the possibility of accessing these conveniently from anywhere, motivate all those involved to contribute to the provision of study-relevant data in a timely and complete manner.
3) Increase the depth of analysis of study data with benchmarking
An optimal and clear visualization of study data is also advisable in the context of clinical trials, because the clearer and more user-friendly the data presentation or access is, the more likely it is that false conclusions or misunderstandings will be ruled out. The presentation of the data should not only be a cosmetic effect, but increase the depth of analysis of the collected data. By flexibly comparing different data segments, trends can be read more easily during the course of the study and countermeasures can be taken at an early stage, for example in drug production.
Targeted benchmarking and progression analyses simplify interdisciplinary exchange and comparison between patient groups across different study centers, which improves data quality and monitoring, especially in complex study designs. With the help of user-friendly benchmarking tools and clear dashboards a defined data point of a subject can be compared anonymously with the comparative value of the entire study population. The use of specific filter masks also helps to optimize data management. Thus, different populations can be filtered according to different information such as gender, age group, cohort or region. Ideally, physicians and patients receive real-time, accurate, comparable data on the course of therapy and the progression or decline of the disease.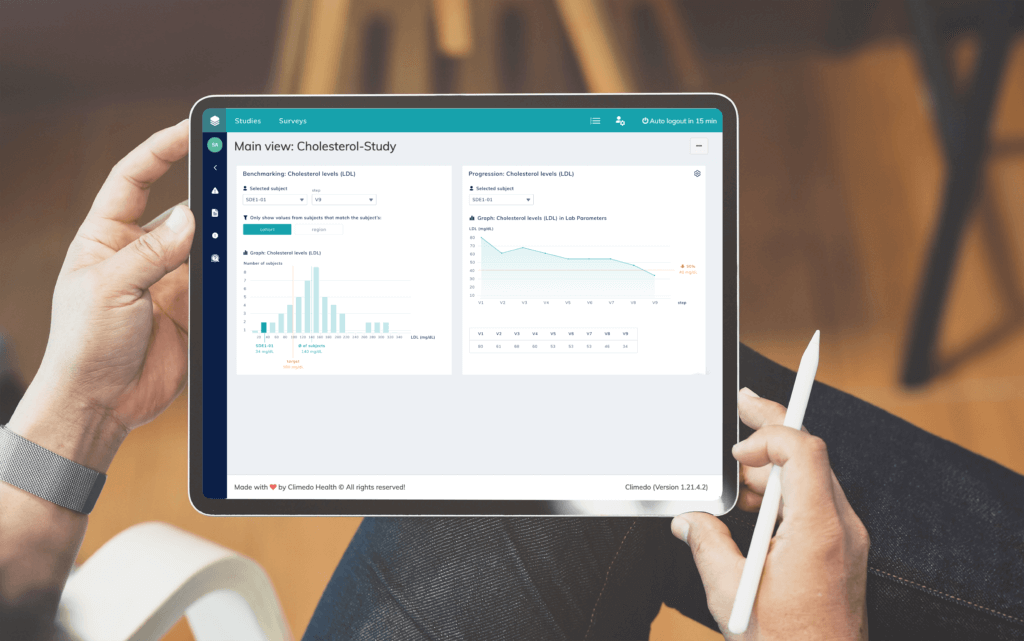 Conclusion: Digital technologies and optimized data visualization increase the data quality of clinical trials
Conducting clinical trials is complex, and reducing bureaucratic hurdles and optimizing data collection are crucial to improving trial efficiency and the chances of successful completion. Electronic data collection is a versatile tool in this regard. Its use not only improves patient retention and data quality, but also relieves the burden on study staff, as the effort required for data entry and maintenance is significantly reduced. Decentralized clinical trials in combination with higher-quality data ensure that study cohorts can be compared anonymously across study sites and that direct intervention is possible in the event of problems or deviations. Improved data quality ultimately means that fewer patients are needed for clinical trials and the entire process is accelerated.
Our tools for electronic data collection and data visualization can help you permanently improve the data quality of your clinical trials. Feel free to reach out to us or schedule a software demo. We look forward to supporting your research.