Assessing the Psychological Impact of Coronavirus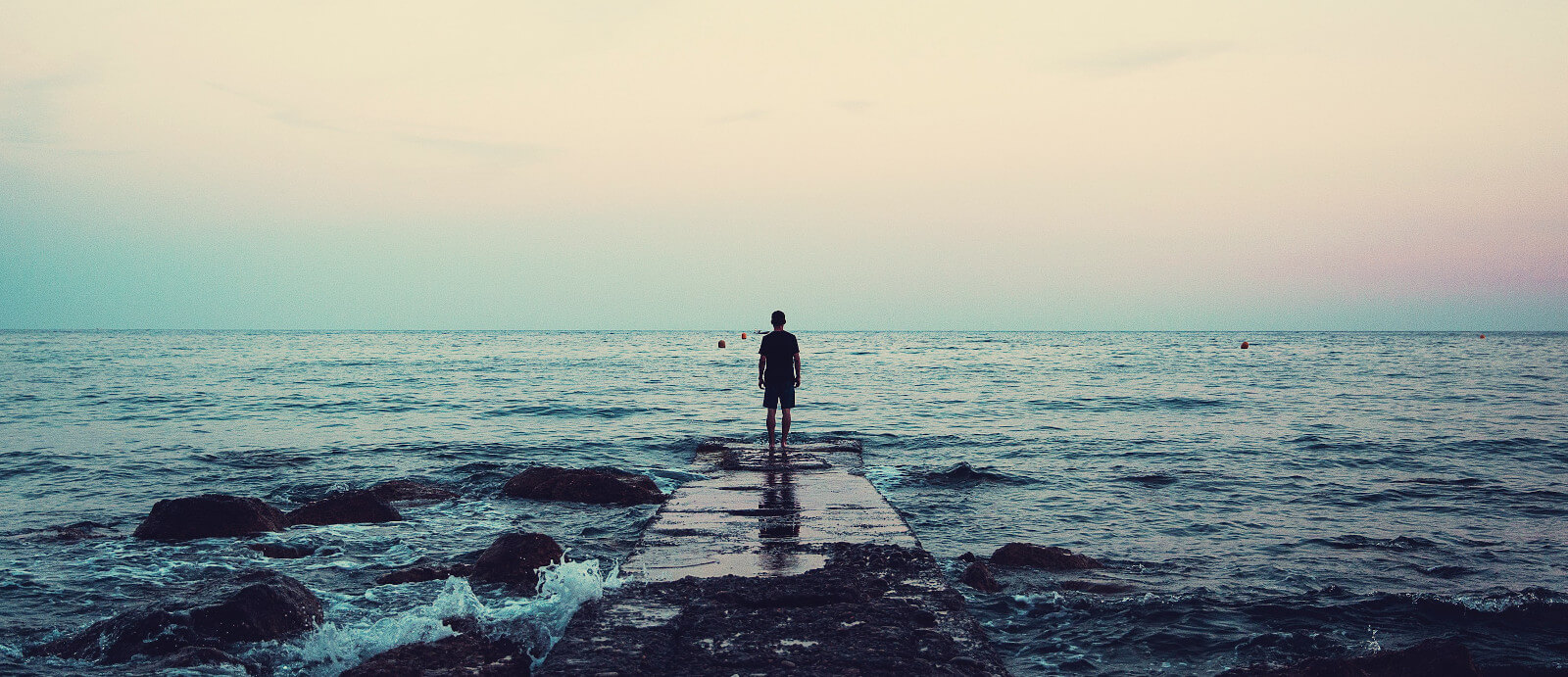 AUTHOR
Veronika | Co-Founder & COO
 A study by the Friedrichshafen Institute for Family Entrepreneurship, Zeppelin University.
Global travel bans, curfews and the shutdown of public life as we know it in support of social distancing measures under COVID-19 (Coronavirus) are having massive impacts on people's lives and society as a whole. Many of us are now working remotely or not at all, unable to see friends and family, and only allowed to leave our homes for a valid reason. There is no arguing with the necessity of these measures in order to slow down the disease spread and avoid having shortages of hospital beds and intensive care beds, which would ultimately lead to an even higher death rate.
Few companies or industries will remain untouched by the crisis. While the infection and death rates are already slowing in some areas, in others, they are yet to face the peak with currently little improvement in sight. The physical consequences and symptoms of Coronavirus are widely documented. But what about the less tangible areas that are affected every day by the current situation? What kind of individual experiences are people going through during the weeks and months spent in isolation and in the home office? Are people developing coping strategies and new routines to stay productive and tackle the new challenges?
How are you today?
To find out more about what's going on in people's minds and daily life, Dr. Laura Bechtold and Prof. Dr. Reinhard Prügl from the Friedrichshafen Institute for Family Entrepreneurship, Zeppelin University, recently set up a study which is powered by Climedo's platform. The study's objective is to explore the personal experiences people are going through during this period of extensive social distancing and increased time spent at home. We would like to encourage you to take part in this study if you're able to. So far, there have been over 200 study participants from all over the world.
Who can join?
The research group is looking for participants aged 18 or older and who are willing to share their experiences anonymously in small Climedo surveys and regular diary entries for 10 consecutive working days.
How it works
After signing up for the study in Climedo, you will receive a detailed questionnaire which takes around 15 minutes to complete. Following this first entry, you will be asked to complete a daily mood barometer and a short diary entry about your personal experiences (which takes about 5-10 minutes). For this, reminders will be sent out every day in the late afternoon (CET) via email. Surveys can be easily completed from your mobile phone or computer. Since the surveys are browser-based, there is no need for any software installation or app download. Participation in this study is completely voluntary and can be stopped at any time. Even if you have not participated for a few days, you can always join again.
The research group will try to publish excerpts from the results on a regular basis to let everyone participate in the learning experience. You can already find an overview of results from the first weeks on the project page.
There is also the possibility to add messages at the end of the questionnaire, which will be published on the project page as an anonymous quote to share your own thoughts with others.
How Climedo is helping
A few weeks ago, we announced that we would be offering our electronic data capture platform free of charge to any research projects related to COVID-19. We were thrilled when Laura reached out to us about her study. Climedo allows for an unlimited number of participants to be enrolled in the study, and reminders are sent to them through an automated feature which is part of our eDiary solution. All data can be accessed within Climedo in a consolidated way. Our dashboards allow for statistics and trends to be displayed easily. 
The results
The results of the study will be scientifically evaluated, which will certainly take some time. However, the team will try to publish some results on a regular basis to contribute to the information situation during the COVID-19 pandemic. So far, Laura and Reinhard have derived some interesting findings from the study, which can be found below.
A snapshot from people's general mood on April 1: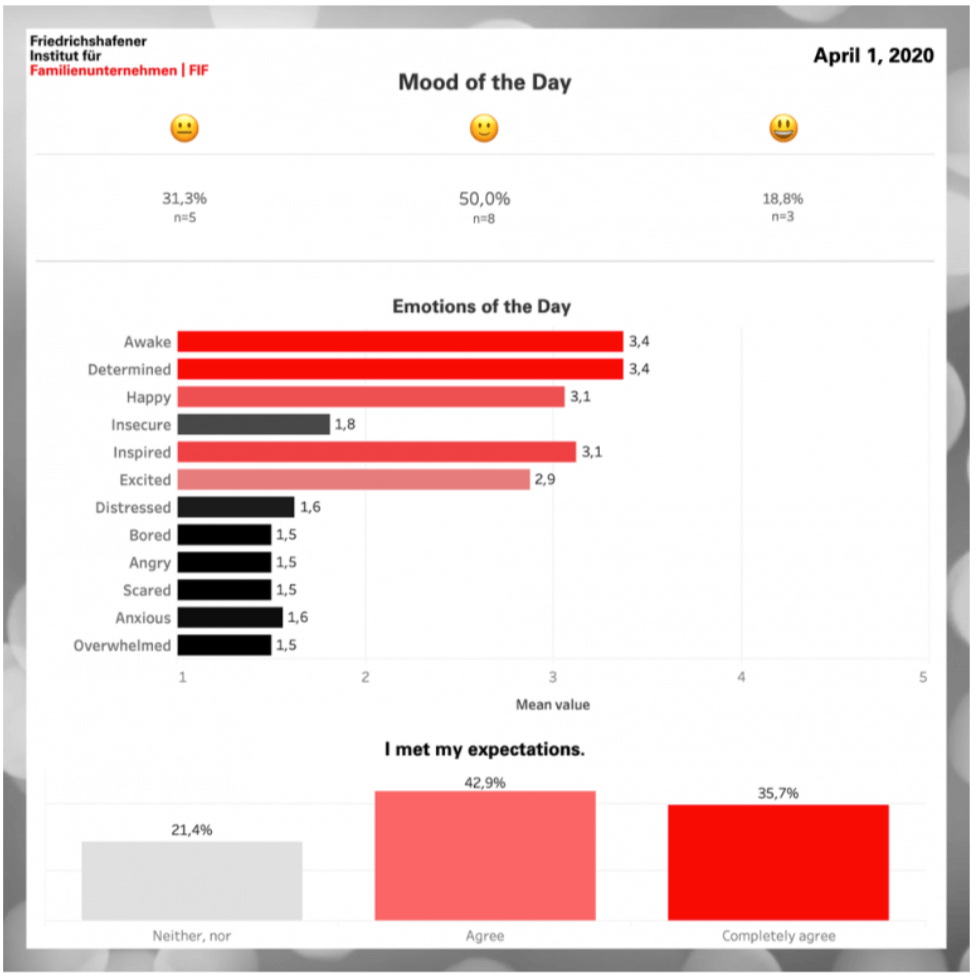 Most participants believe that their company is well prepared for working from home: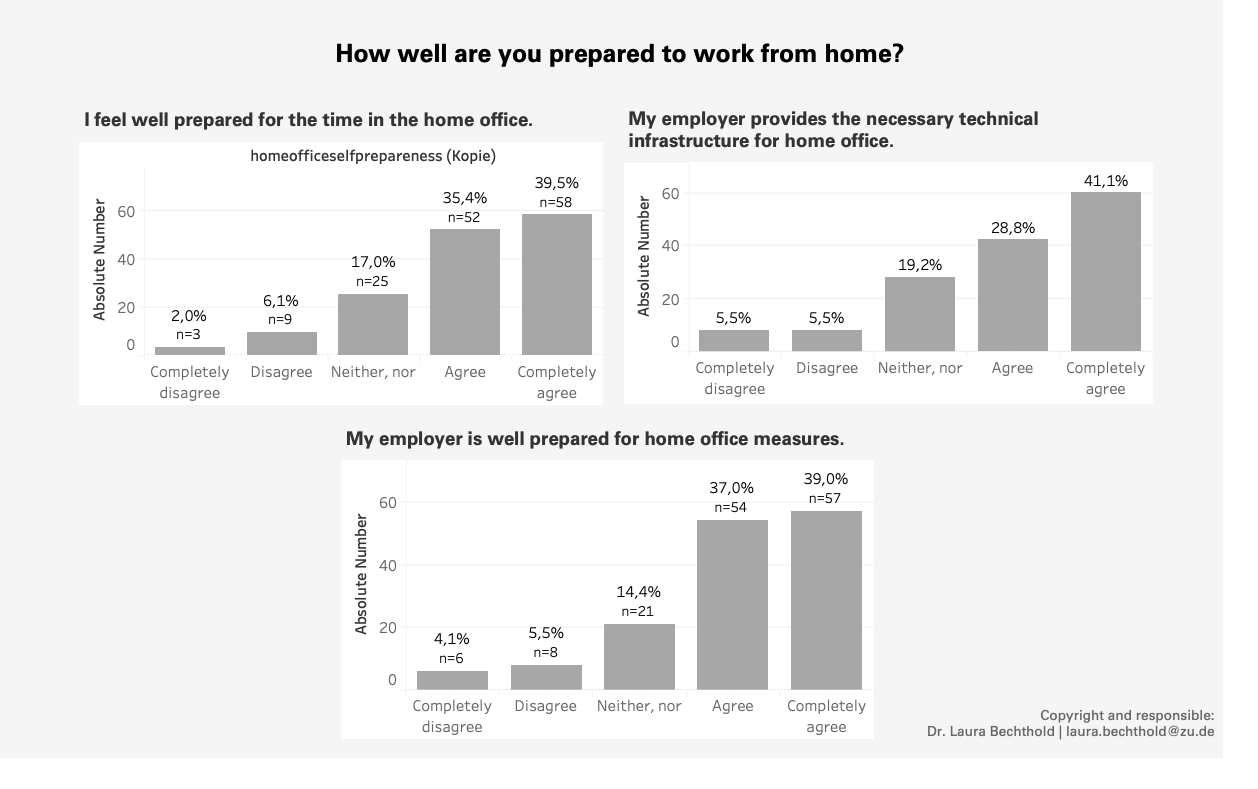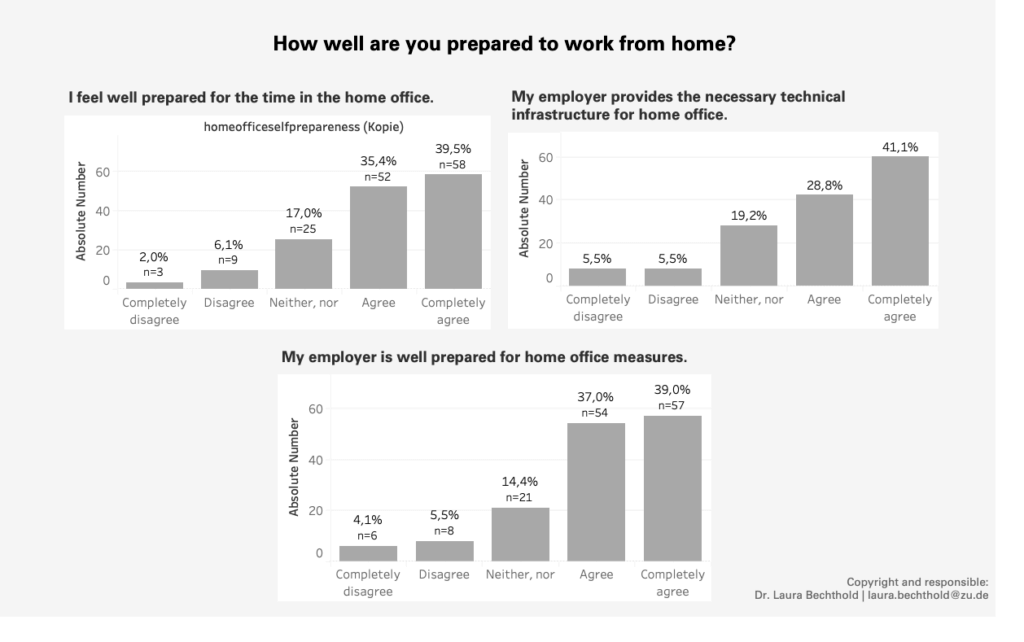 "So far, I observe three major developments", says Dr. Laura Bechtold. First, as we are approaching week 5 or 6 of social distancing and home office, the euphoria that home office actually works slowly turns into something like 'techno-fatigue'. People are getting tired of being on screen all the time and the magic of virtual team events is decreasing. Second, as the boundaries between work and private life increasingly blur, group fault lines, i.e., hypothetical dividing lines that split a group into subgroups based on different characteristic, which have been present in the analogue world, might strengthen in the digital realm. Just think of the parents vs. no-parents (at least as long as schools are closed), digital natives vs. non-natives, Corona risk groups vs. non-risk groups. All these differences were already there before Corona, but now they have become decisive factors in the re-organization of everyday working life and might lead to new social dynamics in teams. Third, despite the pandemic, we still live in an age in which 'self-optimization' seems to be one of the highest values. Social media platforms are full of calls to use the time for self-development and learn new skills. While it is good that people think of how to stay productive, however, this trend worries me somewhat. We are still experiencing a crisis and people need to cope with this 'new normal'. For some, this is easy. For others, it takes time. Raising artificial expectations that everybody should rise from this lock-down period as a yoga practicing programmer with master-chef skills might add unnecessary pressure and lead to negative stress for several people."
About the Friedrichshafen Institute for Family Entrepreneurship
The Friedrichshafen Institute for Family Entrepreneurship | FIF was founded in 2009. In research, education and training it has ever since engaged strongly with the central entrepreneurial and familial challenges and opportunities of family businesses with respect to their sustainability. Their basic approach is deliberately strong in the field of research and at the same time application-oriented and entrepreneurial.