Decentralized or Traditional? Clinical Trials in Comparison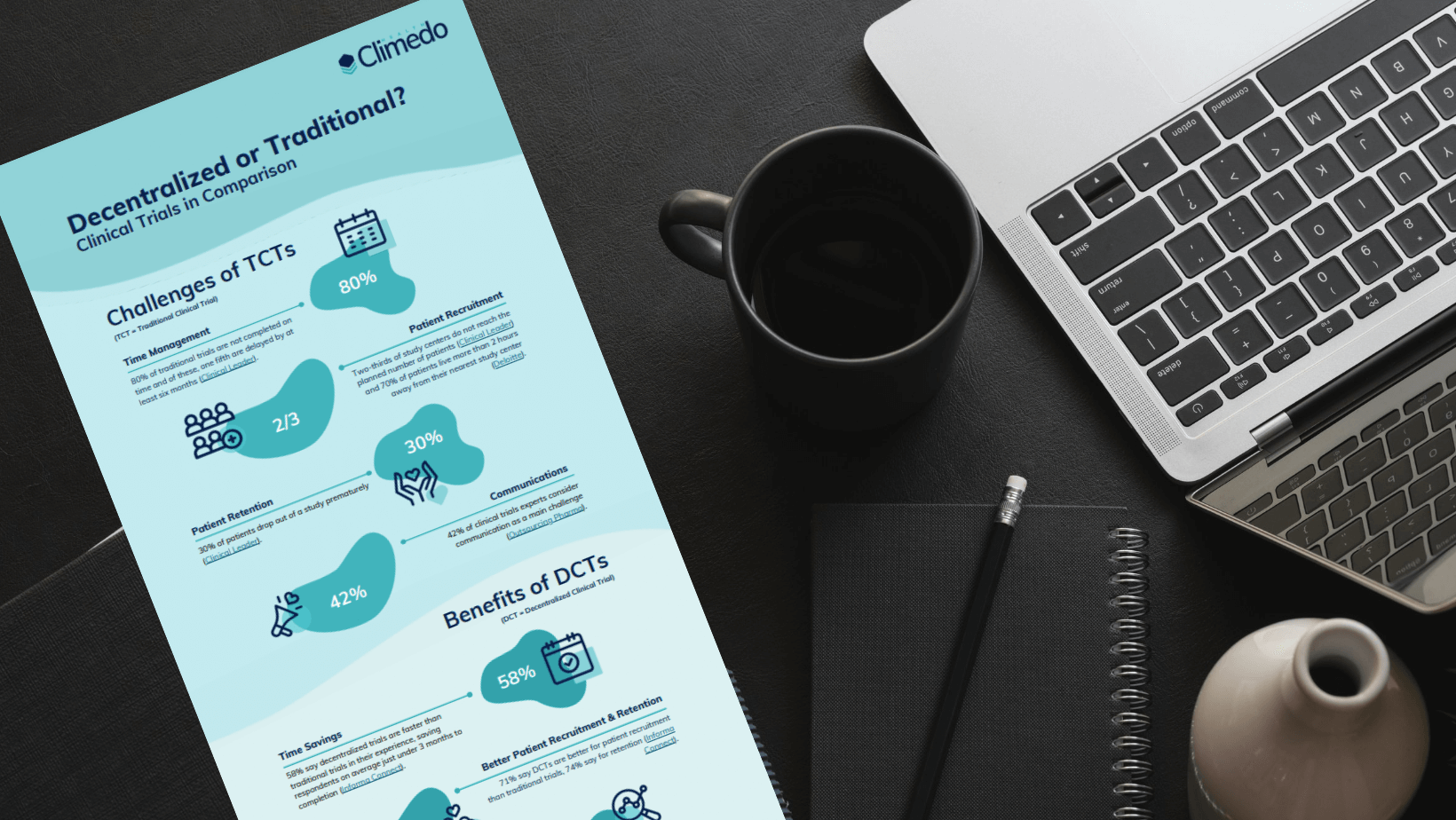 AUTHOR
Johann | Sales Lead
Our world is more connected than ever before and this change has not stopped at the healthcare system. The ability to conduct decentralized clinical trials (DCTs) remotely and across multiple study sites will fundamentally change our healthcare system and solve many of the problems that traditional clinical trials currently face. What are the advantages of decentralized clinical trials over the traditional trial approach? Here's a comparison.
Challenges of traditional clinical trials
According to our survey, the main challenge for companies in traditional clinical trials is the large amount of time and costs involved. Finding and motivating sufficient suitable patients was also named as a further difficulty.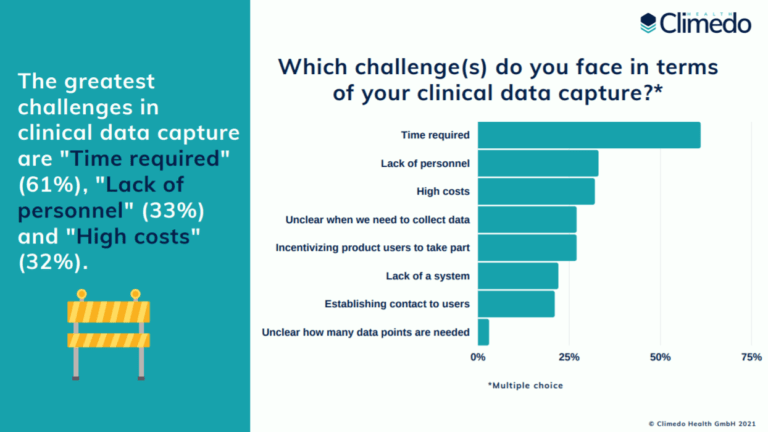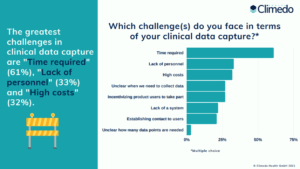 Time management
One of the success factors of a clinical trial is not only the successful completion with meaningful results, but also the timely completion according to the study plan. In fact, 80% of all traditional clinical trials are not completed on time and one-fifth of them experience delays of at least six months. The adage "time is money" becomes an inconvenient truth for many companies. Because companies continue to pay overhead costs, such as salaries, during the longer study period, and the delayed market launch of a medical or pharmaceutical product is also accompanied by losses.
Patient recruitment
Reaching the planned number of patients is also a common problem. Traditional clinical trials often lack patient orientation and are therefore not very appealing to patients. According to Deloitte, 70% of patients live more than two hours away from their nearest study center. In order to convince them to participate, the compensation offered often has to be significantly higher. Diversity in the sample suffers as well. Clinical trials aim to answer a specific research question; this is difficult to achieve if the sample is biased by unequal study accessibility.
Patient engagement
Assuming that patient recruitment was successful and a certain number of patients are taking part in the study, how can we best ensure that they remain motivated not only at the beginning of the study, but continuously until the end of the study? This is an important question, because on average 30% of all patients drop out of a clinical trial prematurely. Similar factors that motivate patients to participate keep them motivated beyond the trial. Clinical trials are essential for medical progress, but if a patient is in reasonably good health and has an alternative set of treatment options available, she may not subjectively care that a particular condition or drug is being researched. And so it is important to put patients first and make their participation as comfortable as possible, for example by reducing unnecessary trips to study centres.
Communication
How does the communication between all stakeholders of a clinical trial work? Communication in a clinical trial is considered the biggest challenge by 42% of clinical trial experts. And let's face it, successful communication is essential for trial success and no one can avoid dealing with this issue. What can be changed, however, is the efficiency of communication within the study. Digital solutions offer a variety of possibilities – such as individual notifications or automatic reminder emails – which make this part of the study much easier.
Advantages of decentralized clinical trials
So what are the specific benefits of decentralized clinical trials? In a nutshell: Decentralized clinical trials can help to overcome all of the above-mentioned challenges of traditional clinical trials.
Time savings
The majority of respondents reported that decentralized studies are faster than traditional studies and that choosing a decentralized study can save almost 3 months until completion.
Improved patient recruitment and retention
Decentralized trials are also ideal for recruiting suitable patients and motivating them to stick with the entire study! Thus, 71% say that decentralized studies are better for patient recruitment than conventional studies and even 74% for patient retention.
Higher data quality
One problem of traditional clinical trials not yet addressed above is poor data quality, for example, due to missing values or incorrectly transmitted data. In a Deloitte survey, 79% of study team members stated that decentralized trials improved data quality. Thanks to the enhanced use of digital solutions, common errors in data entry can be avoided and data transmission is completely eliminated through the automatic entry of patient information into the study database.
Cost savings
Last but not least, very often cost savings can be achieved through decentralized clinical trials. In our survey on the challenges and opportunities of clinical trials, 75% of respondents who had already worked with decentralized or virtual trials reported cost savings.
Would you like to have a brief overview of decentralized and traditional clinical trials? Download our infographic here free of charge.

Infographic: Decentralized or Traditional? Clinical Trials in Comparison
Decentralized clinical trials are a fairly new phenomenon and increasingly replace traditional clinical trials as we've known them.
Which challenges occur in traditional clinical trials and how can decentralized clinical trials solve them?
All at a glance: Two study types in comparison