3 Success Factors that Determine the Course of Phase IV Trials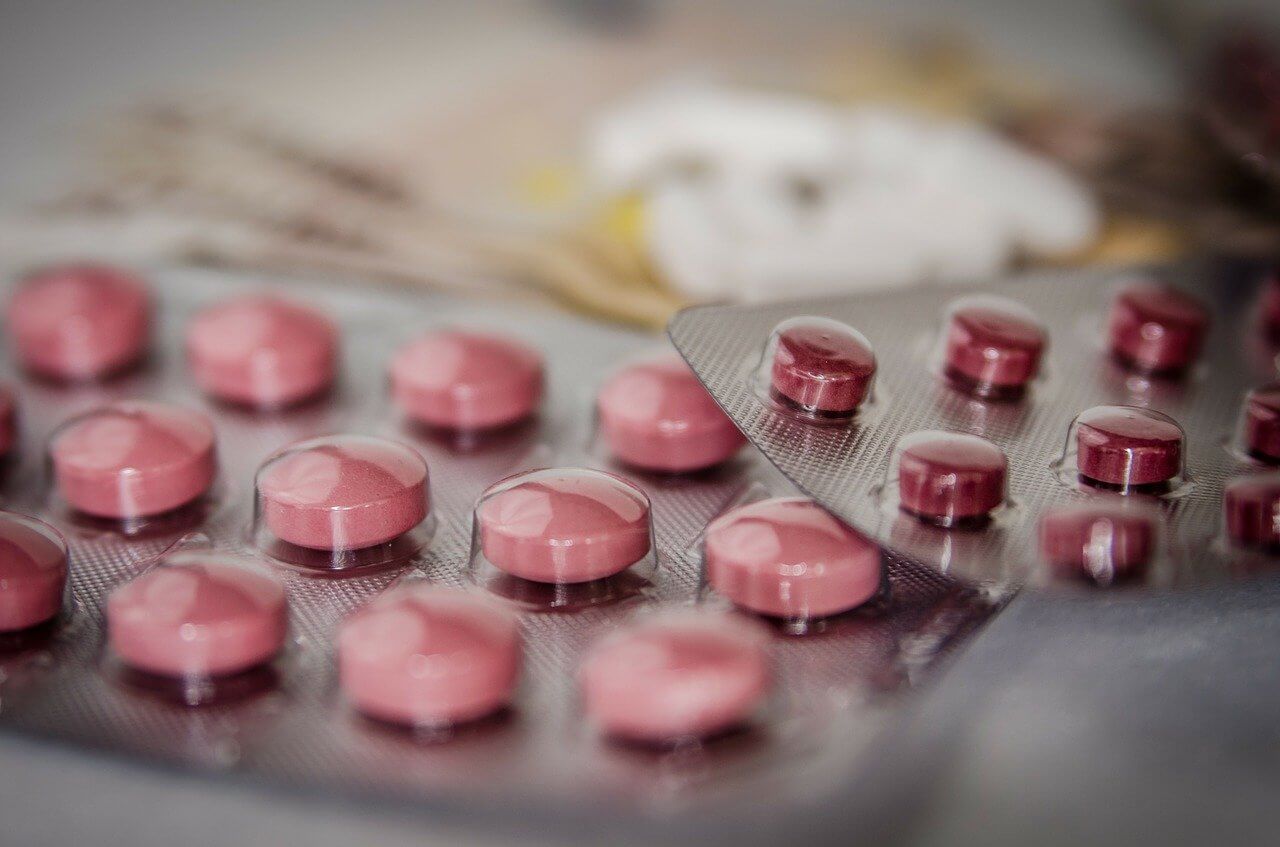 AUTHOR
Tereza | Senior Customer Success Manager
Checklist for clinical trials:
Ethical requirements (Medicinal Products Act, Medical Devices Act)

Authorization by authorities

Endorsement by an Ethics Committee

Good Clinical Practice (GCP) standards

Code of medical ethics

Public registration

Timely publication of results
When it comes to the quality, benefit and safety (pharmacovigilance) of novel therapies with medicines, do new medicines work better than existing ones? And what side effects or interactions occur in the long term?
Clinical trials help to answer such questions after market approval (Phase IV), as they delve deeper into the real world of patients (real-world evidence). Often developed as decentralized clinical trials (DCTs), Phase IV studies look at diverse patient groups with an all-round view, including senior citizens, children and people with pre-existing conditions. This makes it easy to identify even rare side effects and interactions, gains in treatment comfort, quality of life and/or the cost-effectiveness of medicines. Phase IV trials after market approval serve the purpose of close-meshed long-term monitoring and capture all important patient signals in the study design.
DCTs are characterised by a high level of patient centricity, practical relevance in data collection and an easy-to-understand survey design. Thanks to remote monitoring, i.e. a real-time overview, and reliable data cleansing, innovative digital solutions can overcome the challenges of traditional clinical trials. EDC software (Electronic Data Capture), for example, compensates for a lack of time, personnel, high costs and the often insufficient motivation of Phase IV trial participants.
DCTs are the successful way forward in times of COVID-19, where conventional and location-based post-marketing studies quickly reach their limits. Ultimately, a target-oriented study design is what can make or break a study.
The following three factors will help you to align your post-approval clinical trials even better with your pharma and development goals:
1. The right survey design increases the efficiency of the DCT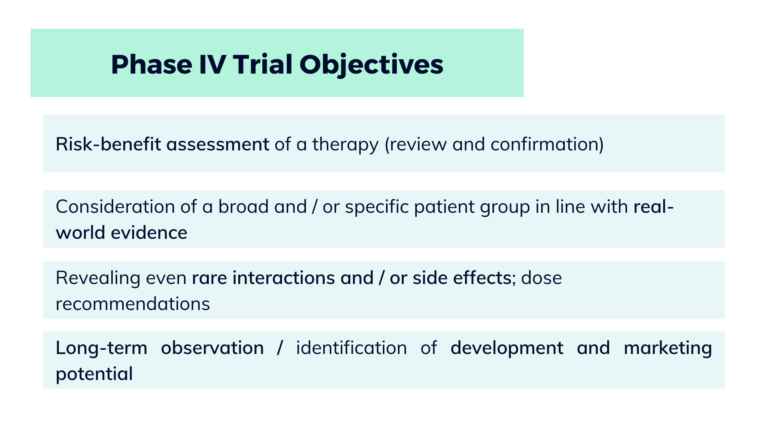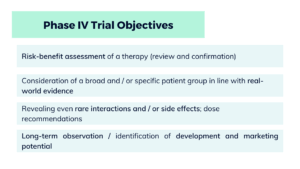 Phase IV trials investigate an already approved drug and can pursue different objectives. By collecting data in the context of real-world evidence, enough empirical data and evidence is collected to detect and explore even rare side effects of a drug. The large amount of information facilitates a comparison with other available treatments. In addition, drugs can be tested in combination. It is important to clearly define, for example, the target groups, the measurement variables and measurement methods before the start of the Phase IV trial, as in a study before market approval, and to make the study representative. In addition, drugs should be tested under everyday practice conditions as far as possible. DCTs are well-suited to this purpose. The patient-centric setting removes the burden of paper-based methods and addresses Phase IV trial participants at practically any location with an internet access: at home, at work or at school. Digital solutions are very efficient and flexible, as participants can easily take part while going about their normal day and only a few or no parts of the trial need to take place in a study site. Ever since the onset of the COVID-19 pandemic, it was precisely this flexibility that was required in clinical trials. Digital solutions are highly promising, as they enable subjects to join studies much more conveniently and overcome many problems of traditional clinical trials.
2. Digital solutions for fine-tuning post-market studies
Digital solutions support the requirements of pharma and R&D with a wide range of technical options for conducting Phase IV trials for long-term drug monitoring. Numerous features facilitate electronic data capture (EDC), including a flexible survey design, remote monitoring of the study and simple, even intuitive software control. In addition, EDC software solutions such as ePRO (electronic Patient Reported Outcomes) offer improved recruitment and retention of patients (in the case of Climedo, up to 90% patient compliance), as they ensure a high level of patient centricity.
Why are more and more pharmaceutical and medical technology companies opting for EDC and ePRO solutions? Digital solutions in clinical trials have numerous advantages:
With

Real-World-Evidence

, even special patient target groups can be reached reliably, comfortably and safely.

A

decentralized environment

,

intuitive control

and

motivational boosters

for patients significantly reduce the drop-out rate.

With lower entry barriers, large and diverse groups of participants can be included at any time, regardless of their location – and

in accordance with applicable COVID-19 hygiene measures

.

Digital solutions noticeably relieve

the burden of excessive use of paper and Excel spreadsheets: This is good for the environment and simplifies work processes.

They help to save time and costs while improving

patient compliance

: without any additional budget expenditure.

Reliable data

and remote monitoring allow for a real-time study overview and facilitate study-related decisions.

Useful data cleansing,

flexible reporting

and simple data exports always ensure up-to-date and site-independent data access.
3.
High patient centricity for achieving the study objective
Patient centricity is often the decisive factor in whether a study is a success or a failure. The more convenient the participation and the survey design of the Phase IV study, the more motivated the subjects are to support the study in the long term until the end. Digital solutions simplify the study process for patients as well as for doctors and nurses, as they can easily keep in touch with study participants via telemedicine and digital channels, and coordinate everything that is necessary. However, many study steps can also be automated in the software, such as the sending of reminders to patients or a new home questionnaire, which can be completed on the go on any smartphone or PC. Finally, real-time monitoring enables study staff to have an up-to-date overview of the study at all times and to make study-related decisions quickly.
Fact: Phase IV trials can help you discover potential new indications and therapy optimizations in the post-marketing phase with digital, decentralized and high-speed solutions. At the same time, your patient groups will benefit from a higher degree of patient centricity and a convenient, simplified survey design. Your pharma research and pharma marketing will gain valuable data on quality, benefits, pharmacovigilance and the potential for future developments.
Switch to high performance in Phase IV trials!
Schedule a demo and find out how you can save valuable time and often money with Climedo. Learn how to use cutting-edge software solutions and connect patients with medical contacts, such as doctors and nurses, in a decentralized manner. Get in touch to find out about the full scope of our EDC and ePRO solutions!