How Do Hybrid and Virtual Clinical Trials in Dermatology Strengthen Patient Retention?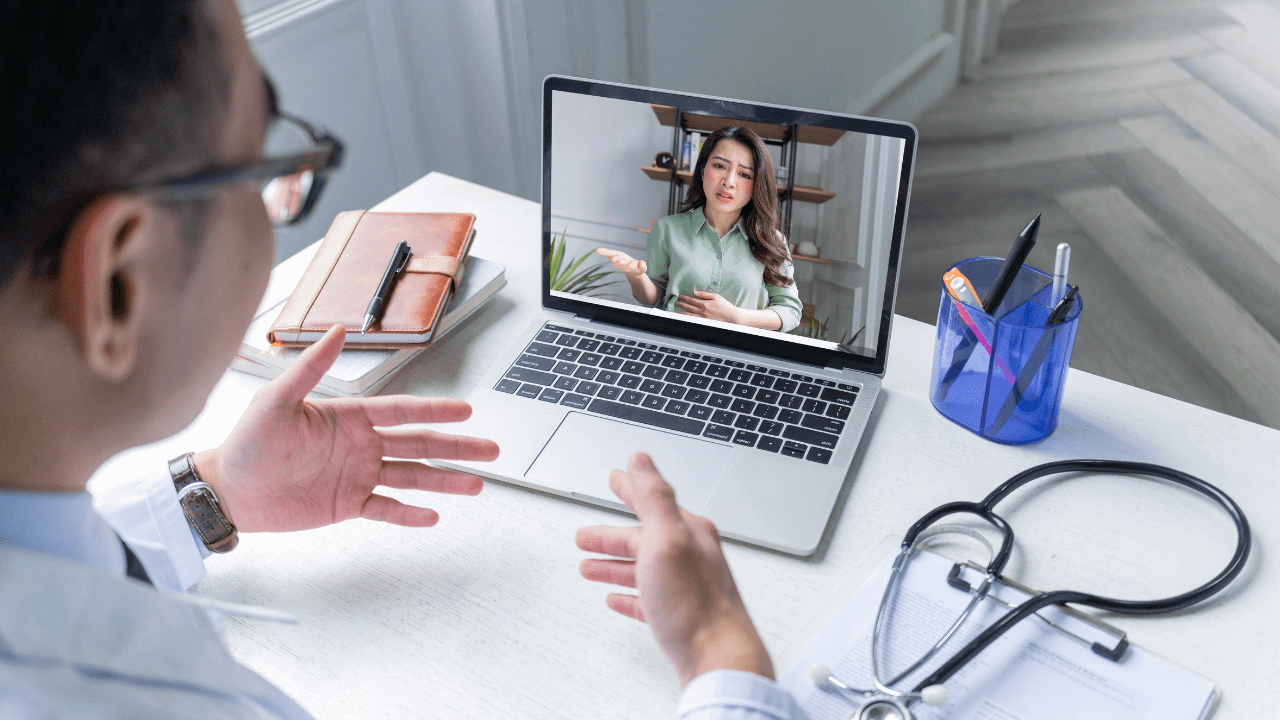 AUTHOR
Tereza | Senior Customer Success Manager
Patient recruitment and retention is a difficult undertaking in dermatological clinical trials. One reason for this is the insufficient distribution of dermatologists and dermatological practices, especially in rural areas. Long journeys and frequent waiting times are some of the reasons why many participants drop out prematurely. Nowadays, there is new hope thanks to virtual and hybrid clinical trial approaches.
The skin is not only the largest human organ, but also the only one that is visible from the outside. For this reason, dermatology is predestined for the use of decentralized examination tools such as telemedicine. Making a diagnosis with the help of photographs has been common practice for a while and the assessment and identification of skin diseases can easily be adapted to virtual models. But insufficient image quality or a lack of uniform standards from legislators and health insurances deter some stakeholders from using hybrid clinical trials formats.
In this article, we will show you how to strengthen patient retention and improve the data basis in your dermatological clinical trials with optimized data acquisition and digital tools.
What's it about?
1) Hybrid study designs as an opportunity for clinical trials in dermatology
2) Generating more compliance with teledermatology and ePRO
3) Overcoming hurdles with patient-centric education
1) Hybrid study designs as an opportunity for clinical trials in dermatology
Until a few years ago, traditional clinical trials in dermatology were conducted on-site at the physician's office or study site. This required regular visits by patients. But the Covid-19 pandemic has given teledermatology a boost. More and more study designs are combining traditional elements, such as physical examinations, with new technologies, e.g. remote consultations via video call. The use of virtual technologies and hybrid data collection offers many advantages over traditional implementation for certain research scenarios. For example, research populations can be diversified and poorly supplied areas can be more easily supported and supplied by physicians.
In addition, participant recruitment and retention can be improved by collecting patient-related data more comfortably from their home. Intuitive ePRO solutions and medical wearables are ideal for this purpose. Some studies have already demonstrated that virtual and hybrid clinical trials lead to higher recruitment rates, better compliance, lower dropout rates, and overall faster trial completion.
2) Generating increased compliance with teledermatology and ePRO
ePRO solutions and electronic data capture (EDC) systems help to generate high-quality dermatology patient data conveniently and directly by participants. This speeds up study and data analysis by eliminating waiting time and travel that would normally be required for an office visit. A practical advantage in dermatology is the fact that patients can upload photos of their skin directly to the questionnaires via their own smartphones. This gives doctors a visual image in addition to the written information and any recordings from wearables.
Since the skin is a visible organ, it is possible to carry out a full examination in a decentralized way via televisit, providing the video quality is good enough. In recent years, it has been shown that this form of consultation in dermatology is very well accepted by physicians and patients. Virtual consultations can also be combined with electronic consent forms and eConsent tools. If study and research details are exchanged interactively and feedback options are offered, this increases satisfaction and understanding among the participants. This ensures compliance and patient retention in the long term.
Survey Results: Patient-centric and Digital – the Future of Clinical Trials
Together with Trialflow we conducted a survey on digital and patient-centric solutions in clinical trials in fall 2022. The survey addresses the following areas:
Status Quo
Challenges
Trends and prospects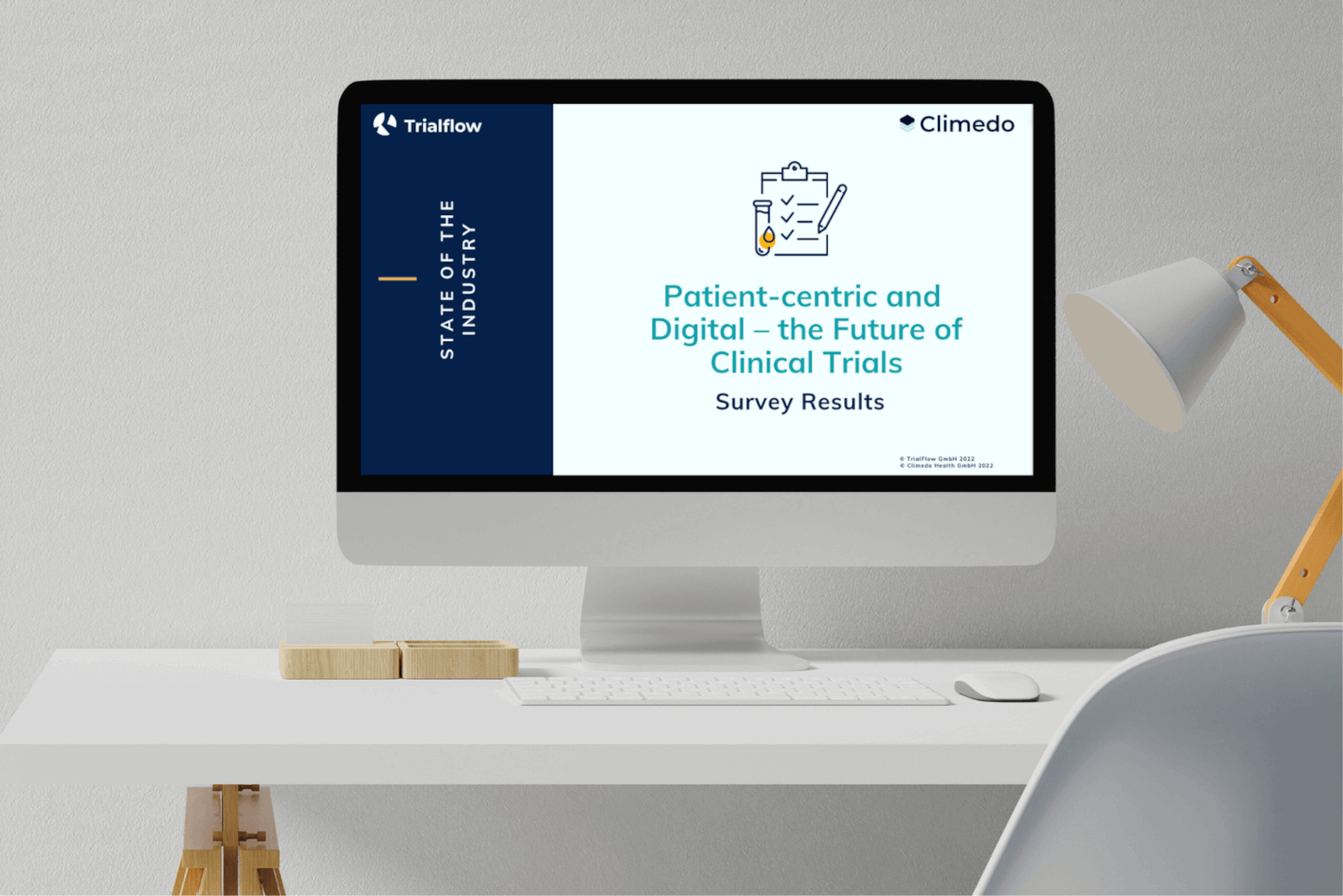 3) Overcoming hurdles with patient-centric education
Since dermatological clinical trials differ in objective and design, it is important to assess in advance which treatment components can be implemented virtually and adapt this to the appropriate research population. Depending on the phase or disease, further on-site examinations at a research site may be required, while regular observation of the skin can be conveniently performed using televisits, wearables or imagery provided via camera. However, the accuracy of the images varies considerably in some cases. This means that technically good equipment and an internet connection are necessary on the practice and patient side.
In addition, there is currently no uniform regulatory framework for hybrid and purely virtual studies, which can lead to uncertainty among both the stakeholders and patients involved. This can be counteracted by providing patients with more in-depth information before and during the study, for example via social media and eConsent tools. However, good communication reduces fears, lowers inhibition thresholds and increases patient loyalty. This way, participants can also be informed about data protection issues relating to the study.
Conclusion: Integrating virtual and hybrid elements offers long-term benefits to dermatological trials
In dermatology, an increasing trend towards the use of digital tools and decentralized study designs is emerging, not only since the pandemic. Televisits in particular are becoming increasingly important. A good mix of televisits, ePRO and EDC solutions reduces the burden on patients during the study and makes it easier for physicians to access case-relevant parameters. The integration of virtual and hybrid elements in dermatological clinical trials is also a necessary prerequisite for the further development of research methods.
Would you like to increase data integrity and patient compliance in your next clinical trial by using digital tools? Feel free to schedule a software demo or reach out to us! We look forward to supporting you in digitizing your clinical data collection.