IVDR Survey Results: What Stage of Implementation Are Manufacturers at?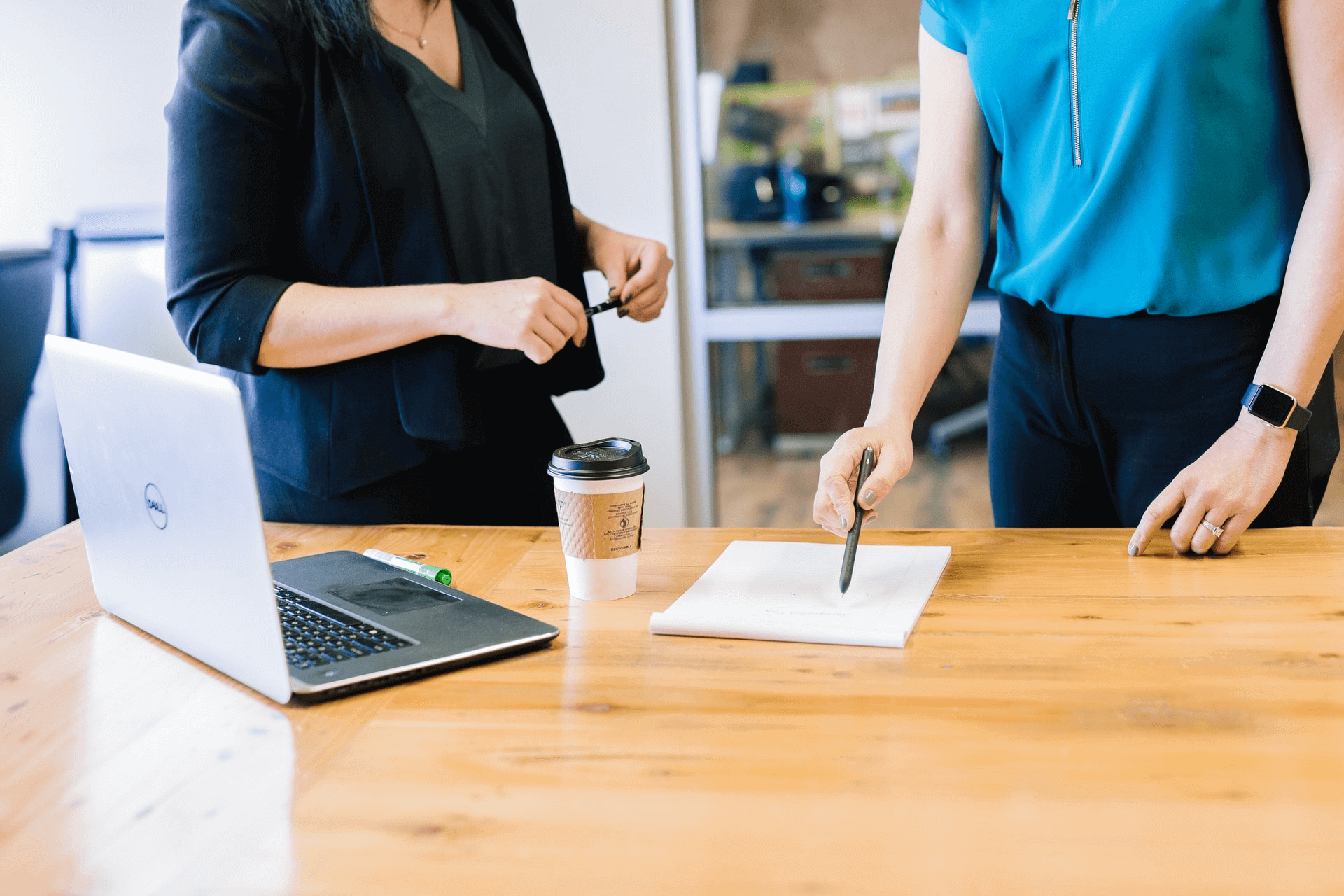 AUTHOR
Catherine | Marketing Lead
The transition period will end soon: From May 26, 2022, the new European Regulation on In Vitro Diagnostics (IVDR) will become progressively applicable. In March 2022, we therefore joined forces with TRIGA-S to survey a total of 45 IVD manufacturers – including 30 companies from Germany, 8 from other EU countries and 7 from outside the EU – on how they are coping with the implementation of the new directives so far. More than half of the respondents were smaller companies with fewer than 50 employees. They manufactured products from all risk classes, but especially A (non-sterile), B and C with 27% each. Only 6 companies (13%) had already CE certified their products according to IVDR.
In this article, we present the key findings from our 2022 IVDR survey. For the full results, click here.
Key findings from the 2022 IVDR survey
1. Top 3 hurdles: Timelines, performance and post-market requirements
2. Preparations are still in progress
3. The majority of IVD manufacturers are enlisting external support
4. The biggest benefit of the IVDR: Patient safety
1) Top 3 hurdles: Timelines, performance and post-market requirements
By their own assessment, most IVD manufacturers are very familiar (27%) or familiar (60%) of the requirements and responsibilities of the IVDR. With 32% of the votes, the EN ISO 13485 standard is most familiar, followed closely by the MDCG Guidelines (21%). In contrast, around two-thirds (65%) of respondents are already familiar with the overall requirements regarding post-market surveillance and monitoring of products on the market.
The majority (30 out of 45 respondents) cited the IVDR transition timelines as a challenge. Thus, timelines (27%) are clearly perceived as the biggest hurdle. Ranked second through fourth, performance requirements (16%), post-market requirements (14%), and finding Notified Bodies (12%) were close together. Only a single respondent saw no significant challenges.
2) Preparations are still in progress
Despite the largely known requirements regarding the new regulation, the survey showed that 85% of the manufacturers surveyed are still in the midst of preparations just a few weeks before the start of validity. In fact, 11% have not even started yet. In this respect, the top areas which had already been completed were the "definition of the intended purpose" (cited by 18%) and "the product specifications" (cited by 15%). In contrast, only 5% had finalized their Performance Evaluation Report.
On a more positive note, 27 participants (60%) have already appointed a Person Responsible for Regulatory Compliance (PRRC). On the other hand, 58% of respondents have not even started registering their products in the EUDAMED database ("European Database on Medical Devices"), while 36% are currently doing so. Also, only around half of the respondents have a Notified Body for the certification of the products.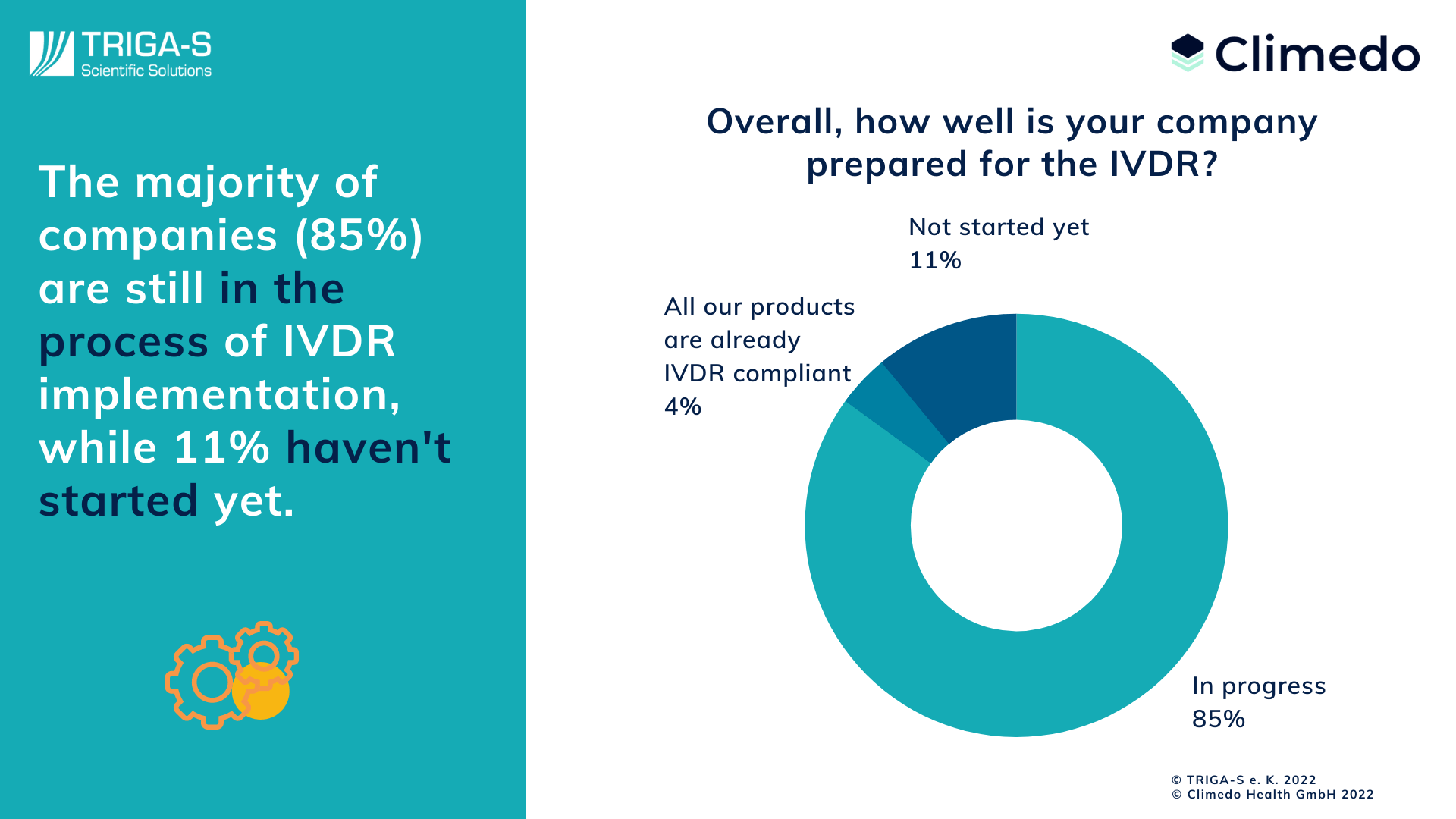 3) The majority of IVD manufacturers are enlisting external support
One reason for the sometimes dragging progress can be found in the lack of resources: At 28% each, time and staff are the two biggest factors required by manufacturers to prepare for the IVDR date of application. The need for further regulatory advice, on the other hand, is relatively low at only around 6%. Overall, as many as 61% of respondents rely on help from service providers to comply with the IVDR, including mainly testing laboratories (22%). CROs, legal manufacturers and service providers for patent protection, on the other hand, provide only 10% of the support.
4) The biggest advantage of the IVDR: Patient safety
With all these challenges and extra work involved in the IVDR transition, however, we must not lose sight of the benefits of this innovation. That's why we also wanted to ask respondents which long-term benefits they see in the IVDR. In first place, manufacturers cited greater patient safety (28%), followed closely by improved traceability (26%) and greater transparency (20%). Gaining new knowledge was also named by as many as 11%. Only 13 respondents see no benefits at all in the new regulation, representing about 15% of responses.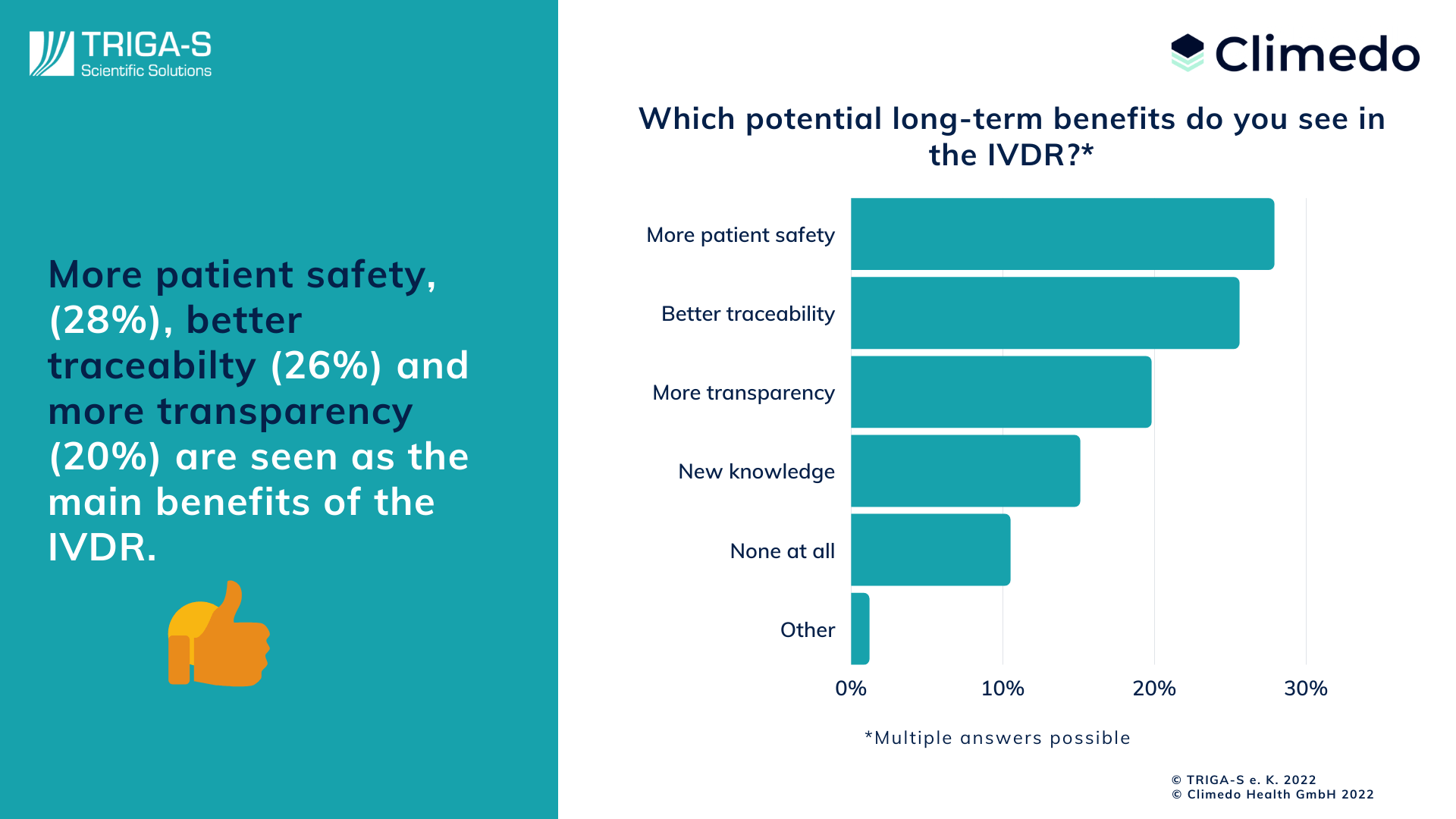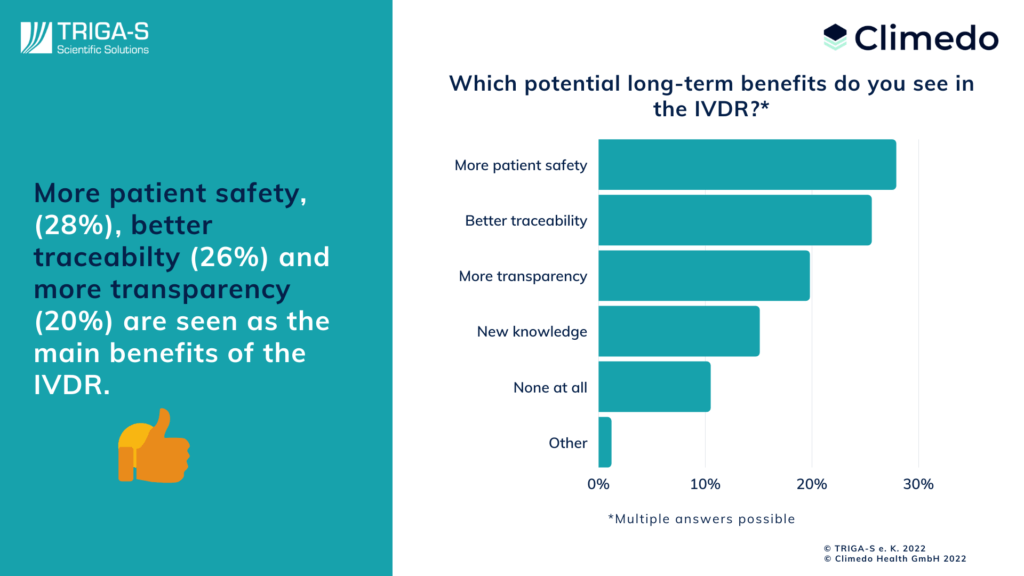 Conclusion: IVDR as a starting point for digitalization
The survey results clearly show that the IVDR poses many challenges for IVD manufacturers, but also offers opportunities. Even shortly before the new regulations come into force, a large proportion of them are still busy implementing the new requirements, in many cases with the support of appropriate service providers. In addition, in the past two years, the COVID-19 pandemic stalled preparations for as many as 36% of respondents, while only 2 respondents (4%) recorded a positive impact from it.
In terms of data capture, nearly half of respondents (47%) use Excel to collect their clinical data, and about one-fifth (21%) even still resort to paper. However, both methods are prone to errors, which can have a negative impact on data quality. Manufacturers can therefore only benefit from a timely switch to EDC solutions ("Electronic Data Capture"). Automated and web-based data collection tools make the entire process of validation and post-market IVD monitoring safer. In addition, they save a lot of time and personnel resources – two important resources, as our survey shows.
As specialists in electronic data collection, we would be happy to support you on your journey towards EDC. Contact us or book a free software demo with us!
The full results of the IVDR survey are available for download here.