MedTech Connect, the Second: Clinical Studies in the Post-Market Phase

AUTHOR
Sascha | Co-Founder & CEO
Please note that this webinar took place in German.
Recently, our second #MedTechConnect event took place and we were very happy to once again welcome a great number of participants from the MedTech industry to our online meetup. Around 80 guests listened to the interesting presentation by Dr. Andrea Röthler on the topic "PMCF" ("Post-Market Clinical Follow-up") and asked the speaker numerous questions afterwards.

What was it about?
What should PMCF studies ideally look like? Under what conditions must manufacturers conduct PMCF studies? And how do you lead these types of studies to success by following a few basic rules?
 These and other questions are being asked by many medical device manufacturers, whether they want to undertake PMCF activities voluntarily or are obliged to do so by the EU-Medical Device Regulation (EU-MDR). For this reason, we wanted to take a closer look at them during our MedTech Connect webinar.
Who were the speakers?
Amelie Fink, Account Manager at Climedo Health, moderated the event and led the Q&A session following Dr. Andrea Röthler's presentation.
Dr. Andrea Röthler, Head of Project Management at 'GKM Gesellschaft für Therapieforschung mbH' – a renowned contract research organisation (CRO) – was our speaker. She has more than 18 years of experience in project management of clinical trials with medicinal products and medical devices. Her main areas include NIS and PMCF studies, monitoring and regulatory affairs for medical devices.
Who were the attendees?
After a short intro, our first live survey kicked off to find out how much previous experience attendees already had in terms of PMCF studies. Almost half (47%) reported having only "little experience" with PMCF studies, followed by almost one third (30%) reporting "no experience at all". Fourteen percent had already started "first clinical trials" and 9% had even conducted "many clinical trials". Thus, the majority of the guests at our event had less experience in dealing with PMCF studies and could strongly benefit from the following keynote speech.
Keynote speech: "Successfully mastering PMCF studies in the context of clinical follow-up"
In order to reach all attendees, Andrea Röthler emphasized the great importance of PMCF studies right at the beginning. With them, manufacturers can continuously demonstrate that the benefit of a medical device exceeds its risk and that important safety and quality requirements are met. Since manufacturers are often obliged by the EU MDR to conduct PMCF studies, the next point, which stated that PMCF studies can also be used as an opportunity to innovate and gain a competitive advantage, was certainly of interest to many attendees. For example, PMCF studies can be used to identify opportunities for product improvement, to inquire about user satisfaction, and to identify any deviations from the originally intended use. In the further course of the presentation, Andrea Röthler addressed the goals of PMCF, the appropriate PMCF strategy, types of PMCF studies, and the question of when PMCF studies are required.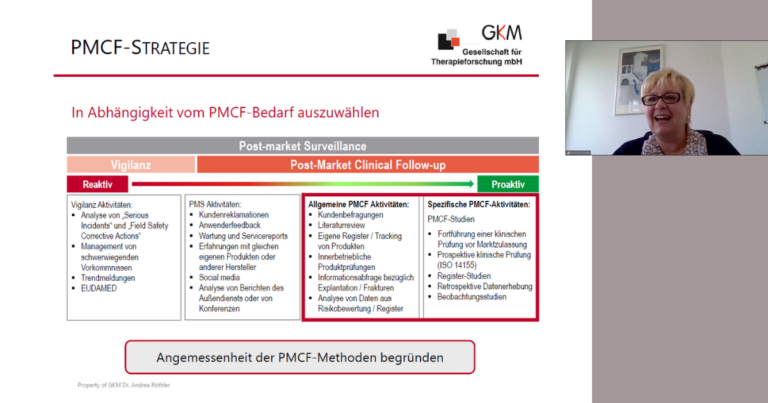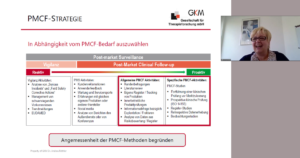 The second half of her presentation revolved around the question 'What is important to make PMCF studies a success?'. Here, attendees were again invited to actively participate and to vote in a live poll on which of the success factors for PMCF studies posed the greatest challenge in their practical experience. Of course, multiple choices were possible, as medical device manufacturers often face multiple obstacles when implementing PMCF studies. The clear winner was "challenges in proper study planning" (71%), followed by "difficulties in establishing the right infrastructure within the company" (43%). In third and fourth place were "difficulties in selecting suitable centers" (32%) and "challenges in achieving a good quality standard" (20%), respectively.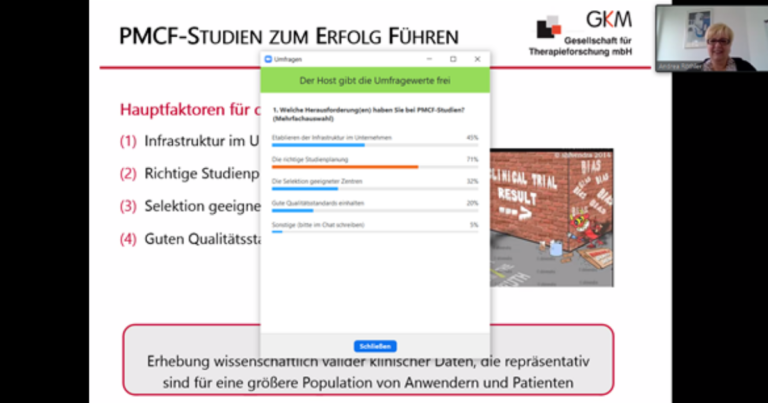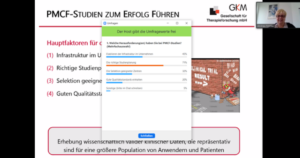 Andrea Röthler then offered some valuable tips based on her practical experience on how to deal with these difficulties.
Corporate infrastructure:

To ensure that the studies run smoothly, manufacturers must be aware from the very beginning that clinical studies entail additional requirements in terms of capacity and expertise, and that such studies cannot simply be integrated into the regular workflow in a clinic. Realistic, long-term planning is required, as well as an assessment of the know-how within the company. Particularly if manufacturers are carrying out a study for the first time, they should consider consulting with a team of experts.

Right study design:

A major pitfall that Andrea Röthler describes from her practical experience is that, in some cases, non-target-oriented information is asked and people lose sight of the actual study goal. The study objective should be very clearly formulated and measurable, and the resulting study design must be adapted precisely to this study objective.

Selection of suitable centers:

Recruitment of participants is always a major challenge for research, and PMCF studies are no exception. In the presentation, attendees were advised to involve medical device consultants to promote the importance of PMCF activities in clinics, as well as to approach medical personnel in studies who may still be in specialist training and are interested in collaborating in studies and publications.

Good quality standard:

It is essential for a high-quality study to follow the principles of "Good Clinical Practice" (i.e. adherence to the study protocol, ethical principles, adequate monitoring, etc.). Of course, we were delighted that Andrea Röthler shared her positive experience with

electronic data capture (EDC)

and that she recommends EDC as a method to meet the high standards required of clinical trials.
In the last 15 minutes, our attendees asked numerous questions and gave many impulses, which our speaker answered in detail. And once again we noticed: There was simply not enough time to discuss this interesting topic conclusively! The good news is that our next MedTech Connect event is just around the corner: "IVDR as opportunity" (Event language: German) on June 24, 2021.
Finally, we would like to thank Andrea Röthler for her time and expertise and all attendees for their interest and great input!
Presentation slides from MedTech Connect
If you were unable to attend MedTech Connect, but still don't want to miss any exciting information about PMCF studies, you can request the webinar slides for download here (slides are only available in German).
Speakers wanted!
Would you also like to join as a speaker at MedTech Connect? We look forward to hearing from you! Simply drop us a line at hello@climedo.de!
About GKM Gesellschaft für Therapieforschung mbH
GKM (Gesellschaft für Therapieforschung mbH) is an independent contract research organization (CRO), which provides a comprehensive portfolio of CRO services for the pharmaceutical industry as well as manufacturers of medical devices.
The main expertise lies in the planning and management of national and international clinical trials based on ICH-GCP guidelines as well as in the conduct of non-interventional studies.
Since its founding in 1981, the organization has completed over 600 projects involving approximately 1.4 million patients. The team of 85 in-house professionals and 90 freelance clinical research associates (CRAs) provides its clients with sound scientific, organizational and administrative expertise. Learn more: www.gkm-therapieforschung.de/en/