Clinical studies: what's going well and what could be improved?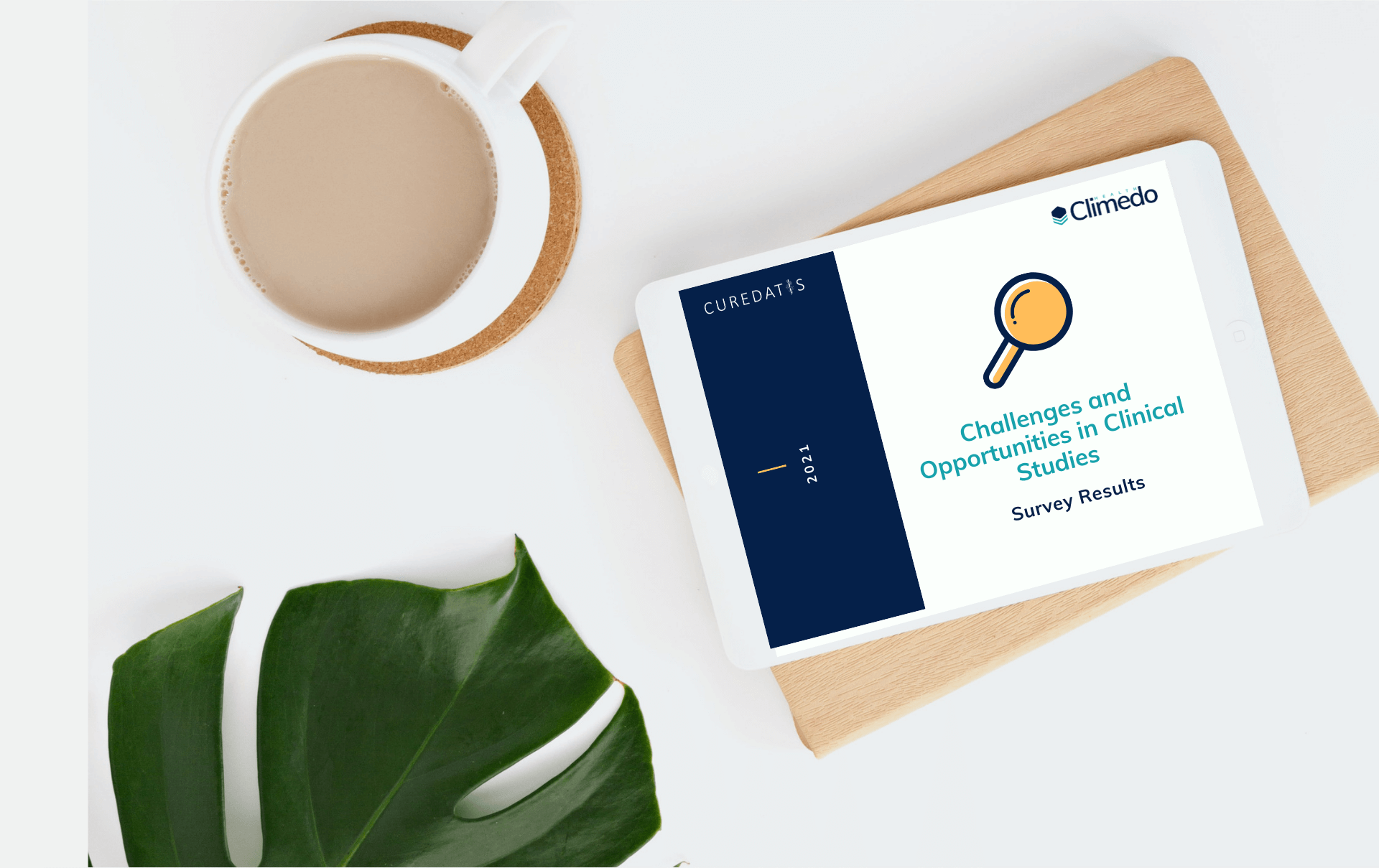 AUTHOR
Sascha | Co-Founder & CEO
Together with Curedatis, we recently asked companies from the medtech and pharma industry about their experiences in clinical studies. 60 companies from Europe, including numerous medical device manufacturers, told us what the challenges and opportunities are in the planning, implementation and close-out phases and how they view the digitalization potential in the individual phases of clinical trials. Due to the differences between clinical studies before and after market approval of a product, specific questions were also asked for the respective phase.
Survey Results: Challenges and Opportunities in Clinical Studies
Duration, challenges and opportunities of the individual phases
Digitalization potential and digitalization trends in the individual phases
Look into the future of clinical trials
Experience with decentralized clinica trials (DCTs)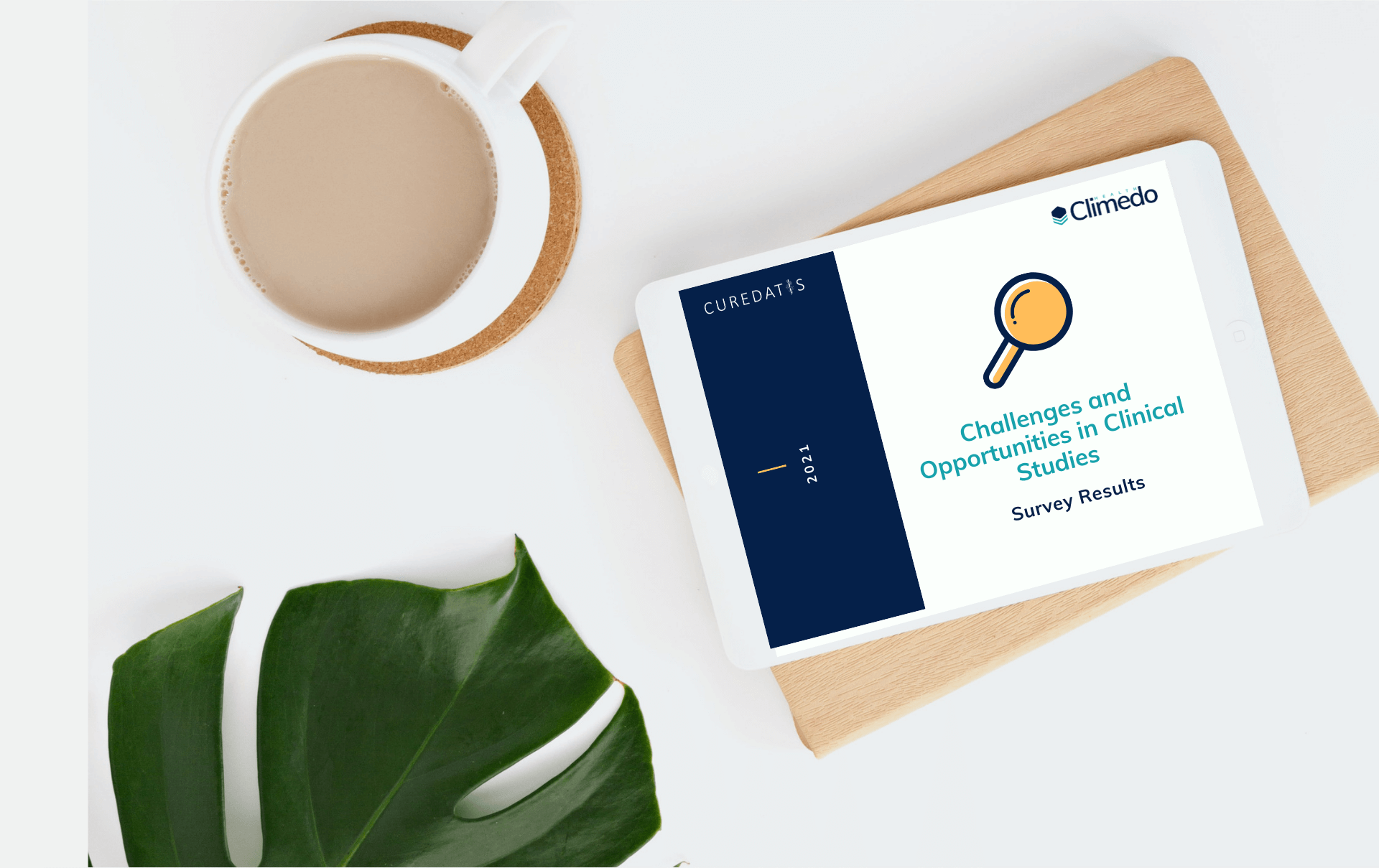 Which phase is the most difficult?
Anyone who has experience with clinical studies knows that each study phase brings its own challenges. A study requires a lot of planning effort even before the "first patient in" and is not completed with the last study participant ("last patient out"). Even in the final phase, companies can expect further important tasks such as data analysis and publication of the results.
In our survey, the implementation phase emerged as the most difficult phase (it achieved an average score of 3.4 on a scale of 1 to 5, with higher scores implying higher perceived difficulty). It was followed by the planning phase (3.2 out of 5) and the closing phase (2.8 out of 5).

What are the biggest difficulties in the planning phase?
In the planning phase, the study design and protocol are defined. Furthermore, a positive ethics vote must be obtained prior to the start of the study, and for this purpose the entire study procedure must be presented in detail in an ethics application. In addition, feasibility analyses, user acceptance tests may fall into the study start-up phase.
Our survey participants reported that one of the greatest difficulties is the large amount of time (46% before market approval and 62% after market approval) they face in the planning phase. Presumably closely related to this, lack of personnel (56% each before and after market approval) was also named as another factor complicating the planning phase (Fig. 1).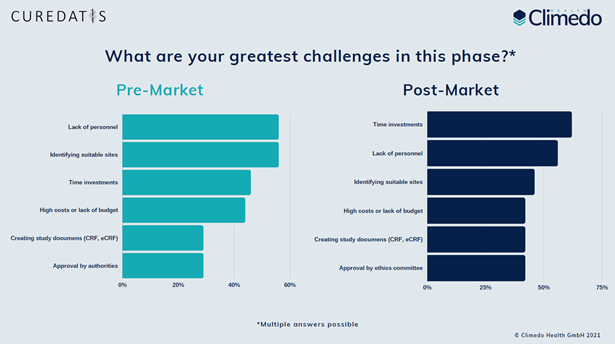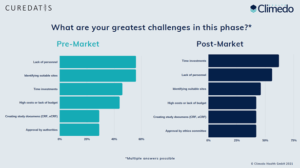 Figure 1. Challenges in the planning phase.
What are the hurdles in the implementation phase?
The planning phase is over, what comes next? In the implementation phase, patient recruitment and the collection of high-quality data from study participants are on the agenda. In addition, there are sometimes patient admissions and screenings, ward rounds, as well as patient monitoring and discharge – depending on the setting in which the clinical trial is conducted.
In this phase, the complexity of the study protocol (69% before and 50% after market approval) was named by the respondents as a major hurdle, as well as difficulties in identifying suitable subjects (56% each before and after market approval). But how does effective recruitment actually work? How can I motivate my product users to participate in the study?
Want to learn more? Get our whitepaper with 5 Tips for Incentivizing Your Product Users to Give Feedback.
5 Tips for Incentivizing Your Product Users to Give Feedback
According to our MDR survey, 27% of manufacturers have trouble incentivizing their product users to give feedback
Many also do not have any touchpoints with their users or even know who they are
This Whitepaper outlines five simple tips to achieve better engagement with your product users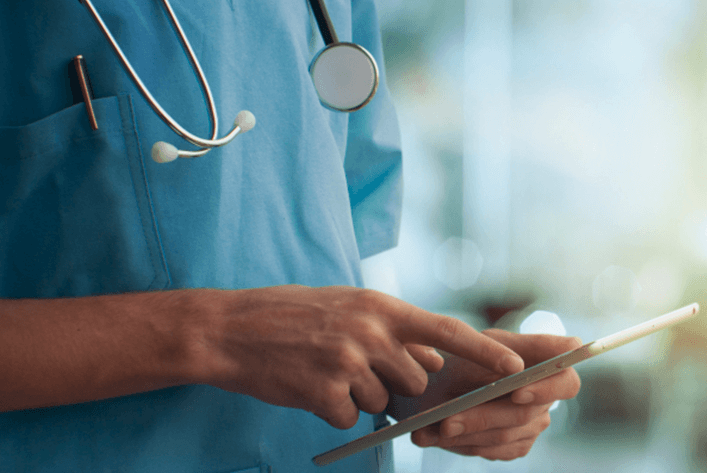 What are the difficulties of the close-out phase?
In the final phase, the recorded study data must be checked again for quality and completeness – ideally, you have used EDC software (Electronic Data Capture; software for the electronic capture of study data) for the study implementation, then this step is almost completely omitted. Finally, you carry out a statistical analysis of the data, produce the final report of the results and publish them. In these latter points lie the biggest challenges according to our survey respondents. 60% of participants named data analysis as a difficulty in pre-market approval studies and 56% in post-market approval studies. The publication process also poses difficulties, so it is not surprising that in studies prior to market approval 60% rated this study step as difficult – in studies after market approval it was even 79% (Fig. 2).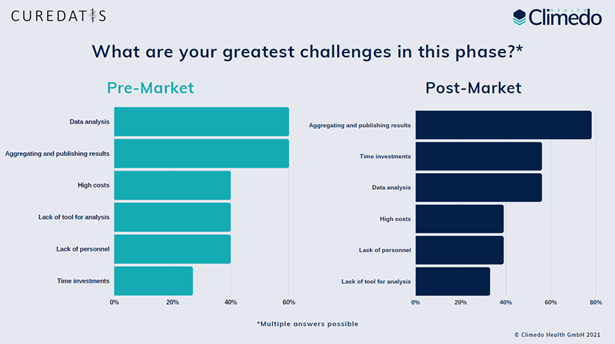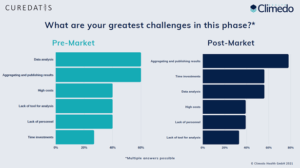 Figure 2. Hurdles in the close-out phase.
What about digitalization in clinical studies?
It is well known that digitalization in clinical studies still leaves much to be desired in some cases. But are there possibly areas in which the study participants see the greatest need for digital solutions and would like to see them being used more?
In the planning phase, feasibility analysis was mentioned (3.5 out of 5), followed by communication with authorities (3.2 out of 5) and patient recruitment (3.1 out of 5). In the implementation phase, it was again data collection (3.9 out of 5), communication with patients (3.8 out of 5), and monitoring (3.7 out of 5) that respondents said could still be digitalized. In the close-out phase, they mainly mentioned data management (4.2 out of 5), data export and statistical analysis (4.0 out of 5 each).

A Look at the Future
How will clinical studies change in the coming years? What trends will shape the landscape of clinical data collection? For the next three years, "minimal on-site monitoring through integration of eCRF into electronic patient record (EMR, EHR)" (89%), "decentralized or virtual studies" (58%) and the "High use of wearables" (47%) were named as the most important trends (Fig. 3).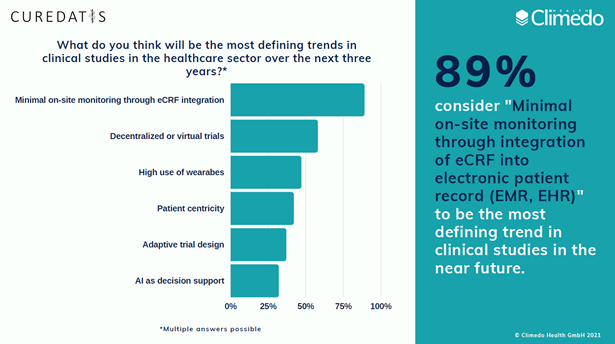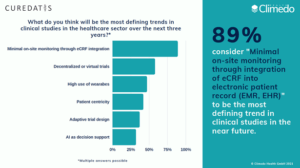 Figure 3. Perceived future trends in clinical studies.
In addition, more than two-thirds of the participants planned to conduct decentralized studies in the next three years. Cost savings (75%), faster study completion (70%) and simplified patient recruitment (50%) were named as advantages of decentralized studies by participants who already had experience with them.
In general, respondents hoped for "more willingness to use digital technologies" (74%), "better communication with study centers" (68%), and "clearer communication of requirements by state (such as laws and regulations)" (58%) to make the clinical study process easier for companies.
Would you like to learn more? The complete survey results can be downloaded here for free.
About Curedatis
Curedatis is a startup that digitalizes and automates the clinical evidence process to help medical device, In Vitro Diagnostics, and digital health companies meet the requirements for sufficient clinical evidence under the EU MDR, IVDR, and DiGAV.