Even faster and neater: Climedo's Latest Software Update (Q4-2021)

AUTHOR
Dennie Rothbächer I Head of Business Development
To kick off the last quarter of this year, we have some more exciting software updates in store for you. These will improve your work in Climedo and provide an even faster and better study overview. Already using Climedo or just want to learn more about our EDC software? In either case, you've come to the right place, because in this post, we'll tell you all about the new features that have been added since our last update!
What's it about? – Quick overview:
Improved views and view load time optimization

Annotated eCRF/survey report
Improved views and view load time optimization
A successful clinical study requires a large number of patient entries, and it can be difficult to keep track of all study data all the time. Ideally, you're already using an electronic data capture (EDC) software, but that's not the only criterion. Within this software, it should be possible to always get a clear overview of the study in a fast and easy way! Therefore, in our current software update, we have placed special emphasis on improving the viewing options and speeding up their loading times. And with success: studies with approx. 500 entries are now loaded up to ten times faster than before!
In addition, the new software version offers improved views in which users can now see even more information at a glance and conveniently access even more detailed information. For example, you can start at the top level ("All Steps" view, see Figure 1) and gradually dig deeper into your data by navigating to a specific step – such as a visit or an input form.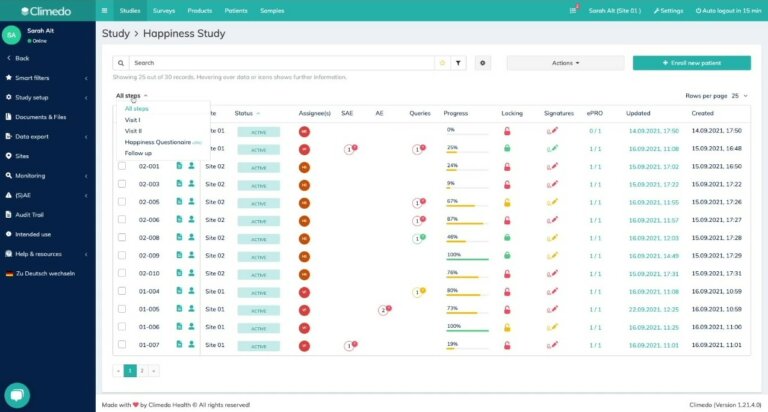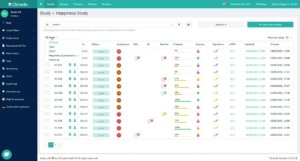 Fig. 1. The "All Steps" view allows for data access from a "bird's eye view", thus giving you a clear overview of all study data.
The compressed and structured "All Steps" data view allows you to go to specific sections, such as a subject's profile, with just one click. This "bird's eye view" of data and the selection of the desired data depth allows you to focus completely on the data that is relevant to you. In addition, when selected, the pop-up windows show you more detailed information, such as the "send and complete" status of all ePROs (electronic patient reporting) per subject. This allows you to easily monitor the entire ePRO history for a single subject at a glance. Likewise, there are detailed windows for completion, blocking and signature status.
You can also customize the columns you want to see in your study or survey view in the table settings ("Table Views", see Figure 2). This allows you to turn on specifically needed information, such as the display of queries or signatures, or remove any details from the view that are not relevant to your project. And to give you maximum efficiency when working in our software, you can save your settings for your own use (private) or as a view for other users as well (public). The configuration rights even allow you to set a default public view for your users to ensure standardized ways of working.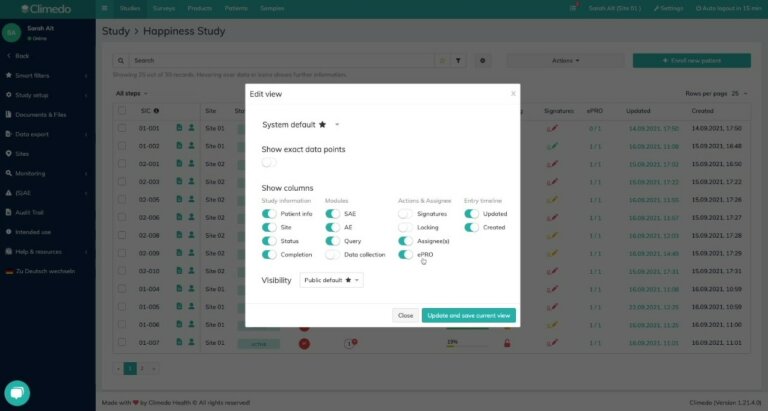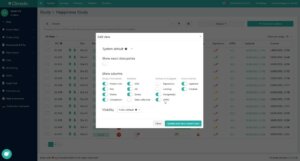 Fig. 2. Easily show and hide columns in the table view and save the specified settings for future use.
Annotated eCRF/survey report
Documentation plays a crucial role in clinical trials and here too, we aim to continuously improve our software to make this step easier for our customers. Therefore, Climedo now offers an annotated eCRF/survey report (see Figure 3) that contains the project details as well as information such as data entry fields used, validations and dependencies. This PDF export can be used in audits, in the context of your data management plan, or in exchanges with external stakeholders (such as ethics committees).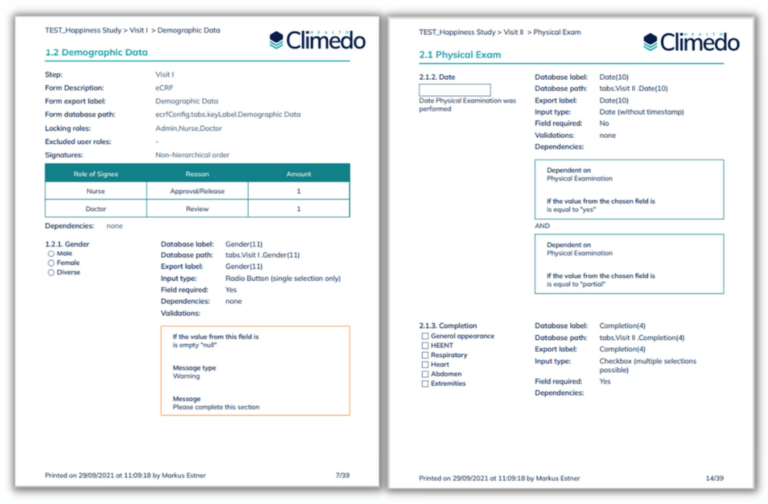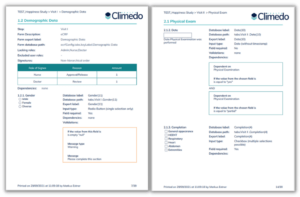 Fig. 3. Annotated eCRF/survey report that summarizes all important project details in a PDF export.
We hope that you'll enjoy the new features! Why not give them a try in Climedo right away?
Can't imagine how the new features work yet? No problem! Simply schedule a product demo, secure your free trial or contact your Customer Success representative! We look forward to hearing from you.
Free, personalized software demo
Schedule a free, personalized software demo with us now.
See how you can start a PMCF survey or study in three easy steps.
Your Study – Your Design. We focus on your specific needs and desires.
Save time, money and gain completely new data insights.