Highlights of our webinar on the true costs of the EU MDR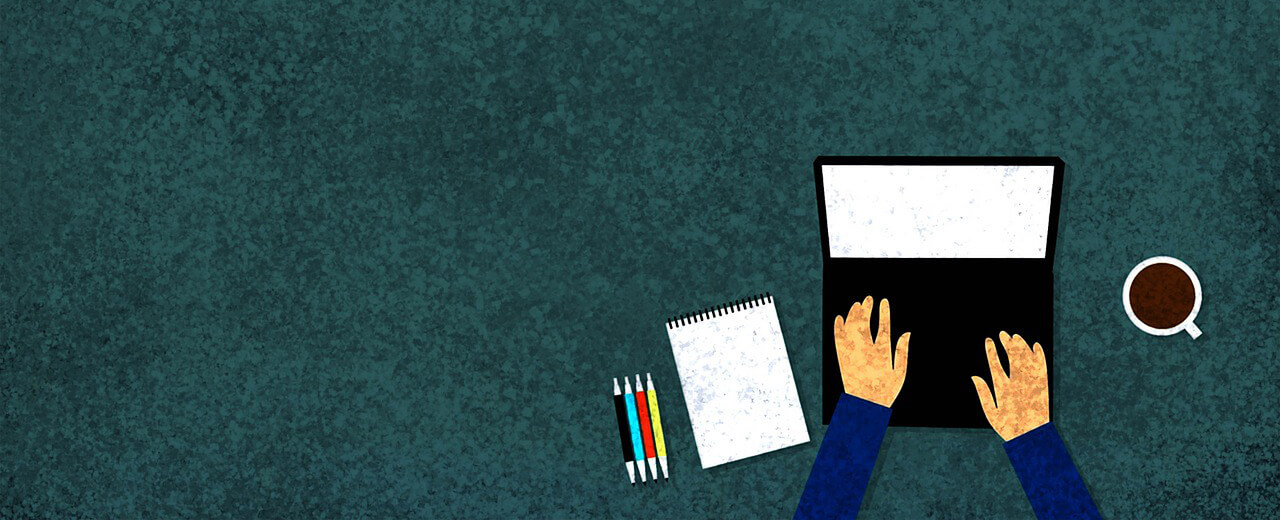 AUTHOR
Tereza | Senior Customer Success Manager
Please note that this webinar took place in German.
On Tuesday, September 29th, we hosted our second EU MDR webinar this year and were very happy to have around 40 experts from the MedTech industry join us. Following our webinar about the industry's EU MDR readiness back in May 2020, this session was all about the true costs of the new regulation. As we are all aware, the new MDR requires a significant amount of time, money and personnel resources of companies, but little research has been conducted so far into how high the costs for medical device manufacturers actually are. For this reason, we carried out a survey on true costs in the summer with about 100 companies, which are available for download here. 
Webinar content
During our one-hour online discussion, Veronika Schweighart and Catherine Higginson first presented our MDR survey results in detail. In addition, attendees received specific advice for switching to a digital solution for their clinical data capture, which will be crucial in the EU MDR era. In between, we ran several live surveys with the audience; their results are listed below. Later on, we presented our EU MDR cost calculator, which can be used to determine exactly how much time and money MedTech companies could be saving using an EDC (Electronic Data Capture) system compared to manual methods such as paper. We also addressed some recommendations for manufacturers:

1. Take some time to create an overview of the necessary MDR measures
2. Involve customers and end users in the process at an early stage
3. Switch to a digital solution for clinical data collection as part of PMCF activities
4. Don't be afraid of supposedly high initial investments
Our conclusion: EDC systems such as Climedo require a certain investment at the beginning, but will prove to be more than worthwhile from the very first study. Digital tools serve to efficiently and automatically implement all necessary PMS and PMCF measures. This not only saves manufacturers valuable financial resources, but also eliminates a lot of administrative work, so that their team can focus on the essentials again.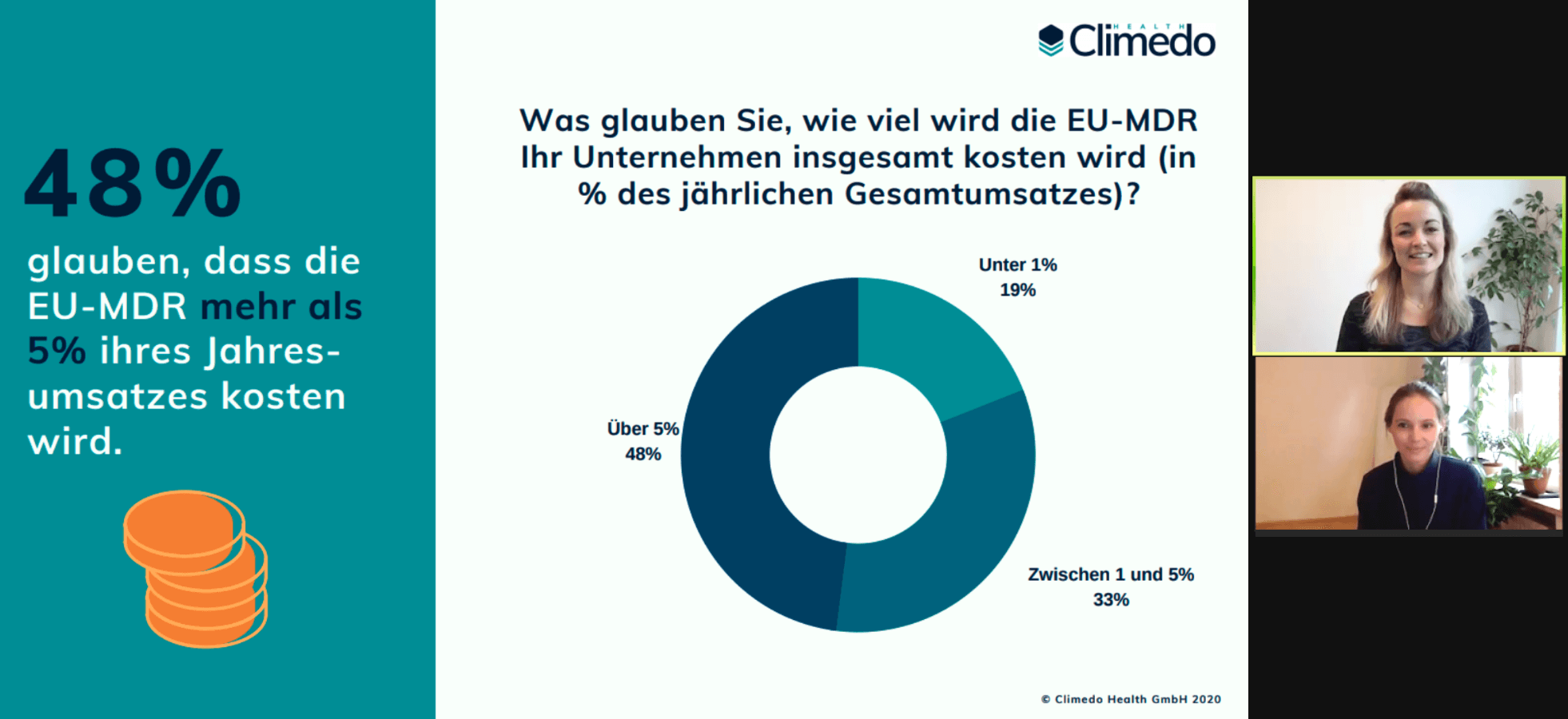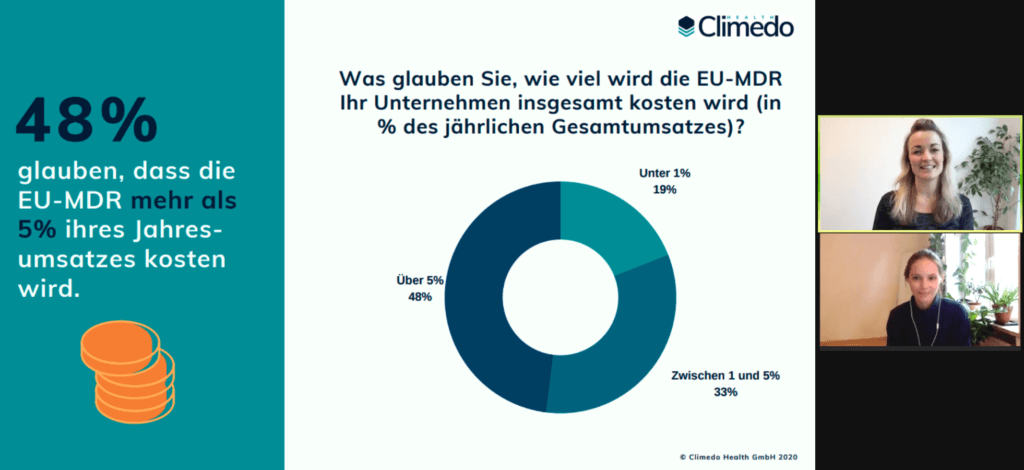 Results of the live surveys
Webinar attendees
The majority of attendees were medical device manufacturers (56%) and some were CROs, service providers and consultants (22%).
Time investments EU MDR
Before our first result from the survey was presented, we put the same question to the audience. This was about the time required for managing the EU MDR. 59% of our webinar attendees stated that they invest more than 5 hours per week in coping with the new requirements. 36% spend between 1 and 5 hours on it and only 5% spend less than 1 hour. With a 35-40 hour week, this is a considerable amount of time, sometimes more than half a day per week.
Total costs of EU MDR, relative to annual turnover
Shortly afterwards, we wanted to know how much the EU MDR will cost companies in total. Here, the majority (41%) estimated between 6 and 10% of their annual turnover. More than a third (35%) believed that it would cost between 2 and 5% and 12% even said that the regulation would cost their company more than 12%.
Systems for clinical data collection
As an EDC software provider, we were of course also interested to learn how many of the attendees were already working with digital solutions for their clinical data collection. This was a multiple choice question: 28% said they already used an EDC solution, another 28% used a survey tool, more than half (56%) used Excel and 44% even still worked with paper-based solutions. 
Barriers to EDC implementation
Next, we asked what prevents those who may not yet be using an EDC from implementing one in their company. Here, the top answer was "High costs" (39%), closely followed by "Lack of time" (33%) and "Other" (33%). Of course, a solution requires a certain financial investment at first, but the costs that can be saved in the long run are absolutely worth it, as we have also shown with our EU MDR calculator. 17% of attendees already had a solution in place, which was great news, and 6% had no need or interest in digital tools.
Savings per PMCF study with an EDC solution
Last but not least, we addressed about the cost savings that the attendees believed could be achieved with electronic data capture. 70% believed that between 11% and 50% of their costs could be saved with EDC solutions. 18% even thought that more than 50% could be saved. And 6% believed that they could save between 1 and 10%. A further 6% believed that no cost savings could be achieved.
An interesting discussion followed with many specific questions about EDC systems.
A big thank you to all those who joined and we very much look forward to seeing you on our next webinar!
 Want to learn more about EDC solutions? Try Climedo for free!