2020: The Year in Review for MedTech and Climedo Health

AUTHOR
Catherine | Marketing Lead
2020 has without a doubt been a year like no other: Marked by uncertainty, countless new challenges and moving events, the world came to a halt in many respects. When the year started out in January, almost nobody could have guessed what lay ahead and how long this "new reality" would really last. At the same time, the pandemic was a clear wake-up call for our healthcare system: The long overdue "digital makeover" was significantly accelerated by the pandemic, and it was gratifying to see people and authorities showing much more willingness to switch to digital processes and communication tools in the fight against the virus. With COVID-19 unlikely to be our last pandemic, our healthcare system should be much better prepared in the future and able to respond quickly accordingly. At least, that's what we hope.
For us at Climedo Health, this year has certainly had its ups and downs; but despite the odds, most things did turn out quite positively for us. Here's a quick recap of the most important events in the European MedTech industry and in our company:
Memorable Moments for MedTech
Medical device manufacturers faced great challenges and uncertainties this year. Back in April, we published a Whitepaper on how COVID-19 was impacting the MedTech industry in terms of demand spikes for certain devices (such as PPE or ventilators), declines in other areas, such as elective procedures, and the EU MDR.
Survey on EU MDR Readiness
In February 2020, we conducted our first official survey on the state of EU MDR readiness among MedTech companies. The results, published in March, right before the EU MDR postponement was announced, showed that many companies were far from ready for the new demands and probably welcomed the 1-year delay due to Coronavirus. 
EU MDR Postponed
In April 2020, the European Commission announced that the validity date of the EU MDR would be officially postponed by one year until May 26 2021. The reason for the delay was of course the COVID-19 pandemic which would have made it impossible for many companies to re-certify their devices on time or find a Notified Body. Some are also asking for a delay of the grace period to 2025 instead of 2025.
First Apps on Prescription Live  
With the new DVG ("Digitale-Versorgung-Gesetz"), Germany's BfArM (Federal Institute for Drugs and Medical Devices) broke new ground this year. The first digital health applications (German acronym: "DiGA") on prescription were listed in the directory in late August 2020 and can be prescribed by doctors and reimbursed by health insurance companies. To date, there are nine apps in the registry, covering areas such as tinnitus, MS, anxiety, migraines, insomnia etc. This represents a huge step forward for digital healthcare in Germany.
The True Cost of the EU MDR
In the summer of 2020, we launched our second survey of the year. This time, its goal was to assess the true cost of the new regulation for medical device companies. The results showed that almost half believe that it will cost their company more than 5% of annual revenue. At the same time, however, many were still relying on paper-based methods or Excel sheets for their clinical data capture, which is likely to cause delays and thus increased costs.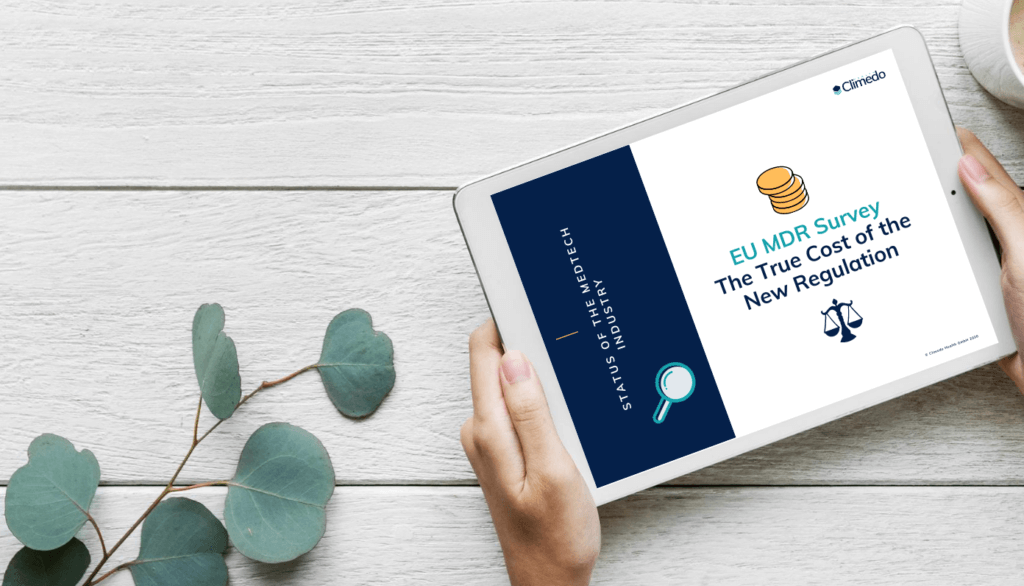 First part of EUDAMED live
The European Database for Medical Devices (EUDAMED), is a major part of the European Union's new medical device and IVD regulations and will ensure more transparency for all stakeholders. Although its initial launch was delayed from 2022 to 2024, the European Commission decided that parts of it would become available periodically, with the actors module going live in early December. Next up should UDI Devices and Certificates by May 2021.
Notified Bodies 
In terms of Notified Bodies for the EU MDR, medical device manufacturers have certainly faced some challenges due to the current shortage. To date, there are still under 20 MDR-certified Notified Bodies. Many of them are dealing with a huge influx of requests, so MedTech companies should definitely plan for delays as these authorities deal with a backlog. 
See full list of current MDR-certified Notified Bodies
Memorable Moments for Climedo Health 
For us at Climedo Health, there are plenty of changes and events to report on as well. 
Climedo Health turned three + strong team growth
We celebrated our 3rd birthday on May 8, 2020. Even though we were already working remotely by then, we found a way to celebrate in style. Despite the pandemic, our team almost tripled in size this year and even though we spent most of the year working remotely, we did manage to squeeze in some events (real with social distancing, and virtual), depending on the measures in place. We also don't plan to stop growing anytime soon so if you would like to become part of our journey or know someone else who might – check out our career page!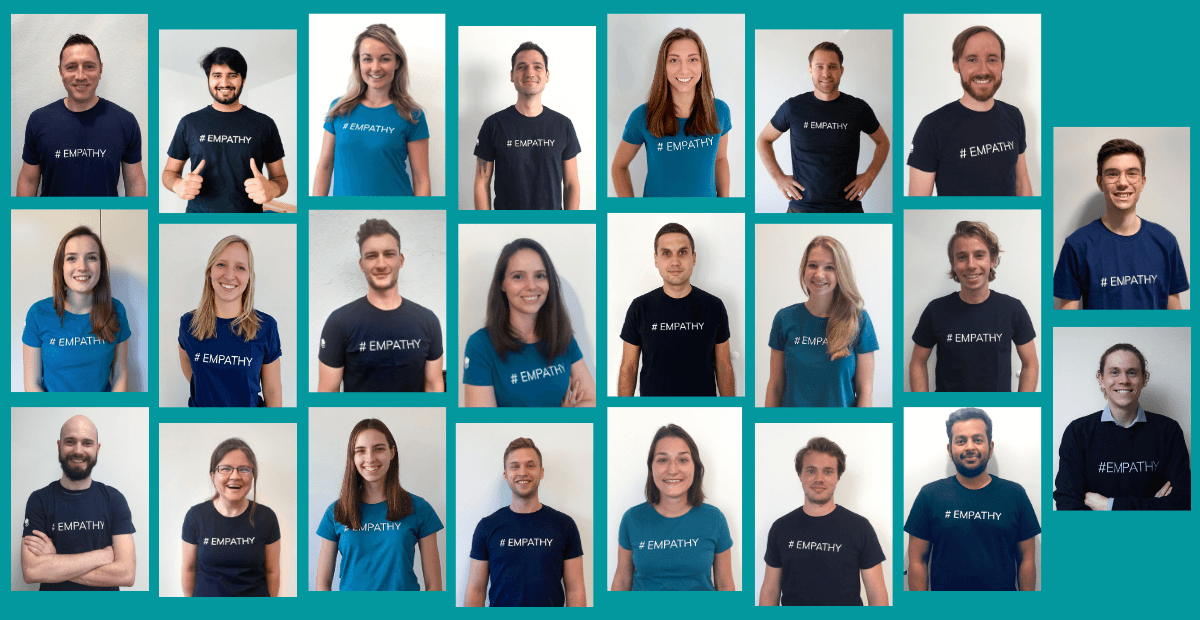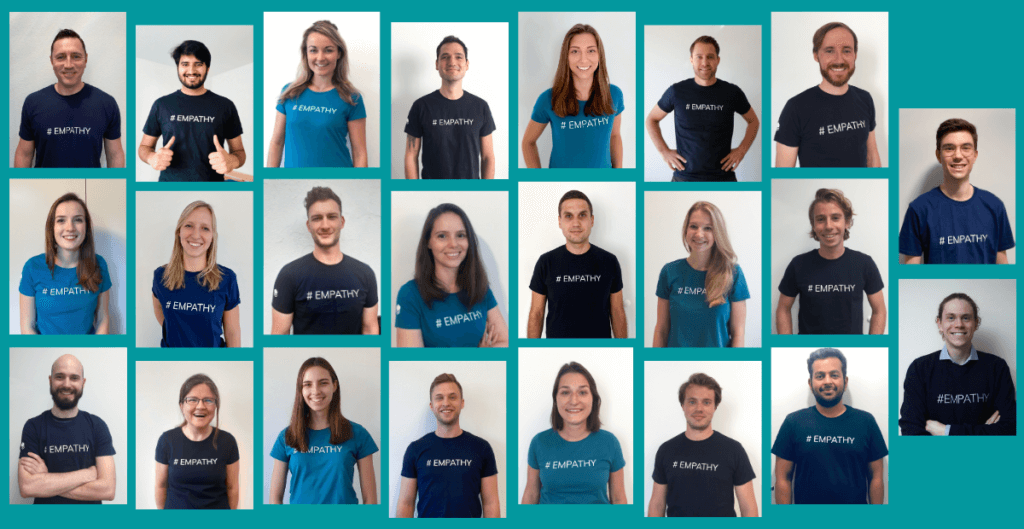 Winners of the EIT Health Headstart Program
As a long-standing member of the EIT Health network and ecosystem, we decided to apply for our second Headstart Program this year, having won the first one in 2017. This time, we applied for the COVID-19 call, because we were trying to make our data capture platform available to a wider audience in the fight against COVID19. We were thrilled to be selected as one of the winners and also benefit from a fantastic mentorship program. 
Software
On the software side, our product and tech teams were busy building some amazing new features at lightning speed.
New Input Fields (File Upload Input Field): With this new feature, multiple files can be uploaded to the eCRF and, in the case of images (JPG / PNG), displayed directly. Medical imaging, for example, can be uploaded directly into input forms. All this is also possible on mobile devices.
Rich Text Input Field: This field opens up a variety of new formatting and customization options. For example, small images (such as company logos) can be uploaded, different text formats can be selected, and links can be inserted.
Repetitive Readings: Repetitive readings clearly display and graphically depict the parameter's progression over time. Observation and analysis of data trends is now easier thanks to this display.
QR Codes for Surveys: Our platform now also allows for the creation of QR codes which link to clinical surveys. These can be copied, pasted, downloaded and printed. MedTech companies use the QR codes on their website, in marketing flyers or on product packaging to capture user feedback in a quick and convenient way.
Interface with SORMAS: Our digital Symptom Diary which we developed for the German Federal Ministry of health can be connected with SORMAS@DEMIS applications. With SORMAS, public health authorities can work with a single software, making the process even more straightforward. Creating a new digital symptom diary from the SORMAS user interface can be done in one click.
Task Management – User Assignment: Entries can now be assigned to different software users. In the study overview, the entries (subjects) are displayed and this view can be combined with other filters/smart views. This improves clarity by directing the focus to the relevant entries and editing status options.
If you want to learn more about them, schedule a free demo or request a free trial!
Project with the German Federal Ministry of Health 
As part of our objective to support the fight against the pandemic by offering our platform to companies and authorities, we secured a project with Germany's Federal Ministry of Health in tracking COVID-19 cases and suspected cases throughout Germany. Our Digital Symptom diary is used to enter symptoms so that public health authorities don't have to phone people in their region on a daily basis.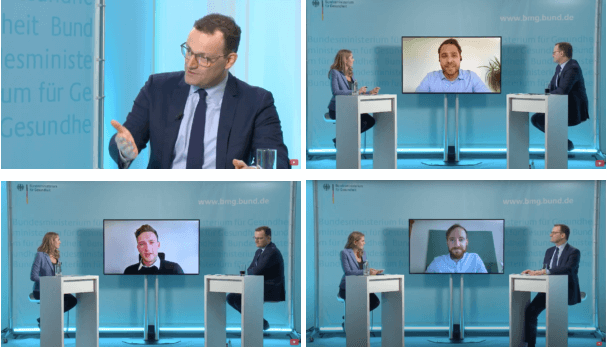 MedTech Webinars
On the MedTech side, we launched our first live webinars this year since real-life events would have been close to impossible. In May, we discussed our EU MDR survey results and gave companies some pointers on how to better prepare for the regulation despite the delay. In September, we presented the cost of the new regulation and how automated PMCF solutions can save a lot of time and money, based on our PMCF calculator. And in December, we were thrilled to have Prof. Dr. Christoph Schmitz join our third and final webinar as a guest speaker who took our attendees through the Climedo platform.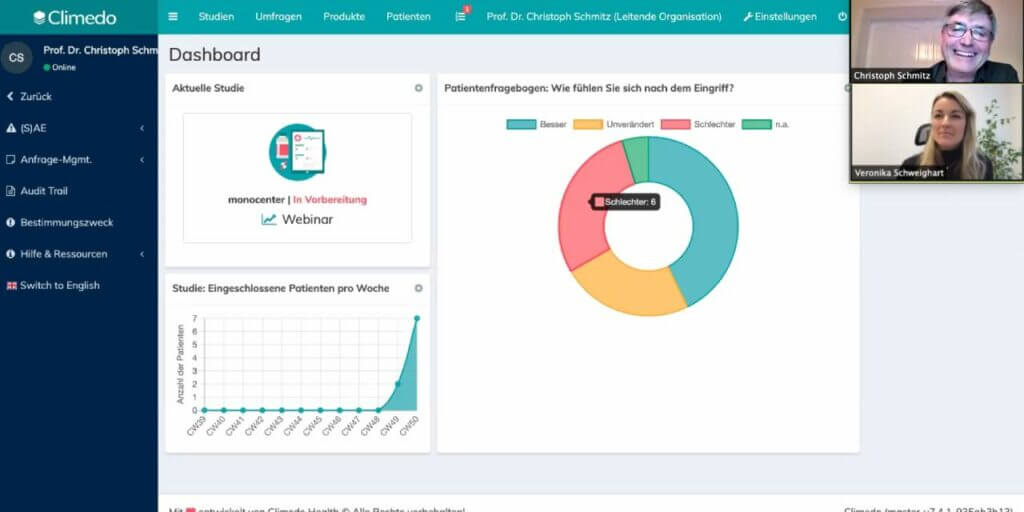 Awards
In addition to the EIT Health grant, we were very proud that our Co-Founder and COO Veronika Schweighart received the Handelsblatt & BCG award "Thought Leader of the Year" along with around 30 other pioneers from Germany. Given our contribution in the COVID-19 pandemic, we were also named "Heroes in the Crisis" by Germany's FAZ. We had also applied for the "Digital Startup of the Year" award and came third for the Audience prize with our video.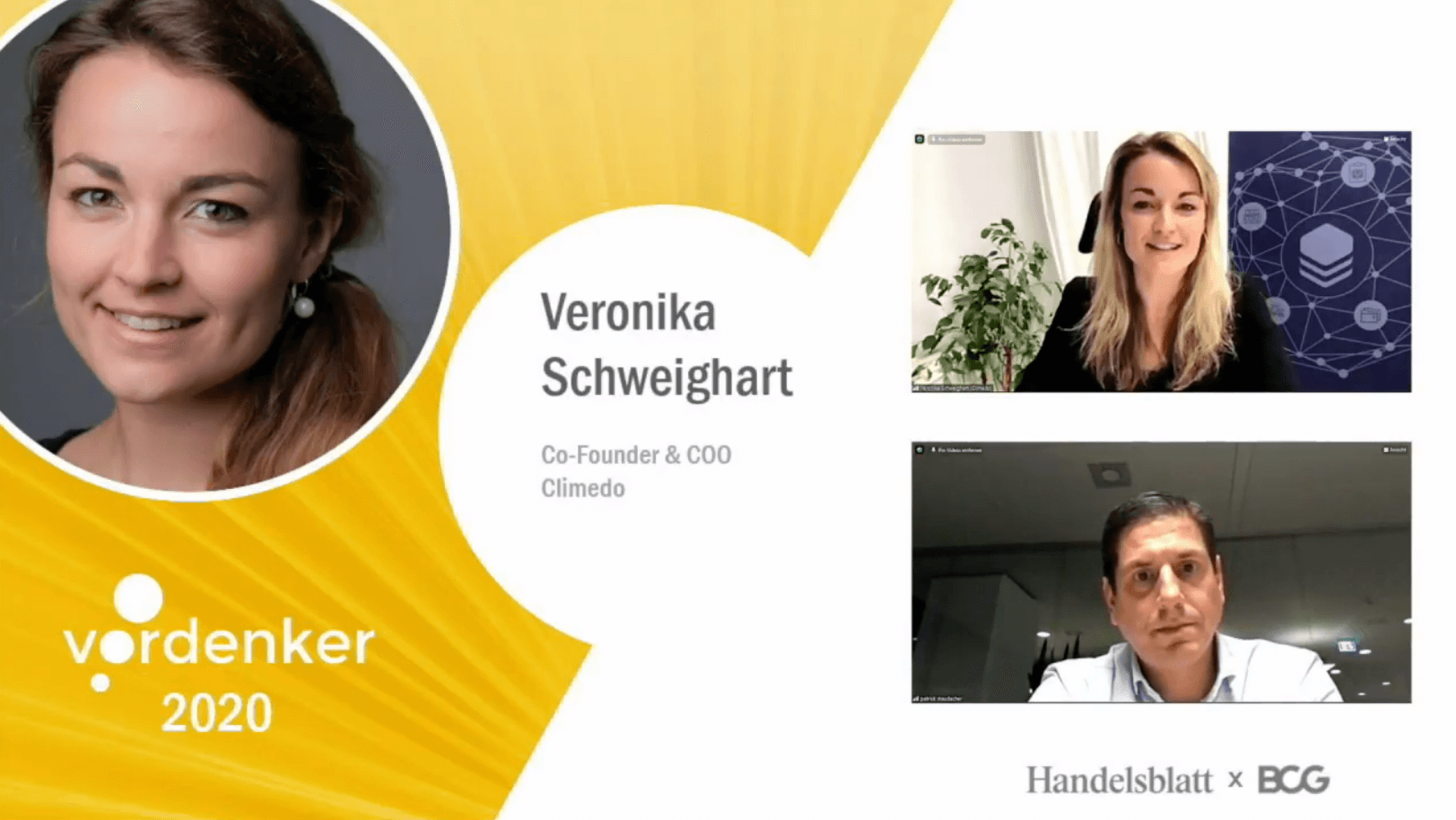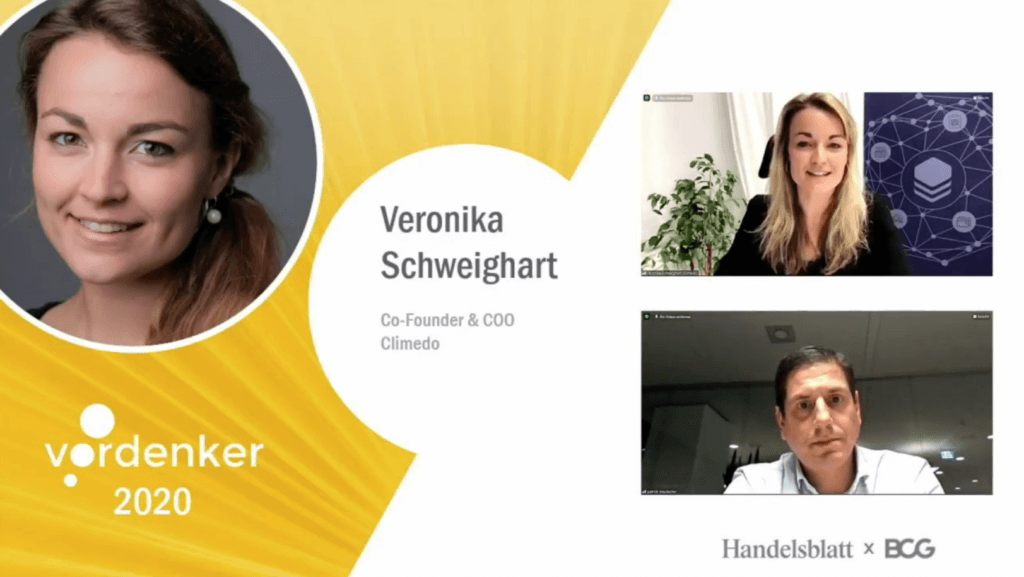 As you can see, 2020 was quite a good year for Climedo Health overall. Nevertheless, we have not forgotten how difficult and even devastating this year has been for millions of people all over the world. Our thoughts are with all of them and we hope that things will start to improve in 2021. Perhaps we'll start to see first glimpses of what used to be normality as the months go on. Until then, we want to thank everyone who has supported us on our journey so far and wish you and your loved ones a peaceful holiday season. 
Stay healthy and keep in touch!