EU MDR Glossary – 47 Terms You Should Know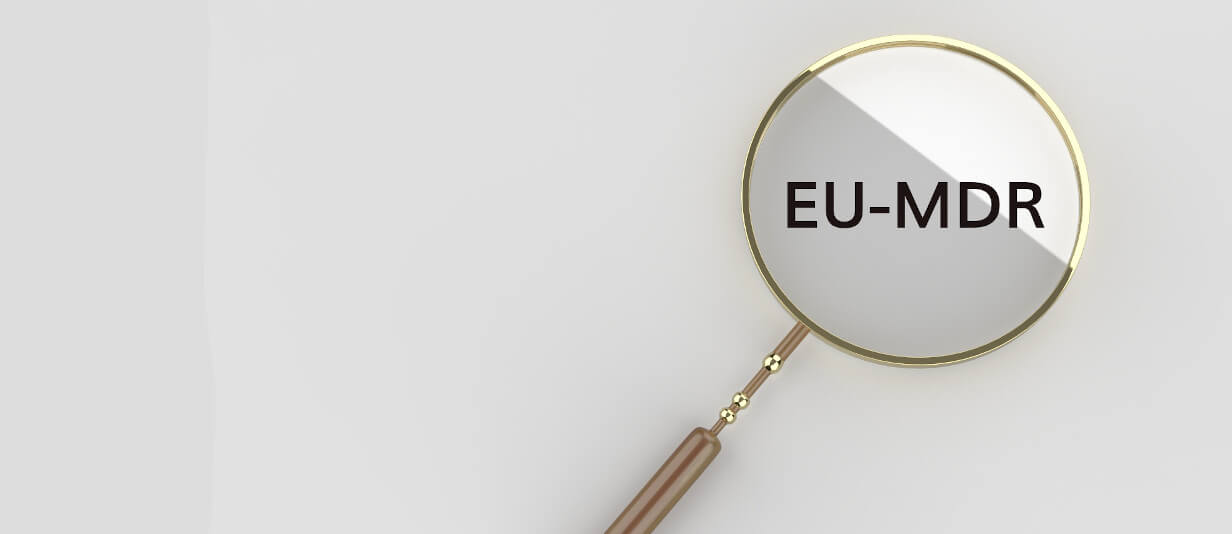 AUTHOR
Dragan | Co-Founder & CTO
The European Union (EU) is approaching its highly anticipated deadline to implement the Medical Device Regulation (EU MDR). As the transition period comes to an end on May 26, 2020, a wider and clearer regulatory scope for medical devices is on the horizon The EU MDR establishes stricter requirements for manufacturers and Notified Bodies, including expanded clinical evidence requirements, more regulatory oversight, additional requirements for in-vitro device (IVD) manufacturers, and stricter supervision of Notified Bodies (NB). 
To help MedTech companies through what may seem like a challenging process of navigating the new regulation demands, terms, and acronyms, we have compiled an EU MDR Glossary of relevant terms and their definitions. 
Term
Abbreviation / Acronym

Definition

Active Implantable Medical Device Directive

AIMDD (90/385/EEC)

Any active medical device that is intended to be introduced into the human body for diagnostic or therapeutic purposes, and which is intended to remain in place e.g. pacemakers or defibrillators. The MDR replaces the AIMDD to specify the Essential Requirements manufacturers and importers must meet to apply the CE Mark to AIMDs in the EU.

Clinical Data

Clinical data is information on the safety and performance of a medical device that is generated from and during its use.

Clinical Development Strategy

A term unique to the MDR referencing a clinical evaluation consultation procedure for certain class III and class IIb devices.

Clinical Evaluation Plan

CEP

A procedure that allows companies to collect clinical data and clinical evaluation results with an aim to demonstrate safety and performance as well as the overall positive benefit-to-risk-ratio for a medical device through critical evaluation of the collected elements.

Clinical Evaluation Report

CER

A document that collates all data proving the intended purpose of a device, its target groups, its clinical benefits along with the indications and contraindications. 

Clinical Evidence 

–

Information that provides conclusive proof on the safety, performance and efficacy of a medical device in the context of its intended use. Clinical evidence can be generated through clinical investigations conducted on the medical device in question; or a demonstration of safety and performance-based scientific literature or based on data for comparable devices i.e. equivalence. The MDR has set a more stringent bar of equivalency for medical devices, especially of a higher risk class, to obtain the CE Mark. 

Competent Authority

CA

A body within the government of the Member States of the European Union that transposes the requirements of the MDR into national law.

Conformité Européenne

CE Mark

Products sold with the CE mark within the extended European Single Market have been assessed to meet high safety, health, and environmental protection requirements.

Conformity Assessment 

The assessment of a medical device based on an analysis of its Quality Management System (QMS) and Technical Documentation (TD) confirming that the device conforms to its risk class.

Corrective and Preventive Actions

CAPA

This term refers to improvements to an organization's processes taken to eliminate causes of

non-conformities

or other undesirable situations. The MDR requires manufacturers of medical devices to have clearly documented procedures for corrective and preventive action as part of their overall Quality Management System (QMS).

Declaration of Conformity

DoC

Confirms the CE-marked products' compliance to the applicable legislation. According to the MDR, a DoC will now omit references to the MDD completely. Each DoC will now mention the Unique Device Identifier (UDI) and any reclassification of the product. 

Device Risk Class 

Classification of a medical device by the MDR references four classes (I, IIa, IIb, and III) taking into account the intended purpose of the device, its inherent risks relative to duration of use and invasiveness.

Electronic Data Capture

EDC

A system of capturing and managing data on a digital platform. EDC replaces the traditional paper-based data collection methodology to streamline data collection and introduce enhanced data security and reusability. With stricter expectations to comply with international standards of data capture in the post-MDR era, an EDC is a natural solution to streamline data collection, storage and analysis. Most importantly, an audit trail can be managed in compliance with Good Clinical Practice (GCP).

European Authorized Representative

EC REP

Serves as a liaison between the manufacturer and the national Competent Authorities (CA's). Responsibilities include assistance with device registrations, submission of Technical Documentation and Declaration of Conformity to the CA when required, and assistance with Field Safety and Corrective Action (FSCA) reporting. The EC REP must be identified on all product labeling throughout Europe.

European Databank on Medical Devices

EUDAMED

A secure, central, web-based portal for the exchange of information between national CAs and the European Commission. Under the MDR, this will be interoperable and publicly accessible. The new database is designed to be multifunctional, i.e. a registration, collaboration and notification system.

Field Safety Corrective Action

FSCA

An action taken by a manufacturer to reduce the risk of death or serious deterioration of health associated with the use of a medical device. The MDR requires FSCA's to be sent by the manufacturer to the national CA, where the product is legally registered,  and CAs of the Member States where the affected products are distributed.

Field Safety Notice

FSN 

An FSCA is notified into documentation via a Field Safety Notice. 

Gap Assessment 

A procedure to analyse a manufacturer's current level of compliance by examining their products' Technical Documentation (TD) and processes. A thorough gap assessment will generate a task list for updating their procedures and documentation to facilitate the compliance transition from MDD to MDR.

Grandfathering 

A 'grandfathered' or legacy medical device is one that was already on the market before an applicable directive or regulation. Under the MDD, some devices were grandfathered and allowed to be marketed without formal approval. The MDR excludes all grandfathering of products, so even if a device has been on the market for more than 20 years, a new CE mark will now be required after going through all standard compliance procedures.

Implant Card 

The MDR requires all implantable devices to incorporate an 'implant card' containing information about the device e.g. duration of use, UDI etc. to make information easily available and accessible to various stakeholders.. This will allow the patient to identify themselves in case Field Safety Corrective Action (FSCA) is to be undertaken and allow clinical staff to obtain information about special care or needs for patients in emergency situations.

In Vitro Diagnostic Regulation

IVDR

The IVDR is the new regulatory directive for manufacturing and placing on the market in vitro diagnostic medical devices on the European Single Market. It will replace the EU's current Directive on in vitro diagnostic medical devices (98/79/EC).

ISO 13485:2016

Article 10(9) of the MDR states that the manufacturer is obliged to implement an effective QMS to meet the regulations for compliance. The ISO 13485:2016 is the international standard, issued by ISO, that provides regulatory requirements for a medical device QMS. While 

Product documentation

is not specifically mentioned in the MDR, it is generally taken as a gold standard for medical device manufacturers i.e.  compliance with ISO 13485:2016 QMS requirements will help compliance with MDR.

Lifecycle Approach 

While the MDD focused on regulatory compliance in the pre-market stage, the MDR promotes a life-cycle approach to medical device regulation. The implicit aim is to ensure that CE-marked devices are not only safe and effective at launch, but continue to meet state-of-the-art performance throughout the life of the product. Manufacturers will need to perform a continuous review of clinical and technical documentation, and potential updates to the device design will need to become an integral part of the product life-cycle to not only obtain but also maintain the CE mark.  

MEDDEV 2.7/1 rev. 4

Revision 4 of the Clinical Evaluation Guidance Document MEDDEV 2.7.1

A document which provides guidance for medical device manufacturers and Notified Bodies (NB's) who must perform clinical evaluations for medical devices that fall under the MDD (93/42/EEC) and AIMD (90/385/EEC). After the replacing the MDD and incorporation of the AIMD in the MDR, this document, along with the MDR, forms the basis for clinical evaluation of a medical device.

CE certifications under MDD were historically based only on product equivalency. The MEDDEV 2.7/1 rev. 4 and MDR now substantially tighten the requirements for equivalence justification compared to before. Full compliance with both the MEDDEV 2.7/1 rev. 4 and MDR is expected by May 26, 2020

.

Medical Device 

The term 'medical device' most commonly refers to a piece of equipment that comes into direct contact with the patient and is used to treat or diagnose a clinical condition.

Medical Device Coordination Group 

MDCG

MDCG advises and assists the European Commission and Member States in ensuring a harmonised implementation of the new EU MDR. The Group publishes legally non-binding guidance documents in accordance with Article 105 of Regulation 745/2017 to help ensure uniform application of the relevant regulations within the EU. 

Medical Device Directive

MDD




(93/42/EEC)

The MDD (Council

Directive

93/42/EEC) came into force in 1993 with the aim of harmonising the laws relating to medical devices within the EU. In order for a manufacturer to legally place a medical device on the extended EU Single Market (i.e. have the CE mark applied), the requirements of the MDD had to be met. This has been replaced by the EU MDR which comes into force in May 2020. 

Medical Device Single Audit Program

MDSAP

Allows a single audit of a medical device manufacturer's QMS for compliance with the standard regulatory requirements of up to five different medical device markets: Australia, Brazil, Canada, Japan and the United States. Addressing the QMS requirements of the MDR and MDSAP facilitates efficiency and avoids multiple costly audits especially if the manufacturer is also placing devices into any of the markets of the MDSAP regulatory authorities. 

New Approach Notified and Designated Organisations

NANDO

All Notified Bodies which are designated to assess medical devices are listed on the EU Commission's

NANDO website

. As and when Notified Bodies are designated under the MDR or IVDR, they are added to the

NANDO MDR

or

NANDO IVDR

databases.

Notified Bodies

NBs

A Notified Body is an organization designated by an EU Member State to assess the conformity of certain products before being placed on the market. As per the Regulation, the existing Notified Bodies need to be recertified according to MDR regulations to ensure the safety and effectiveness of the products they were evaluating and certifying and to ensure conformity. The NBs currently certified and those in process are updated to the NANDO website 

Blog Post: How to switch Notified Bodies and keep your medical device certificates 

Person Responsible for Regulatory Compliance

PRRC

According to Article 15 of the MDR, Authorized Representatives and small manufacturers must designate at least one staff member responsible for ensuring MDR and/or IVDR compliance known as the PRRC. The PRRC must ensure that all Technical Documentation (TD) and Declarations of Conformity (DoC) are up to date and all post-market surveillance and reporting obligations are met. The PRRC

does not

replace the European Authorized Representative (EC REP), however, must both must reside in the EU.

 

Post-market Clinical Follow-up

PMCF

This is a specific form of PMS (required for devices of Class IIb and higher).

PMCF (Post-market Clinical Follow Up) is all clinical evidence from actual and similar devices such as literature publication on safety and performance as well as use and adverse events reports that should be gathered as part of PMS for all medical devices on a periodic basis. 

Post-market Clinical Follow-up Plan

PMCF Plan

A

documented

workflow of the

systematic and proactive collection of clinical data with the aim continuously evaluating the safety or performance of the medical device and updating its clinical evaluation throughout the lifetime of the device. Many devices that did not previously have a PMCF plan will now require one under the MDR to be compliant.

Post-market Clinical Follow-up Study

PMCF Study 

A PMCF study is defined in the MEDDEV as a study carried out following the CE marking of a device and intended to answer specific questions relating to clinical safety or performance (i.e., residual risks) of a device when used in accordance with its approved labelling. While a PMCF has no general exclusions based on class of device, a PMCF study may not always be necessary. However, only Notified Bodies are competent to assess justifications for not carrying out a PMCF study. 

Post Market Surveillance 

PMS

The MDR defines Post-Market Surveillance as a proactive and systematic process which manufacturers implement and carry out (with other economic operators) in order to take corrective and preventive action in accordance with information on medical devices and their performance. A PMS system should be used to actively gather and analyse data on the quality, performance, and safety of the device throughout its lifetime. The PMS should result in a PMS plan the results of the plan should generate a report.

Whitepaper: Navigating Post-Market Surveillance in the EU MDR era

Post Market Surveillance Plan

PMS Plan

The

aim of the PMS plan is to systematically gather, record and analyse relevant data on the quality, performance and safety of a device throughout its entire lifetime. Under the MDR, companies must demonstrate an integrated PMS plan as a prerequisite for CE-marking i.e. the PMS system must be adequately documented in your QMS and that PMS activities are effectively linked to other areas of the QMS.

Post-market Surveillance Report

PMSR

Summarizes the results and conclusions of the PMS data along with a rationale and description of any corrective actions taken for products on the market and covers both reactive (e.g. complaints) and proactive (e.g. PMCF) postmarket surveillance. This report becomes part of the Technical Documentation (TD) and is updated when necessary and made available to the CA's upon request. It is required for all classes of devices.

Periodic Safety Update Report 

PSUR

The PSUR is essentially an extension of a PMSR required only for moderate and high-risk devices (Class IIa, IIb, III, implantables). It summarizes the results and conclusions from PMS data, provides a summary of post-market information, vigilance reporting, and current status of these devices on the market in the EU and a rationale and description of any corrective actions taken for product on the market. This is a new demand placed upon all manufacturers by the MDR. The PSURs are required at least every year for class III devices and class IIb implantables and at least every two years for class IIa devices and class IIb non-implantables. 

Quality Management System 

QMS

A structured system of processes covering all aspects of design and manufacturing, supplier management, risk management, clinical data and labelling. The MDR contains explicit requirements for manufacturers to establish, implement, and manage a quality management system that meets the relevant and applicable requirements and will be scrutinized for conformity by the NBs.

Risk Management System 

RMS

Involves the identification, understanding, control, and hazard prevention during its use. Compared to the MDD, the MDR defines risk management as an iterative process throughout the lifecycle of a device. As per the regulation, the manufacturer must establish, document, implement and maintain a system for risk management as part of the quality system and show evidence of a RMS plan that documents known or potential risks and provides detailed steps to eliminate or minimize these hazards.

Serious Adverse Events

SAE

Serious adverse events are critical device-related adverse incidents. These can be classified as cases of device malfunction, deterioration in device performance, inadequate instructions or labeling that may or may not result in death or serious injury, or may lead to death or serious deterioration in state of health of the patient.  The incident must be reported to the CA of the member state where the incident occurred. In preparation for the MDR, a new set of adverse event codes were published for patient outcome / patient problems which are available

here

. 

State-of-the-Art

While the MDR does not explicitly define this term, it is implied to mean

best practices

as used in other devices of the same or similar type. This is only applicable for products already on the market. The MDR expects manufacturers to demonstrate that they have conducted a thorough analysis of the current state of the art especially in the CER. 

Technical Documentation

TD

A generic term for product documentation outlining the general safety and performance requirements of a medical device as evidence of conformity with the relevant legislation. The TD required by the MDD was largely left to the manufacturer's discretion, however the new MDR provides a clear structure of the technical documentation required by manufacturers. In case of Class I self-certified products, technical documents are not always subject to review while in the case of Class I non-sterile up to Class III, the TD is always subject to a review made by your Notified Body.

Traceability

While the MDD had no specific provisions on the traceability of medical devices, the MDR seeks to ensure the transparency and traceability of EU devices in the interest of patient safety. The most important elements of this is the Unique Device Identifier (UDI) for each device along with device labeling in electronic and paper forms and details of the organization's EC representatives' symbol, name, and address etc. on the labels.

Transition Period 

The MDR was published on 25th May 2017, and replaces the Medical Device Directive (93/42/EEC) and Active Implantable Medical Devices Directive (90/385/EEC), and comes into force on May 26th, 2020. During the intervening three years i.e. the transition period, medical devices can be placed on the market under the current EU Directives as well as the new regulation. After the transition period, all devices placed on the market must conform to the MDR.

Unique Device Identifier

UDI

The UDI is the bar-coding of all medical devices on the European Single Market using a standard format. This is a new regulation by the MDR that requires that UDI information be placed on the label and/or package of medical devices. More specific requirements on labeling and several device types are available in Annex VI, Part C of the MDR.

Upclassification 

Devices that are classified as a higher risk class after evaluation of their clinical and technical documentation are considered upclassified.

While the EU MDR brings many new challenges in achieving regulatory compliance, along with the IVDR, it represents a more effective path to reach a common goal: a safer healthcare ecosystem. 
With the MDR deadline just a few months away, stricter expectations of regulatory compliance will require well-defined data capture, analysis and storage strategies. Climedo's cloud-based solution lets you automate PMS and PMCF processes in a customizable and reusable way. Comply with relevant regulations while working with a secure, cost-effective and intuitive solution. Contact us for a free demo.
Additional downloads on the EU MDR
Slide Deck: 6 Common PMCF Pitfalls
Infographic: 5 Steps to Prepare you for the EU MDR
Whitepaper: Navigating Post-Market-Surveillance in the EU MDR Era